If you have visited us during the last year, you may have seen the newly restored shelter located at the Wakebridge tram stop, but still closed to visitors. Since the shelter returned to Crich in December 2020 following the first phase of restoration off-site, staff from our Conservation Workshop team have been working to fit out the interior. They have done a fantastic job in recreating how the shelter looked when it was built in 1877, based on the original architects' drawings below.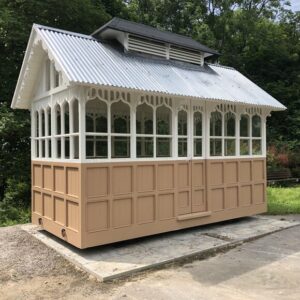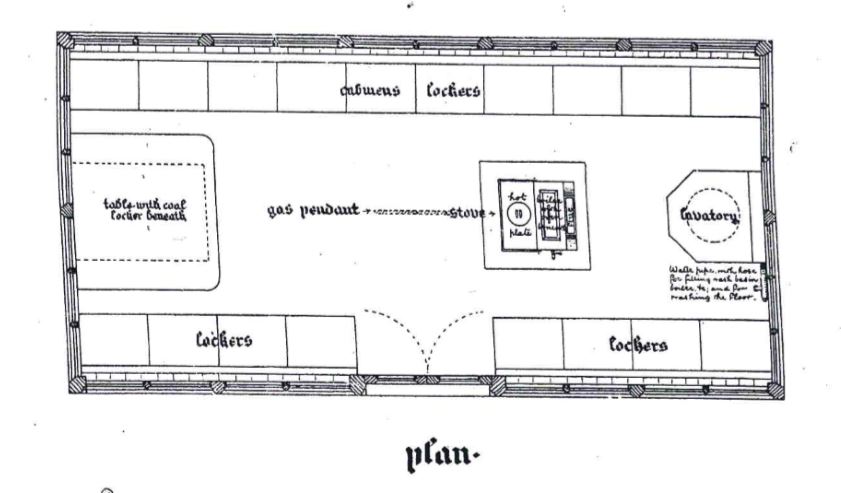 To recreate the interior, our workshop staff have built bench seating with storage space below that the cabmen would have used as lockers, and a table with coal locker beneath. They have also installed a hand basin in a wooden support, which was labelled on the drawing as a 'lavatory'. Originally we thought this referred to a toilet, but reference was found in The Bradford Observer of 1877 to this being a wash basin, which was quite a relief, as sourcing a suitable toilet would have been a challenge!
It took a lot of searching to find a stove of the period that resembled the one in the drawings, but a suitable one was eventually transported from a house in London, and it fits very nicely. The stove looks like it could be used, but the flue and chimney are for appearance only. While it would be nice to have a hot fire in the stove and a boiling kettle, we can't recreate this for obvious fire hazard and safety reasons! We were also lucky to find an old gas light in our workshop stores to install in the shelter, although again, this is for appearance only, not in working order.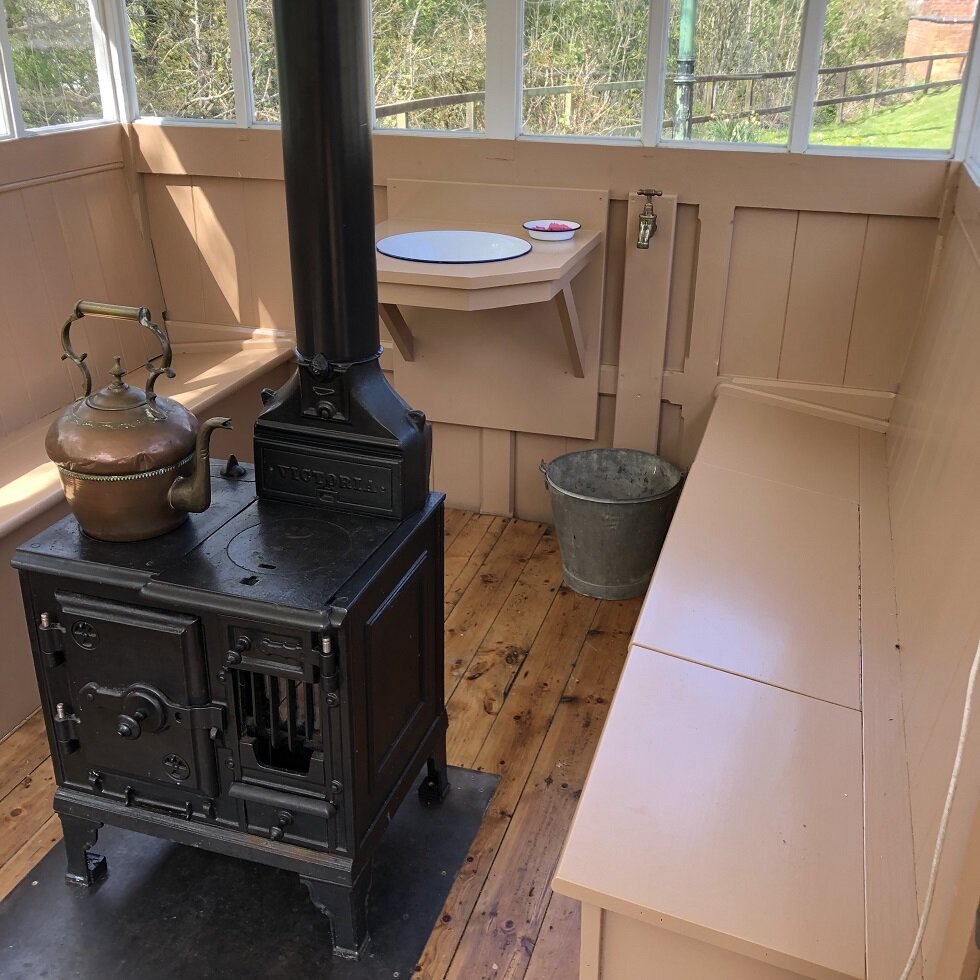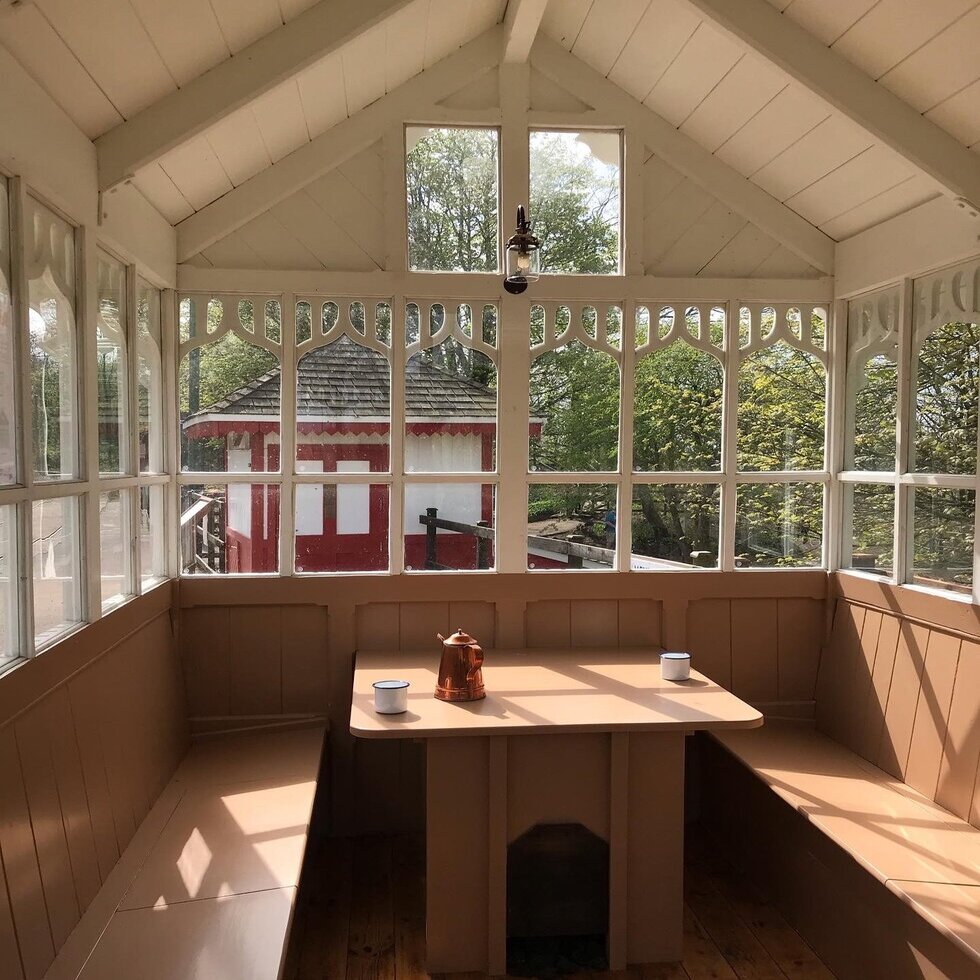 The Bradford cabmen's shelter is a significant item in our collection as it represents urban transport before the introduction of tramways, i.e. horse drawn hansom cabs, hackney carriages and omnibuses. These vehicles continued to be used alongside tramcars for many years. The shelter was once a place of refuge for Bradford's horse cab drivers. They worked all hours of the day and night, in all weather, for low pay. Some passengers were even known to refuse to pay their fare. They weren't allowed to shelter inside their cabs or to leave them unattended, so the shelter provided somewhere for drivers to warm themselves, wash and get a hot drink. At the same time, the shelters encouraged cabmen to avoid sheltering in public houses, as they had a reputation for drunkenness.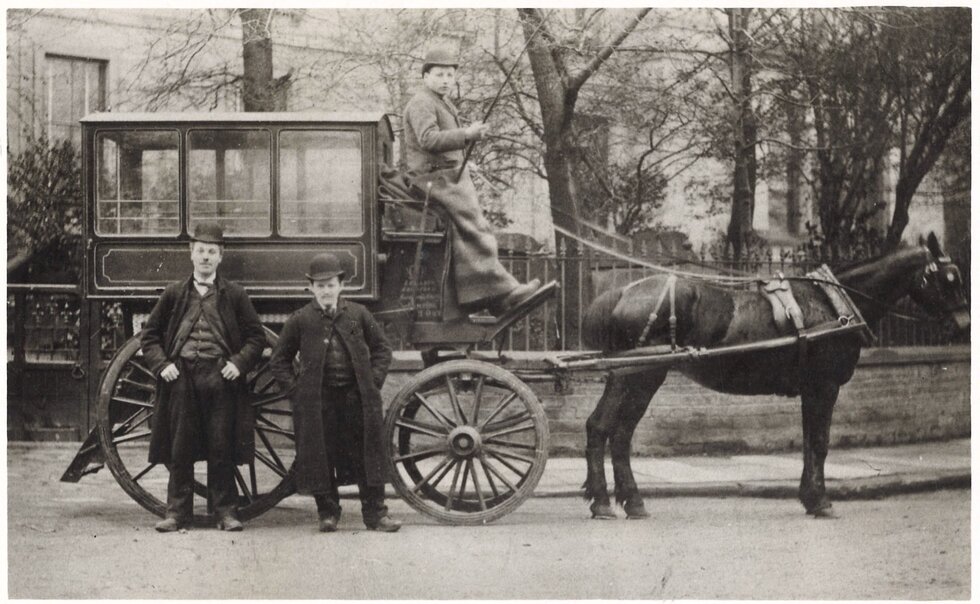 Image of an early Bradford taxi cab © Copyright West Yorkshire Archive Service
Our aim is for visitors to experience the inside of the shelter as it might have felt in 1877. Apart from a newspaper page and some notices on the walls, there will deliberately be no written information inside the shelter to associate it with the 21st century. We have also introduced some smells and sounds reminiscent of those experienced by the Victorian cabmen who used it!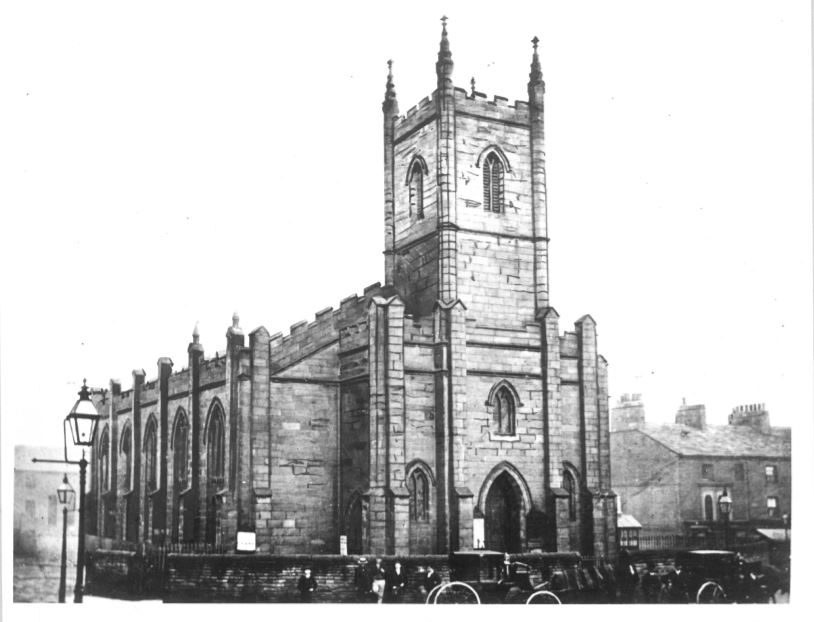 Christ Church, Bradford © Bradford Libraries, Archives and Information Service
The image above is the only one known to show the shelter in its original location at Christ Church near Rawson Square in Bradford. The photo must have been taken between 1877 and 1879, as the church was demolished and the shelter moved in 1879. The shelter can just be seen to the right-hand side of the building and cabs can be seen lined up in the foreground. As far as we know there was only one other shelter like it in Bradford.
So, the project to restore and interpret this fascinating piece of social and transport history is nearly complete, and the shelter is now ready to explore on your next visit to Crich Tramway Village.