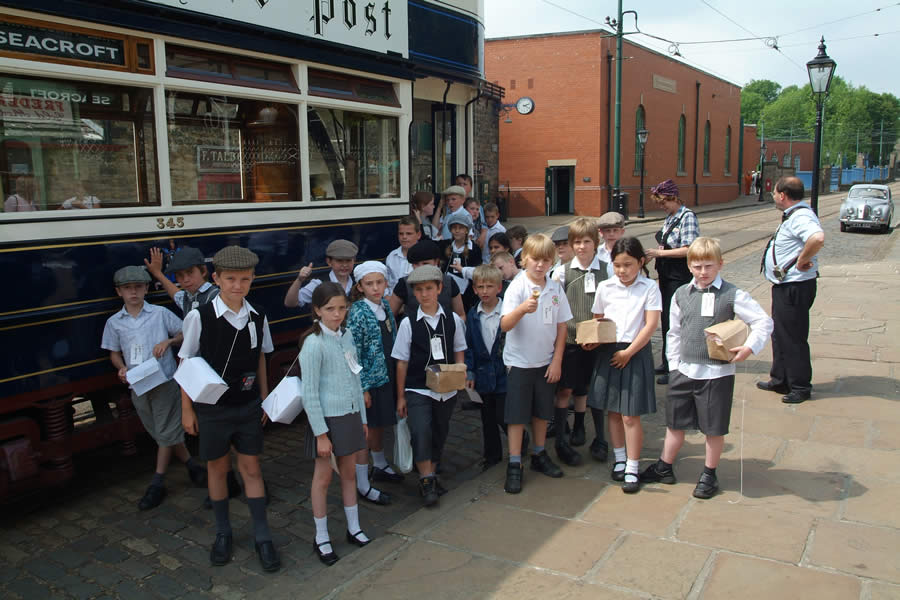 Museum Led Sessions
Get more from your visit by booking one of our museum led learning sessions, run by one of our experienced Museum Educators. See the information below regarding what we have to offer!
Each sessions lasts approximately 1 hour and costs £2.00 per child (with the exception of our Word War 2 Special session). There is a minimum charge of £30.00 and a maximum of 30 children per session.
A space can be allocated for you to store your bags and have lunch, either in our marquee or Learning centre. But you are free to eat outside if the weather allows!
There are toilets on site and risk assessments will be provided on booking confirmation.
Early Years
Story Time
Explore our woodland. Listen to the wonderful stories connected to nature told by our storyteller.
Key Stage One
Victorian School Room
Explore what life was like for children at a Victorian School.  We will take you back to 1901, dress you in costumes and give you slates on which to practice your writing and arithmetic.  You will even get the chance to chant your tables and recite the alphabet.  You'll be encouraged to look at the similarities and the differences between a Victorian classroom and your own.  There may even be a chance to discuss nits!
Key Stage 1+2
Tram Timeline
Why were trams invented? What were they like? How did they work? What did the crews do? What is the future for trams? These are some of the questions that we will try to answer on our journey through time from the 1860's to the present day. We use role play and dressing up in this interactive session that brings the history of trams to life.
Art and design – What is Sculpture?
We begin by exploring what sculpture is, where it can be found and the different meanings sculptures convey. Using sculptures that can be found at the museum we will examine the different materials and methods used and how they are affected by weathering processes. We will also tell the stories behind the sculptures.
Habitats
Using our woodlands we will explore what a habitat is and discover the variety of life that inhabits it. We will make food chains and get tied up with string to make food webs before going off to explore and discover the variety of life that abounds in the different habitats on our site.
Minibeasts
Become explorers from another world, sent to discover what life on Earth is like. Equipped with bug boxes, magnifying glasses and insect identification sheets, you find out how to capture, identify and record what you find. Travel back to your home world and share your discoveries.
WW2 Handling
When you arrive you'll be met by the Billeting Officer. Through role play (teachers included) you will discover how every evacuee found a place to stay even if they had to share a bed. Children will be checked for nits and good behaviour. Once billeted you get the opportunity to handle some real objects from the period which help to illustrate the Home Front during the War. Children are encouraged to share their discoveries with each other and maybe find out a little bit more. Some of the topics covered include, gas masks, jobs and rationing.
This session can be extended to a half day WW2 Special, adding Spy School and Song and Dance to the itinerary. £12.50 per child including entrance to the museum.
Key Stage 2
Victorian Tramway
We start with a photograph of a Victorian Tramway from our archive. This leads us to explore through role play and the use of artefacts, the themes of work and the Victorian class structure. We look at the jobs (stable lad through to owner) and lives of the people who worked on the horse tramway and how tramways affected society.
Key Stage 2/3
Life in a Suitcase
Mr. Cockle was a tram driver all of his life and he has kept many of the artefacts connected to his job in an old brown suitcase. Let him tell you the story of his life on the trams, from being a Conductor to a Driver. You'll get the chance to try on a uniform, handle a ticket machine, tickets and old money, find out how a Tram was driven and what happened when people didn't follow the rules. You can decide the fate of the rule breakers!
GCSE/B.Tec/A Level/Higher
Leisure and Tourism
Groups can choose to study either Customer Care or Marketing with all of the sessions being tailored to the needs of each group. Crich Tramway Village is used as an example to explore the roles of Customer Care or Marketing in a business. All students are provided with a work pack containing staff structure charts, examples of good practice and worksheets to help to focus them on their tasks.
Contact
To contact the Learning Department for more details or to book activities use the Educational Enquiry form, or ring 01773 854328.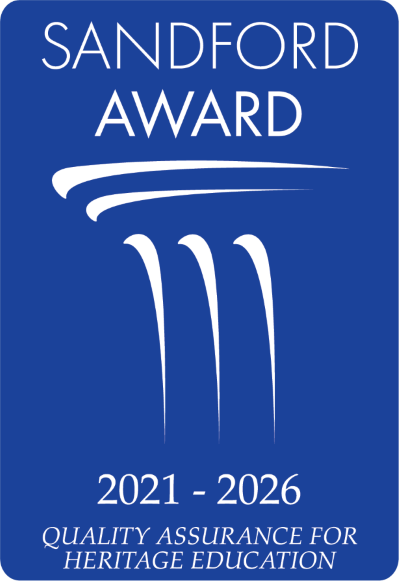 Winners of the Sandford Award for Heritage Education 2021 - 2026