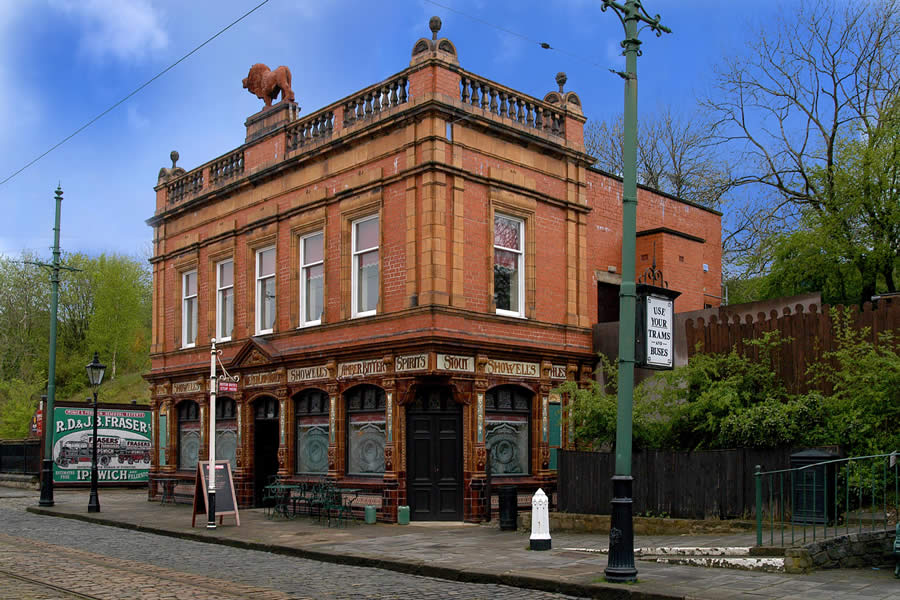 Formerly a working public house in Stoke-on-Trent, our Red Lion Pub has been rebuilt here at the Museum, brick by brick, and is a popular part of our recreated street scene. Open daily serving hot and cold food, hot drinks and a fine selection of cask ales, the pub is popular with all our visitors, including our furry four legged dog friends, who are made welcome.
We apologise for the fact that on Monday 3rd and Tuesday 4th September the pub will be closed whilst a new boiler is installed. You can still purchase drinks (including alcoholic drinks) and snacks from Rita's Tearooms on these days.
Real Ale
In recent years the pub has been gathering a following all of its own, as people come especially to sample the wide variety of real ales, the majority of which are sourced locally. In 2014 we had a visit from the Matlock and Dales CAMRA club, who were intrigued to find out more about the Red Lion. The Rural Real Ale Drinkers have featured us in their newsletter 'Rurad 0415'.
Opening Times 2018
Winter Season
17th March - 31st March: 10am - 4.30pm (last admissions 3pm)
Main Season
1st April - 2nd September: 10am - 5.30pm (last admissions 4pm)
Winter Season
3rd September - 28th October and 4th November: 10am - 4.30pm (last admissions 3pm)
Starlight Spectacular
Mon. 29th Oct., Thursday 1st Nov., Friday 2nd Nov. and Saturday 3rd Nov.: 10am - 8.30pm (last admissions 7pm; last tram 8.00pm)
Tues. 30th Oct. and Wed. 31st Oct:. 10am - 7.30pm. (last admissions 6.00pm; last tram 7.00pm).
Last Day of the Season
Sun. Nov. 4th: 10am - 4.30pm (last admissions 3pm; last tram 4.00pm)