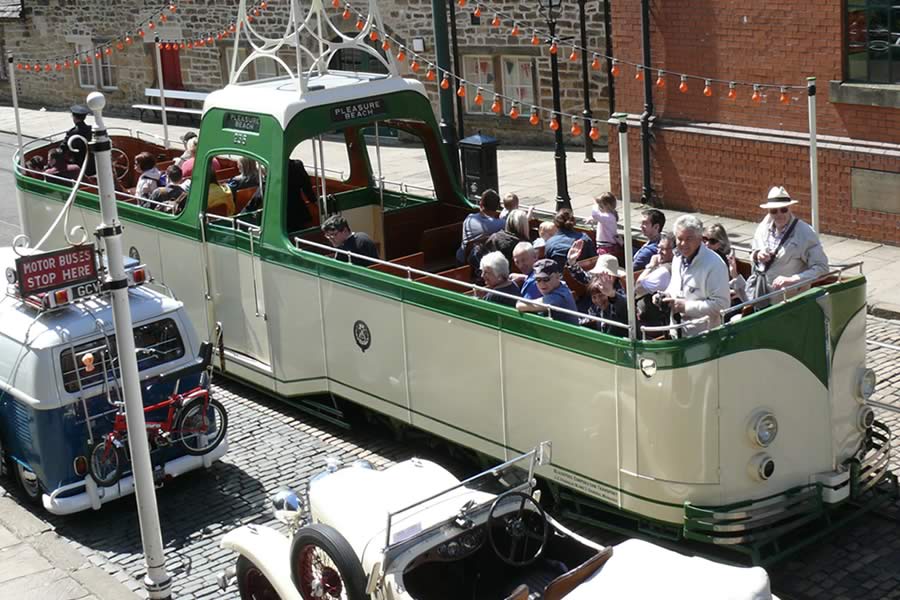 Tips for Groups
We understand how much work a group organiser or tour operator has to put in to make the day a success, so we have put together some top tips and things you will need to know when planning a group visit with us.
• We offer a special discount for groups of 10 or more people. Advanced bookings are required.
• We welcome groups of all sizes and abilities. There is ample free coach parking by the admissions building.
• For visitors with walking difficulties, it may be possible for coaches to drop off in the centre of the village. Please request this on booking.
• Guided tours are offered most days (excluding Event days) at 11am and 2pm for the outside areas and tram depots and at 12.30pm in the Exhibition Hall.
If you require a private guide solely for your group, this is subject to availability and a cost of £35.00 per guide.
Workshop Tours may be available for a group of no more than 15. Pre-bookings required. Please contact us to check availability.
• The Museum is accessible for all (see below) with ramps and lifts to all buildings, smooth routes and dropped curbs for wheelchair users. There is also a specially modified access tram to carry wheelchairs.
• Catering – we have a variety of catering facilities on site such as a cafe which serves hot food 12.00 – 2.30pm, The Red Lion Pub which serves drinks and snacks from 12.00- 2.00 pm and Ice-cream Parlour which serves ice cream and hot drinks.
• We also offer a free refreshment voucher for coach drivers.
• We recommend 3-4 hours for your visit. Each electric tram return journey takes approximately 25 minutes.
• For a unique group experience, Crich Tramway Village has a full events calendar which includes World War II and Beside the Seaside events.
The roads around Crich are passable by coach, however if you are bringing a larger coach or double-decker, please contact us before your visit for a recommended route.
If you would like to investigate further, complimentary tickets for a FAM trip can be issued on request. Please contact the Museum.
If you are a school group, please contact the Learning Department: http://www.tramway.co.uk/learning/educational-enquiry
Spring Season 2020
14th March – 9th April 10am – 4.30pm (last admissions 3pm). Except week-ends when we will close at 5.30pm. (last admissions 4pm).
Main Season 2020
10th April – 6th September 10am – 5.30pm (last admissions 4pm) 
Autumn Season 2020
7th September – 27th October: 10am – 4.30pm (last admissions 3pm) Except week-ends when we will close at 5.30pm. (last admissions 4pm).
Starlight Event  28th October – 31st October 2020
Wednesday 28th October and Saturday 31st October – 10am – 8.30pm  (last admissions 7pm)
Tuesday 29th October – Friday 30th October – 10am – 7.30pm (last admissions 6pm).
Last Day of the Season 2020
1st November – 10am – 5.30pm (last admissions 4pm) 
Group Rates
| | |
| --- | --- |
| Adult | £11:50 |
| Senior (60+) | £11:50 |
| Child (4 – 15 yrs) | £8.00 |
Group rate applies for 10 or more paying people. Payment must be made in one transaction.
For school or education admission rate, please see the learning section.
Tickets valid on day of visit only.
Classic vehicle owners are invited to bring and exhibit their classic cars, but pre-booking is required and bookings are subject to there being no events taking place on the requested date. Open to all vehicles built in 1979 or earlier.
If you wish to book your car club to come to Crich Tramway Village, call us with the date, number and type of vehicles, number of drivers and passengers and approximate arrival time on 01773 854321.
Drivers wishing to bring their cars into the Village will be admitted free, with passengers admitted at group rates.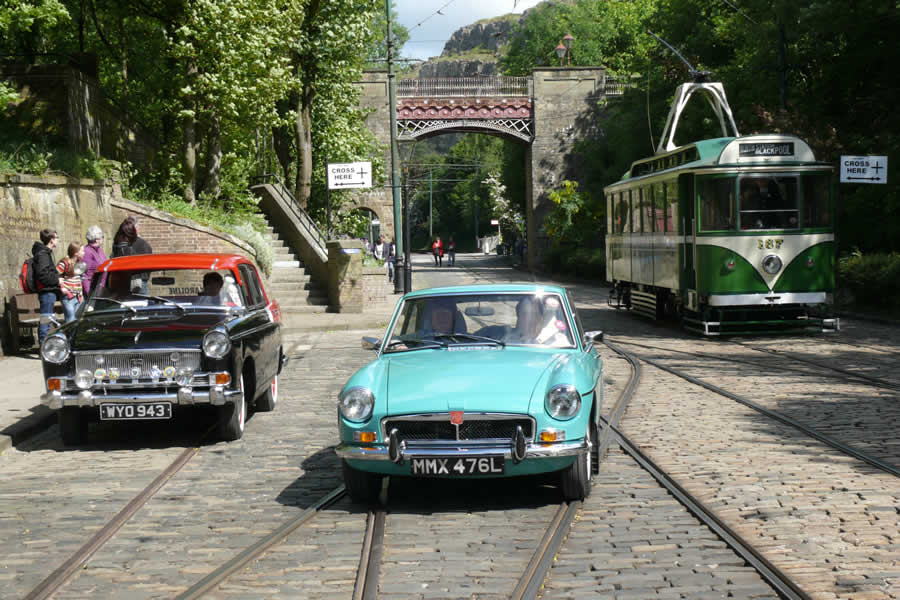 Use the online group booking form.