Volunteering
Are you looking for a New Year challenge? Then We Want You!
Volunteer Tram Crew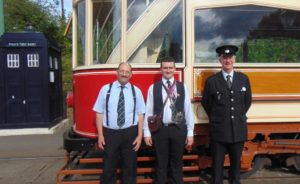 Volunteer Tram Crew
We are looking for enthusiastic individuals to join our volunteer Tram crew on our vintage trams. You need to be of smart appearance with good customer service skills. Training will be given to successful applicants, starting as a Conductor/Guard responsible for the safety of passengers boarding and alighting, ticketing and assisting the Tram Driver.
If you are interested in becoming part of our volunteer Tram Crew, please email: volunteering@tramway.co.uk  or complete our enquiry form: https://www.tramway.co.uk/volunteering/volunteer-enquiry/
Opening Dates & Times 2020 
Winter Season
October 
Tuesday, Wednesday and Thursday 10am - 4.30pm. (last admissions 3pm) Except:
Wednesday 28th, Thursday 29th and Friday 30th October: 10am - 6.30pm (last admissions 5pm)
Saturday and Sunday: 10am - 5.30pm. (last admissions 4pm).
November
These weekend days only:
Sunday 1st, Saturday 7th and Sunday 8th November: 10am - 5.30pm. (last admissions 4pm).