EVENTS MANAGER:  1950 hours annualised contract (5-days per week) £23,000 PA
We are seeking an enthusiastic, experienced person to join our Marketing team, as our Events Manager. The successful candidate will manage and lead special events, manage a team of volunteers, manage the overall budget, seek bookings of performers and other contractors, undertake administration, and develop the events programme with the Marketing Officer. Attendance at events is expected as event-leader and therefore frequent weekend and Bank Holiday work will be necessary. Hours to be worked flexibly but we expect the normal pattern to be Thursday to Monday.
This is an exciting opportunity to join an award winning Museum, and help us provide the public and researchers, with greater access to our extensive collections.
If you are interested, please download the Job Description, Person Specification and Application Form and return by 26th July 2018. Interviews in early August.
Job Description Events Manager
Application Form Events Manager 2018
DESIGN TENDER:  HOLROYD SMITH – ELECTRIFYING THE FUTURE
We are seeking a design company to develop and fit out a new exhibition Holroyd Smith – Electrifying the Future, due to open in March 2019, following the award of History Makers grant in May 2018 by the AIM Biffa Award.
The new Holroyd Smith – Electrifying the Future exhibition will replace the current display of items along the length of one wall in our Great Exhibition Hall which is also home to our Century of Trams exhibition. The overall length of the display space is approximately 40m.
It is important to note that the new exhibition will be expected to complement the existing one, whilst also standing alone as a separate exhibition, and the design vision submitted for the Tender should reflect this.
The National Tramway Museum is looking for a Design Company with suitable experience to deliver the design, development and fit out of the Holroyd Smith – Electrifying the Future exhibition.
As part of the selection process, we invite you to make a written response to our brief, including:
–              A design vision for the overall exhibition, including it complementary stance with the existing Century of Trams exhibition
–              Suggestion of interpretative techniques / interactives within the budget
–              A comment on the proposed timetable
–              A breakdown of suggested costs and fees
–              A list of the personnel that will be working on the project and their roles
–              Details of previous and current work relevant to the project and two referees
For full brief details and relevant interpretation plan please download the following documents:
Holroyd Smith Invitation to Tender – Design Final
Interpretation Plan – edited 17-7-2018
Please send your written submission/response to the brief by 31st July 2018 to:
Laura Waters – Curator
Holroyd Smith – Electrifying the Future Project
The National Tramway Museum
Crich
Matlock
Derbyshire
DE4 5DP
Or email to: laura.waters@tramway.co.uk
Any telephone enquiries can be directed to Laura Waters on 01773 854338.
Interviews will be held at the National Tramway Museum on the 9th / 10th August 2018
Volunteering Opportunities
Are you looking for a New Year challenge? Then We Want You!
Volunteer Tram Crew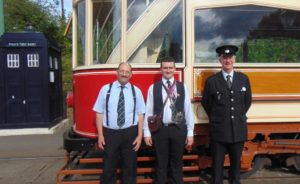 Volunteer Tram Crew
We are looking for enthusiastic individuals to join our volunteer Tram crew on our vintage trams. You need to be of smart appearance with good customer service skills. Training will be given to successful applicants, starting as a Conductor/Guard responsible for the safety of passengers boarding and alighting, ticketing and assisting the Tram Driver.
If you are interested in becoming part of our volunteer Tram Crew, please email: volunteering@tramway.co.uk  or complete our enquiry form: https://www.tramway.co.uk/volunteering/volunteer-enquiry/
Opening Times 2018
Winter Season
17th March - 31st March: 10am - 4.30pm (last admissions 3pm)
Main Season
1st April - 2nd September: 10am - 5.30pm (last admissions 4pm)
Winter Season
3rd September - 28th October and 4th November: 10am - 4.30pm (last admissions 3pm)
Starlight Spectacular
29th October - 2nd November: 10am - 7.30pm (last admissions 6pm).
Saturday 3rd November 10am - 8.30pm (last admissions 7pm)