Ultimate Tram Driving Experience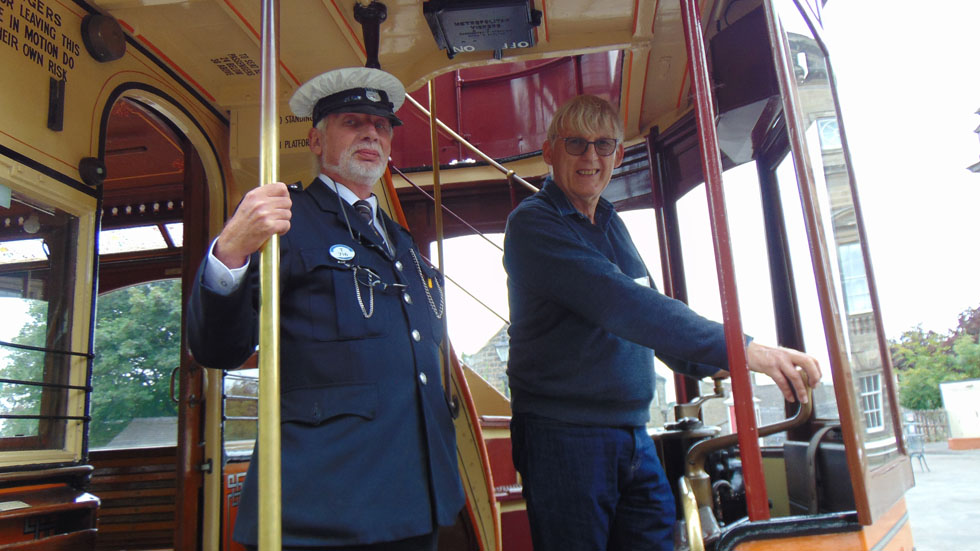 The thrill of driving a vintage tram
This unique package allows you to spend a whole day learning how to drive one of our Vintage Trams in a stunning location. 
Your day
On arrival you will be greeted by one of our instructors and taken into the Museum. The day begins over refreshments with a chance to get to know our expert instructors. During the morning session they will take you through the tram driving process and health and safety.  You will then take to the tram with your instructor and a guard for a tour of the driving route and, under the watchful eye of our instructors, take controls of one of our fleet of vintage trams.
The mile long track offers a chance to practice navigating the points, tram stops and the Derbyshire hills.
Each person will usually have time to complete at least 4 round trips. There will also be opportunities to perform Guard duties on 'the back platform', including trolley turning (where fitted), bell signals, and changing points. Family and friends are welcome to join you on the drive and can get involved by helping turn the trolley pole or just enjoy the ride.
The day ends when you return the trams to the depot, and re-assemble for refreshments and de-briefing.  Once you have the airbrake course under your belt, why not follow it up with the handbrake course? The day is very similar to the airbrake course, but allows you to learn to operate a handbrake tramcar.
The cost for 2024 is £395.00 per candidate, which includes lunch and admission for the candidate and one guest. Additional guests can be accommodated at extra cost if booked in advance.
The majority of Ultimate Tram Driving Experiences take place on Fridays in the spring and autumn season, when the Museum is closed to the public, but the main Exhibition Hall will be open for viewing.  We also offer each candidate a gift voucher to return with one guest for a future visit when the Museum is open to the public.
We are now fully booked for 2023. Dates for 2024 will be released later in the year. If you wish to purchase a gift voucher for the experience, please email: Amanda.Blair@tramway.co.uk
Opening Dates & Times 2024
SPRING SEASON
Saturday 9th March – Thursday 25th July (closed Fridays except BH's/School holidays)
Opening times:
Weekends/Bank Holidays: 10am – 5.30pm – last admissions 4pm.
Weekdays: 10am – 4.30pm – last admissions 3pm.
Closed Fridays, EXCEPT Good Friday 29th March (B/H) and School Holidays Friday 5th April, Friday 12th April, Friday 31st May.
Summer Season
Friday 26th July – Sunday 1st September – OPEN DAILY at the following times:
Weekends/Bank Holidays: 10am – 5.30pm – last admissions 4pm.
Weekdays: 10am – 4.30pm – last admissions 3pm.
(Summer Bank Holiday is Monday the 27th August 2023).
Autumn Season
Monday 2nd September – Sunday 3rd November (closed Fridays EXCEPT Friday 1st November for school holidays).
Opening times:
Weekends/Bank holidays: 10am – 5.30pm – last admissions 4pm.
Weekdays: 10am – 4.30pm – last admissions 3pm.
Downloads
Ring 01773 854321 for more details.