Woodland Walk and Sculpture Trail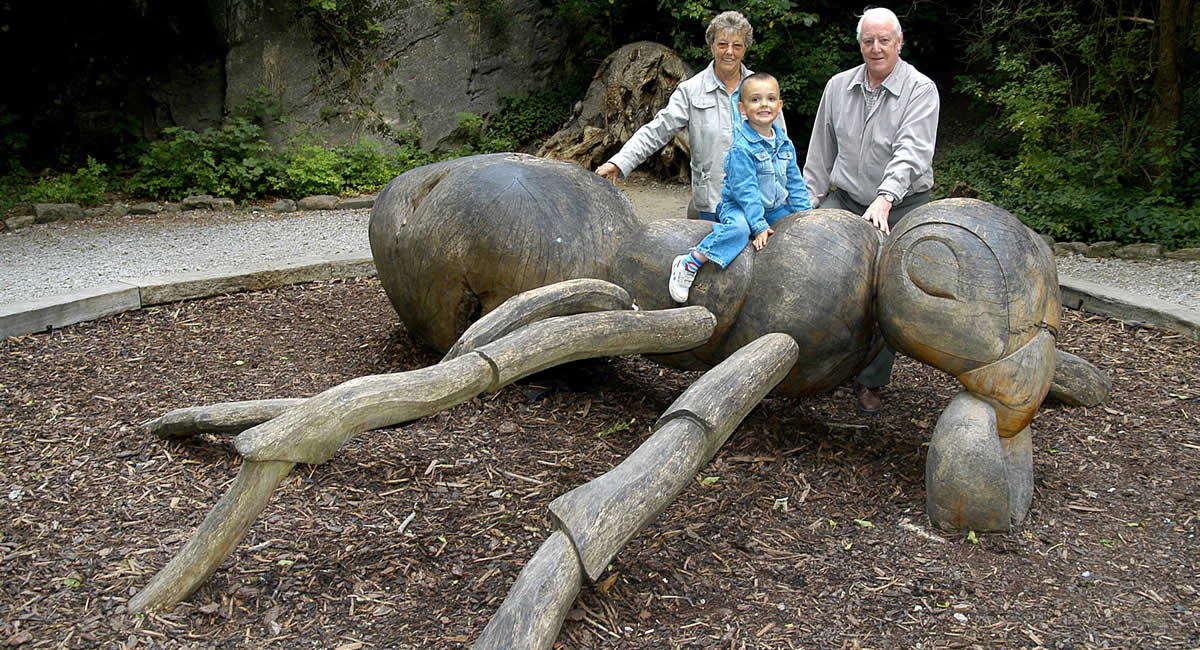 Exploring the Historic Landscape at Crich Tramway Village
Our Woodland Walk and Wakebridge tram stop have a range of new things to see and do from 2019, funded by the National Lottery Heritage Fund in partnership with The Peak District Mines Historical Society. The footpath through the woodland has been resurfaced, making it more accessible for wheelchairs and pushchairs.
Look in the shelters along the woodland walk to learn more about the woods.
Enjoy the view and have fun with some outdoor games at Derwent View.
Peep into the tunnels at Wakebridge to find out about local lead mining.
Explore the restored Victorian horse cabmen's shelter from Bradford located at the Wakebridge tram stop. Between 2020 and 2022 the shelter was restored to how it looked when it was built in 1877. Below is footage scanned by 'V21 Artspace' prior to the shelter being dismantled and taken away for restoration. You can explore a virtual tour of the restored shelter here: Online Exhibitions – Crich Tramway Village    
The project has been funded by an Arts Council England National Lottery Project Grant, The Association of Industrial Archaeology and The Pilgrim Trust.
Look out for new sculptures along the way.
The Woodland Walk & Sculpture Trail allows visitors to stretch their legs on a trail that winds its way through native woodland now dotted with sculptures by our resident sculptor. You may see him at work in his outdoor studio.
With breathtaking views across the Derwent Valley and Derbyshire Countryside the Woodland Walk is the perfect place to escape for a picnic or to while away the hours surrounded by nature. Look out for the sculptures which lurk around every corner such as the Giant Wood Ant and the Green Man.
Please note, children may sit on the Ant with adult supervision, but sitting or climbing on the other sculptures is not permitted.
If you wish to explore further, why not hire a backpack from Admissions which is full of fun facts and activities to make the most of your time in the woodland area.  You can also download the information pack: The Woodland Walk and Sculpture Trail Version 4

Opening Dates & Times 2024
SPRING SEASON
Saturday 9th March – Thursday 25th July (closed Fridays except BH's/School holidays)
Opening times:
Weekends/Bank Holidays: 10am – 5.30pm – last admissions 4pm.
Weekdays: 10am – 4.30pm – last admissions 3pm.
Closed Fridays, EXCEPT Good Friday 29th March (B/H) and School Holidays Friday 5th April, Friday 12th April, Friday 31st May.
Summer Season
Friday 26th July – Sunday 1st September – OPEN DAILY at the following times:
Weekends/Bank Holidays: 10am – 5.30pm – last admissions 4pm.
Weekdays: 10am – 4.30pm – last admissions 3pm.
(Summer Bank Holiday is Monday the 27th August 2023).
Autumn Season
Monday 2nd September – Sunday 3rd November (closed Fridays EXCEPT Friday 1st November for school holidays).
Opening times:
Weekends/Bank holidays: 10am – 5.30pm – last admissions 4pm.
Weekdays: 10am – 4.30pm – last admissions 3pm.