Teacher Resource Packs are sent out with each booking confirmation. These contain background information, photocopiable worksheets and ideas for classroom activities.
You can also hire:
Jubilee Trail
This is an orienteering trail around the Museum site. The activity is aimed at developing map reading and team building skills.
Explorer Back Packs
Each pack contains a range of activities focused on the woodland.
Early Years and Key Stage 1 – Binoculars, magnifying glasses, rubbing equipment, spotter sheets and more, to encourage children to discover more about our woodland.
Key Stage 2 – Choose either 'Birds and Butterflies' or 'Minibeasts and Plants'.
Winston Woodlouse
A story activity for Early Years – Key Stage 1 which introduces the minibeasts that can be found in our woodland.
Handling Boxes
We have a number of artefacts that we can offer to school groups to help bring their visit to life. Please call to discuss your requirements.
Cross Curricula Teachers' Resource Pack
A broad range of suggested ideas and activities to support classroom learning and self-led onsite visits.  The activities cover History, Art, Geography, Science and Performing Arts.  They can be delivered separately or in any combination to maximise a full day site visit.  We have purposely designed opportunities for hands-on engagement with real and replica objects to enhance observation, investigative, communication and social skills. Free to hire.
The Basics
Let us know if you need clipboards and pencils or anything else that is difficult to bring with you.
---
We are adding new resources all the time, so do keep looking, and get in touch if you would like something specific.
Contact the Learning Department for more details.
Contact
To contact the Learning Department for more details or to book activities use the Educational Enquiry form, or ring 01773 854328.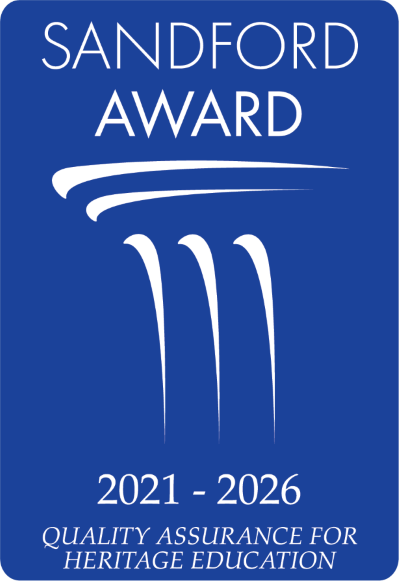 Winners of the Sandford Award for Heritage Education 2021 - 2026