Whilst Crich Tramway Village is obviously known for its trams, we also have a significant collection of street furniture items, which are also historically important. During our recent closed period, we have been able to take the opportunity to carry out much needed repairs to one of these items – a rare historic police box dating from the 1930s.
The Metropolitan Police Box was once a familiar site on the streets of London, but the example at Crich is believed to be the last known survivor of this particular MK2 type. Designed by Gilbert Mackenzie Trench in 1929, the box contained a telephone for police officers to communicate directly with stations before portable radios were introduced. Equally important was the facility for members of the public to use the box to call the Police for help. A similar model is featured as the T.A.R.D.I.S ®TM in the popular TV series, Dr. Who, though the Crich Tramway model does not have time travel capabilities!
The Grade II Listed police box arrived at the Museum in 1983 after being donated by the Metropolitan Police and transported from London. It has stood at Crich for nearly 40 years as part of the period street that trams operate on. Despite repairs carried out in the past, the concrete body has been deteriorating over the last few years and was in need of specialist repairs to prevent it weakening further.
Due to its Listed status, we must make sure that any work carried out will not have a negative impact on the historic significance of the police box. So, after extensive correspondence with our local Council planning officers and searching for a contractor suitably experienced in historic concrete repairs, we selected RESTEK to do the work. Over 6 days, they carefully removed the surface layers and applied specialist materials to repair and stabilise the degrading concrete. Attention was also given to the corroded steel reinforcing rods running through it. After this, they applied four undercoats of masonry paint, followed by two topcoats of gloss which had been colour matched to the appropriate shade of blue.
These photographs show the restoration work that has been carried out – removal of surface layers (revealing the 'ghost' police box!), application of protective materials to the concrete body, repainting, and finally the finished product.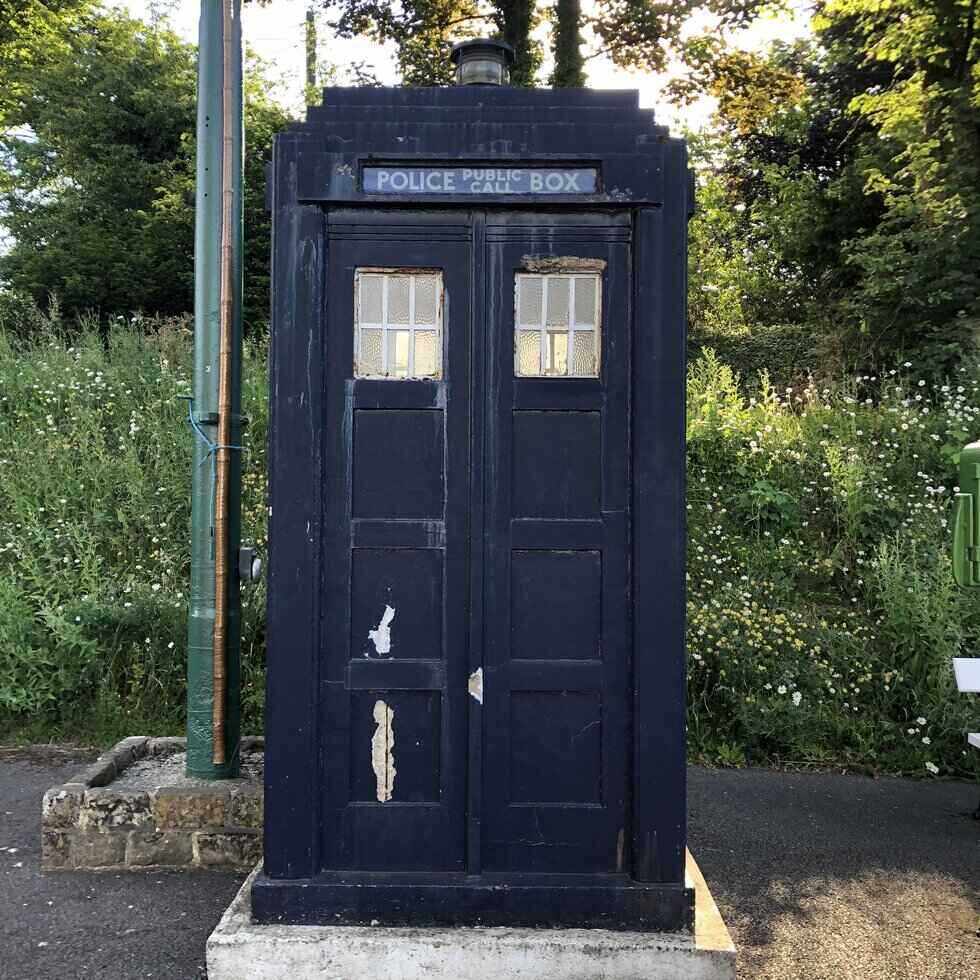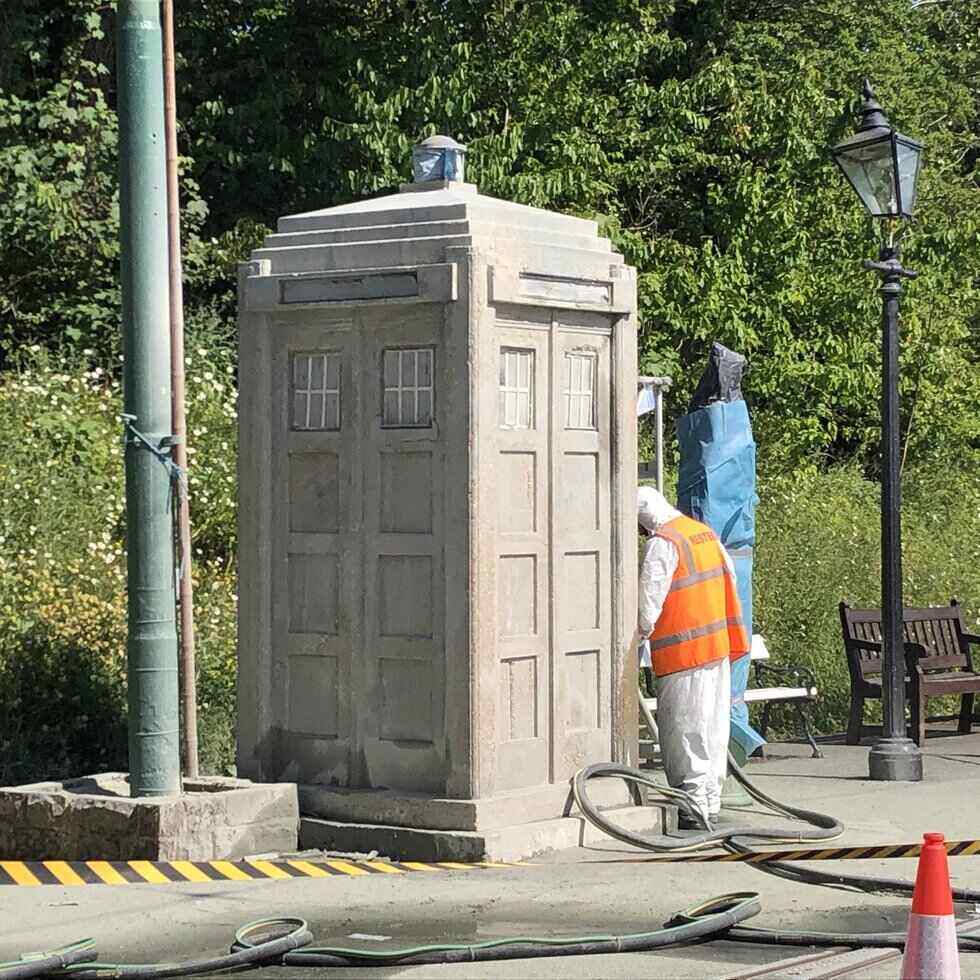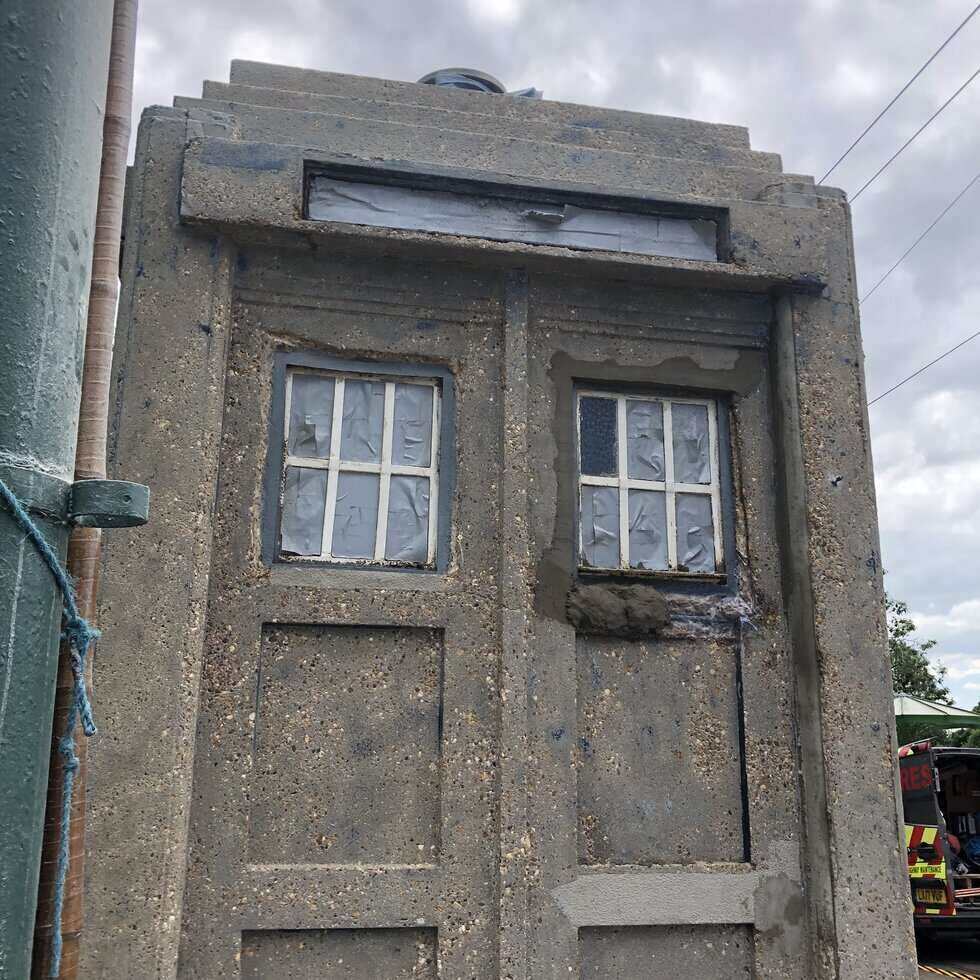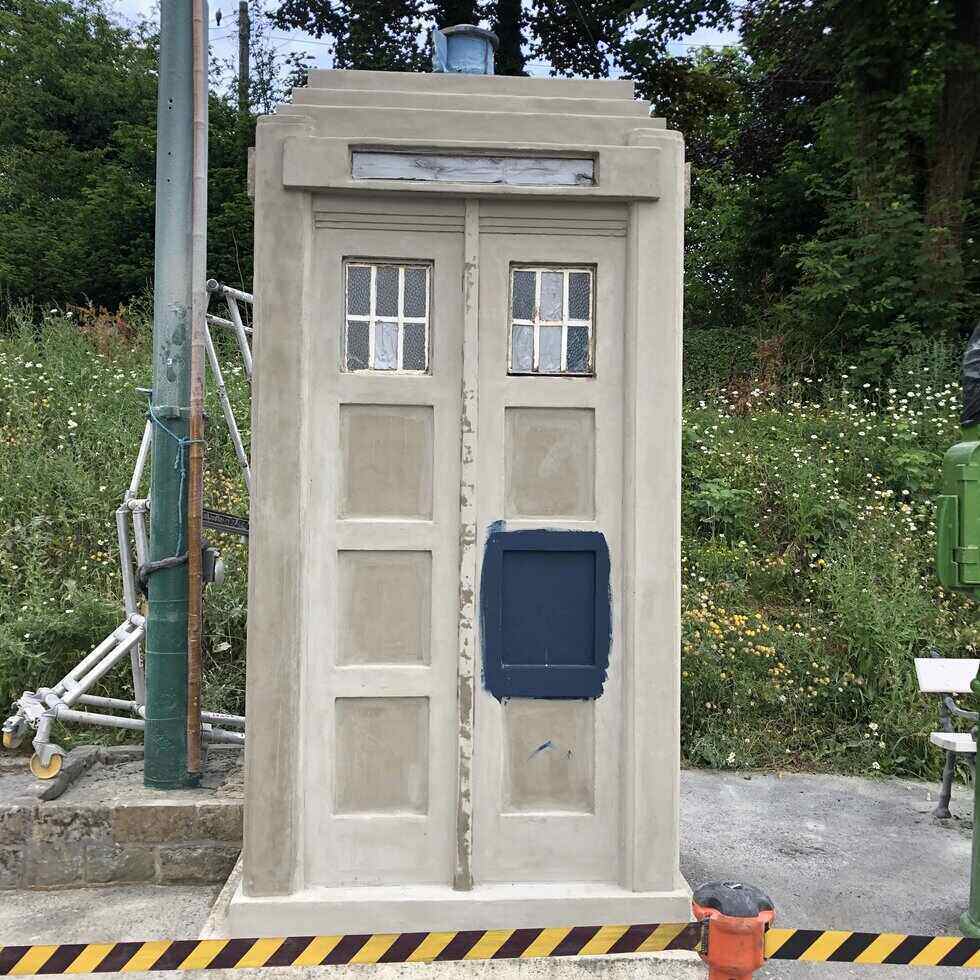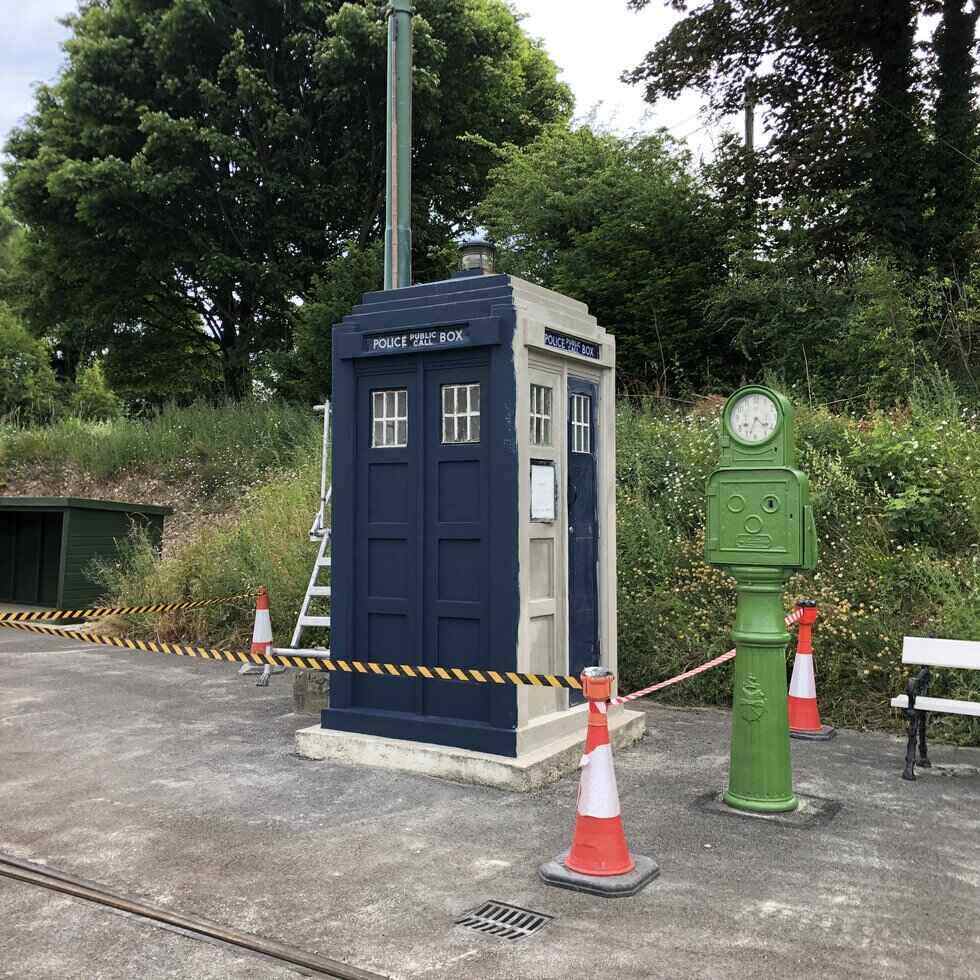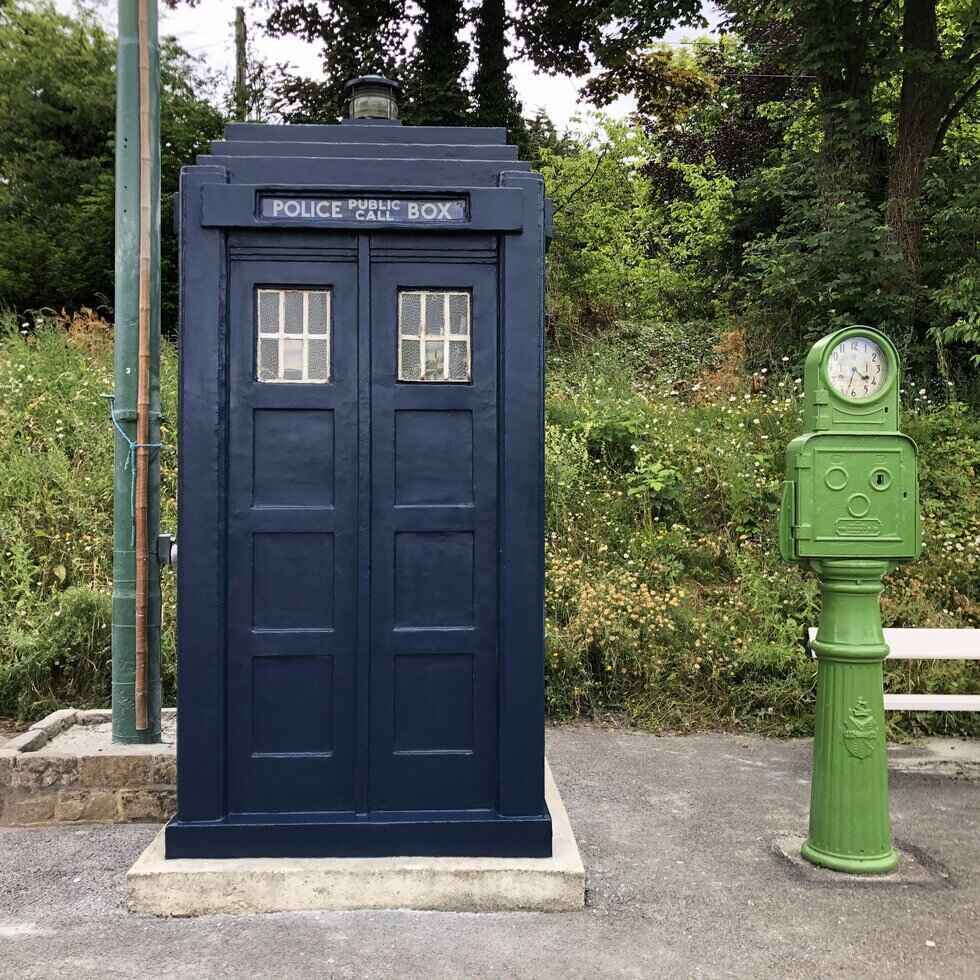 There is still some work needed to repair the windows, but we hope you'll agree that the police box now looks very smart. Most importantly, the work will help to preserve this iconic structure for years to come.
We are grateful to have received a grant from Arts Council England, through Museum Development East Midlands, towards the cost of the project. The museum has to fund the remaining cost of over £4,000 and would welcome any contributions towards this. Donations can be made via our website: Make a Donation – Crich Tramway Village
For more information about our contractor RESTEK see: https://www.restek-ukltd.co.uk/