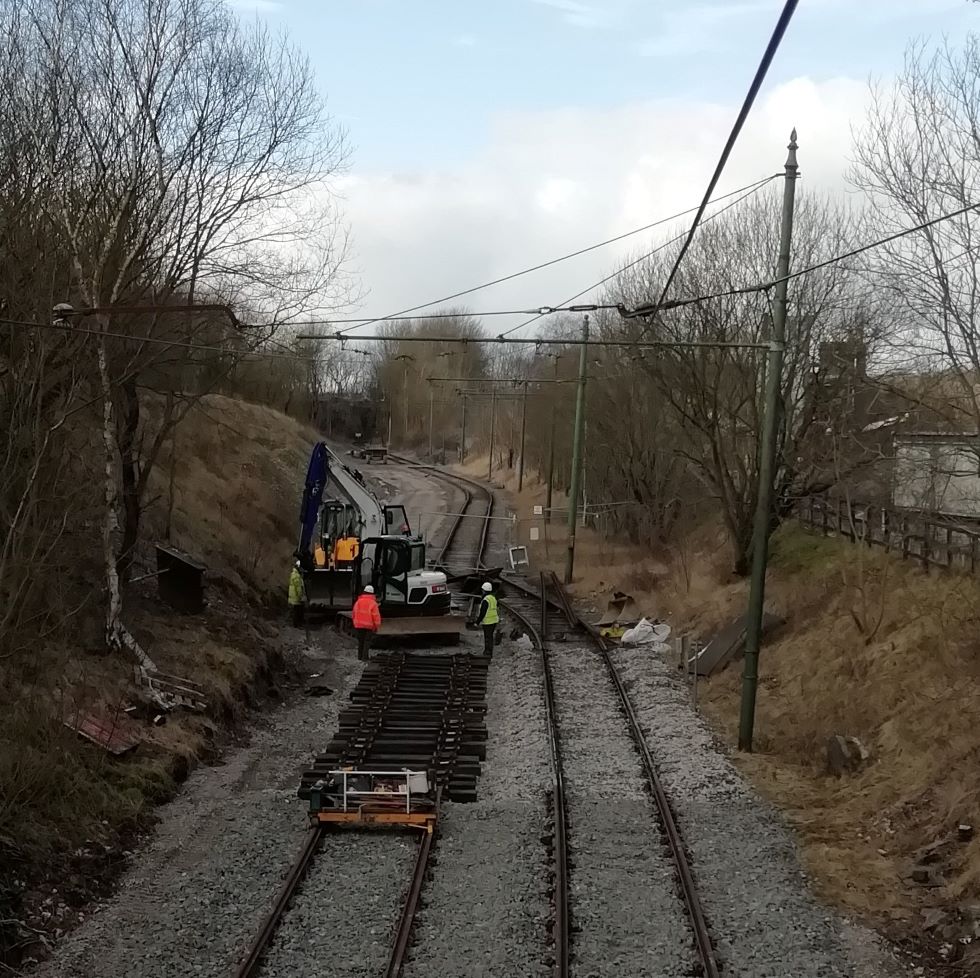 A lot of the tramway rail track at Crich Tramway Village has been in place for over fifty years, when the line at Crich was first extended to Wakebridge in around 1966.
Staff, volunteers and contractors are busy replacing the section known as 'the Bandstand Curves', which includes installing 500 new hardwood sleepers.
The work is essential to maintain an operational tramway, so that visitors can enjoy riding on the vintage tramcars, from the National Tramway Museum collection.
Both lines of track are now virtually complete and the top ballast has been installed. The team are currently putting in the last couple of track panels to join to the existing rails. Last week the concrete was laid for the joint into the roadway at the bandstand stop and the tarmac surface was reinstated.
The final tasks are to install the fish-plates that join the old rail to the new, set the final track alignment, lift and pack the ballast and ensure the correct tilt through the curved rail. Then the track will be ready to start testing our tramcars ready for opening on 14th March.
Thank you to the generosity of our supporters, including many TMS Members we have raised over £9700 towards the project since 'Sponsor a Sleeper' was launched in November 2019. You can support this essential work by sponsoring a sleeper for £100.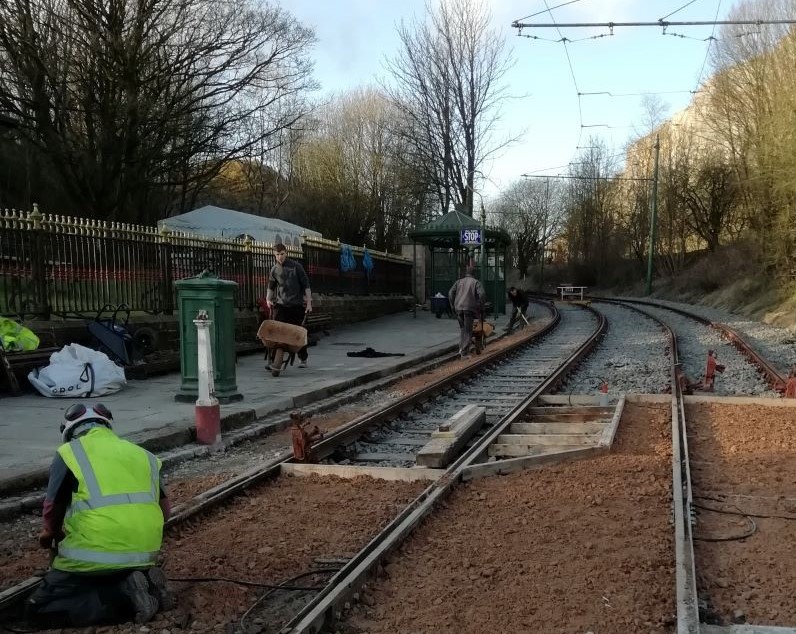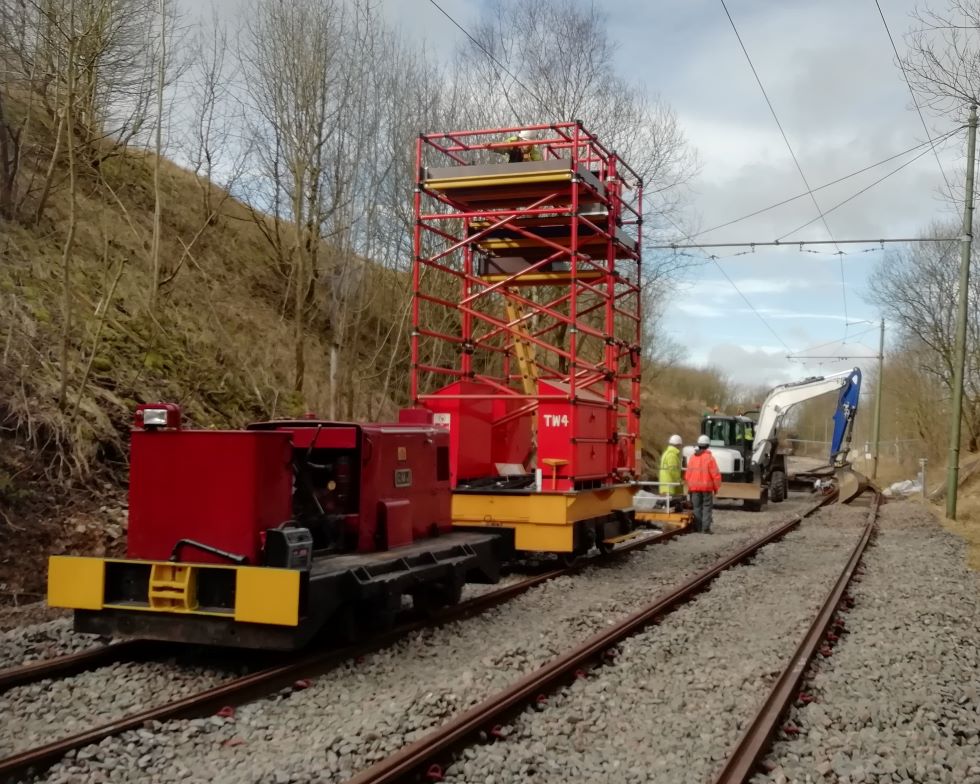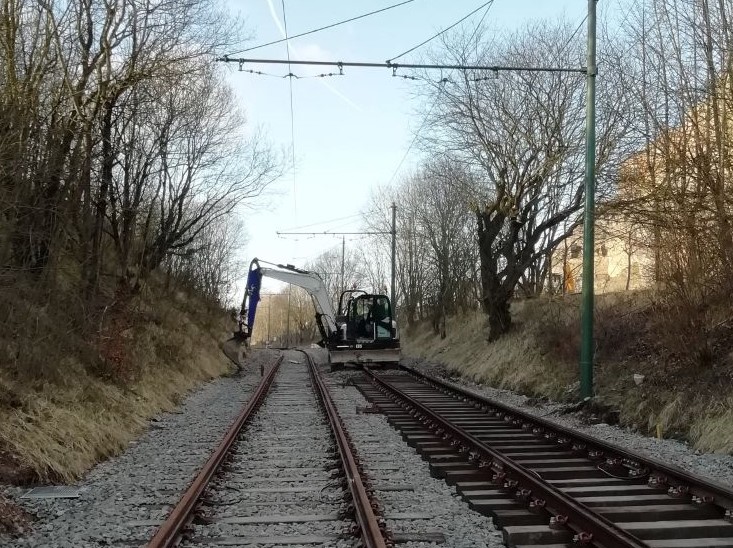 In return you will receive a small section of 1st-generation BS2 profile rail that will be removed from the Bandstand Curves during the project.
There will only be 500 sections available and each will be stamped with an edition number. You will also receive a certificate recording the location of your sleeper (the sleeper itself will not be numbered). The individual who sponsors the greatest number of sleepers will receive a unique chrome-plated slice of 1st-generation rail.
If you are unable to sponsor a sleeper but would still like to support this work, smaller amounts towards the project would be welcomed. Anyone who donates £10 or more towards the project can opt to be credited in the Tramway Museum Society Journal and online in a project blog on the Crich Tramway Village website.
Thanks to the generosity of members of the Tramway Museum Society, £7000 has already been raised towards the costs of the project over just a few weeks, but we still need your support.
This is your very last opportunity to 'Sponsor a Sleeper' and receive an original slice of heritage tram rail removed during the project. The appeals closes on 14th March 2020.
To support the project, please download, complete and return the Donation Form from the website:
https://www.tramway.co.uk/2019/12/03/sponsor-a-sleeper/ and send to Laura.Bird@tramway.co.uk
You can keep up to date on progress on the project via our website and social media pages.