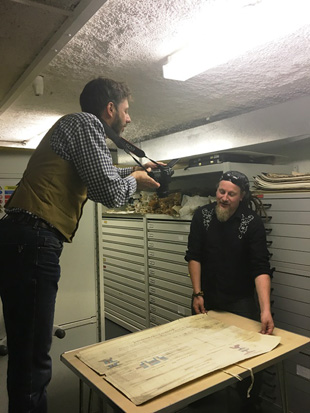 We announced back in May that we had been awarded grants from both Arts Council England and the Heritage Lottery Fund, to develop the project Conversations & Memories, which would see a series of contemporary sculptures by artistic duo Musson&Retallick, designed and installed at the Museum to commemorate the country's tramways involvement during the First World War.
Taking the next step in the project, our Curatorial team recently hosted the duo of Neil Musson and Jono Retallick for a week of research, investigation, exploration and random discovery in our Archive and around the Museum.
Neil and Jono had visited the Archive previously when doing research for their submission for the project, but this was the first time they'd had a chance to really investigate the hidden wonders of the collection, and really get an in depth look at the broad range of material that might help to influence and shape the design of the sculptures, and the creative workshops that will be part of the project.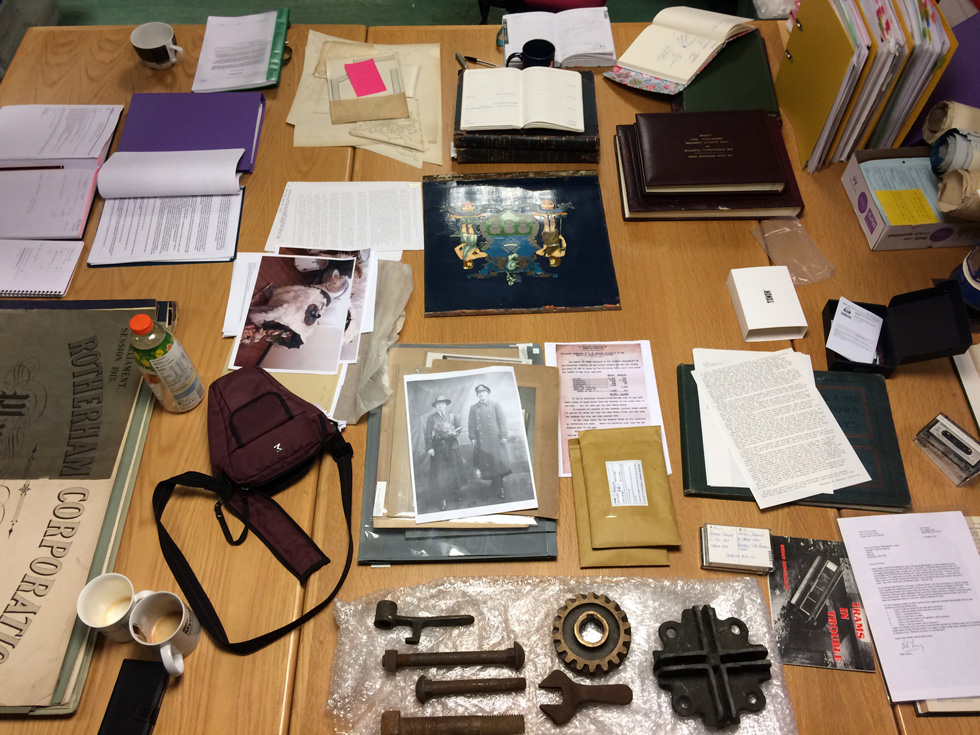 Our Curator, Laura Waters asked the duo if there was anything in particular they wanted to start with when they came or ideas of what they wanted to see. Neil's answer "We are hoping to find something that we didn't know we were looking for. So if you could get that ready for us it would be very helpful.
Well, our Curatorial team always like a challenge, so each day that the duo were with us, they came in to the Archive with something new ready on the table for them to explore and investigate. Whether it was an audio interview with Mr Harry Salmon a tram driver for Colchester, who was also a soldier in the First World War, or fabric sample books for seating material on trams, route plans for tramway expansions, or perhaps some bolts, controller key and overhead line crossing casting retrieved from our off site store, there was also a different facet of the tramway history to explore.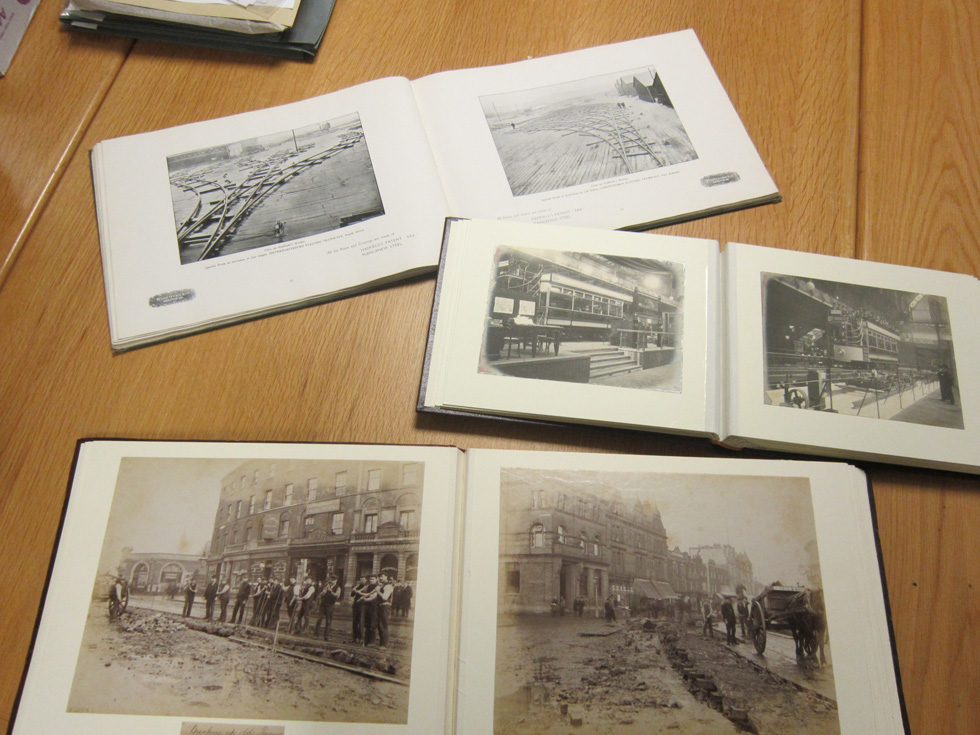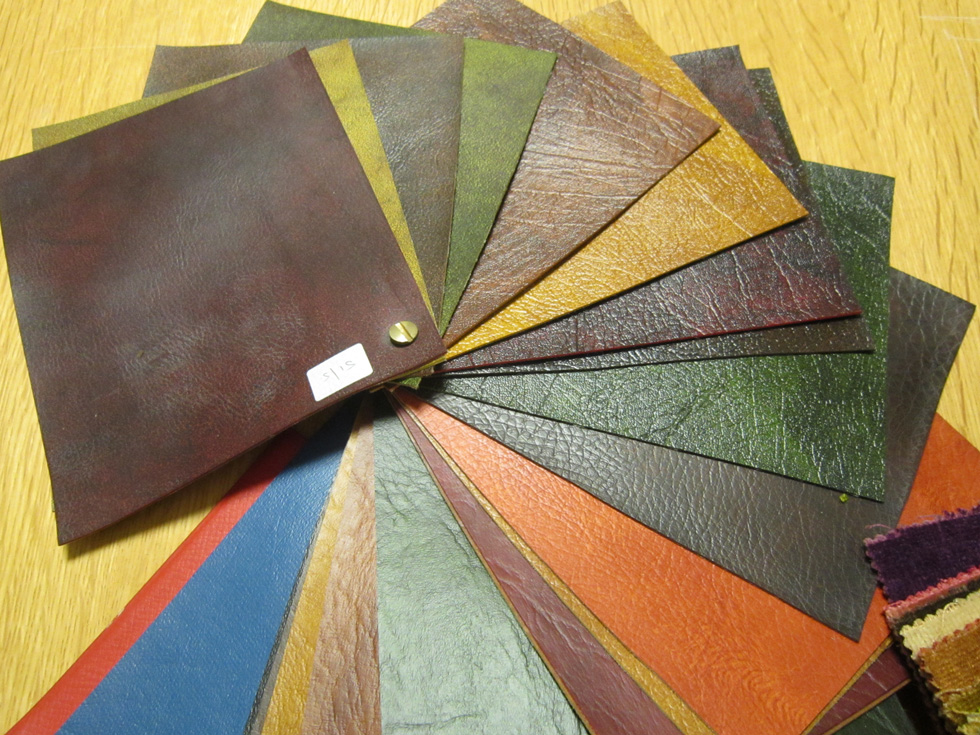 The duo also spent an investigative day exploring the inner goings on of our workshop, including a trip down the inspection pit to appreciate the mechanics of the underside of a tramcar. They were able to talk to our coach painter, coach builder and mechanical engineer, who were more than happy to share their knowledge of tramcar design and maintenance. They also got a sneaky look at our pattern store, which not many people get to see, but the visit definitely left them with food for thought. After spending time in the workshop it was on to exploring more of the tramcar collection and appreciating the decorative as well as functional aspects of the vehicles.
One of the areas that Neil and Jono were keen to revisit, having seen a small glimpse of it during their early visit, was our engineering drawings collection. The collection contains thousands of drawings for tramcar components, general arrangement drawings of tramcars, track work plans, and everything in between. It contains a wealth of knowledge which is often utilised by our own workshop team, but was a particular source of inspiration for Neil and Jono.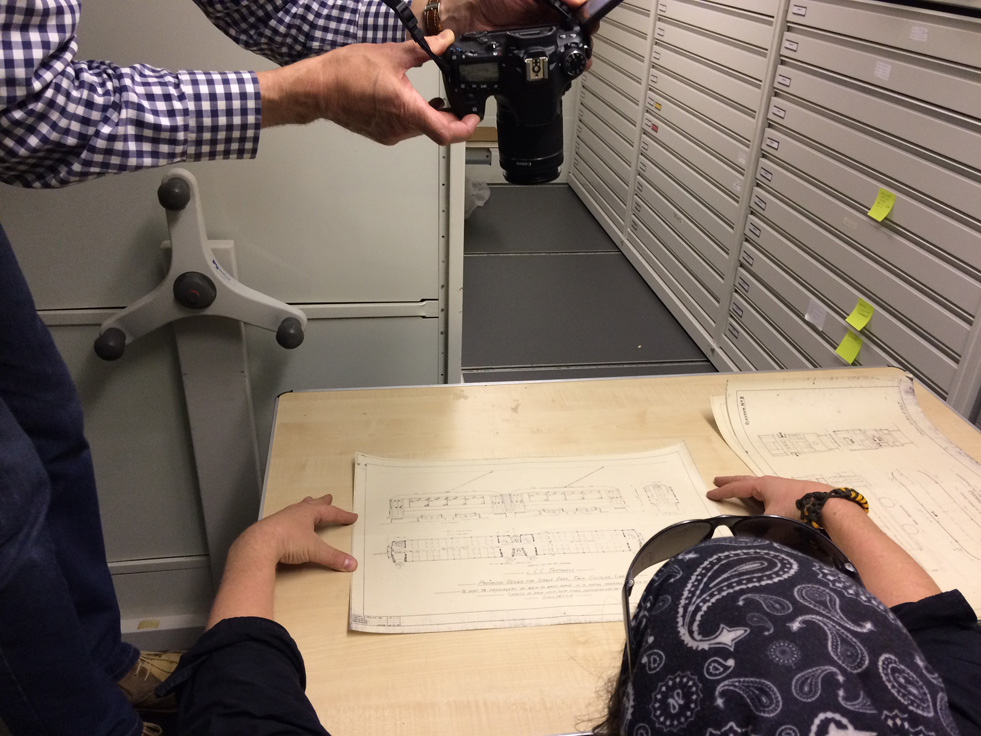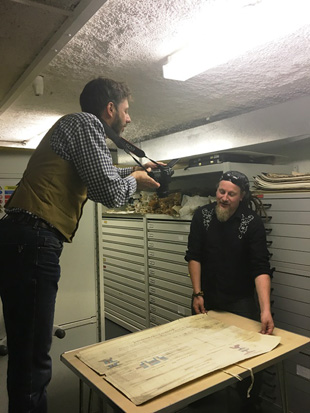 Having spent four days completely absorbed in tramway history and exploring the collections here at the Museum, its pretty safe to say Neil and Jono left will plenty of inspiration, avenues of discovery and thoughts about how the project Conversations & Memories could take shape, as well as sources of inspiration for the upcoming series of creative workshops.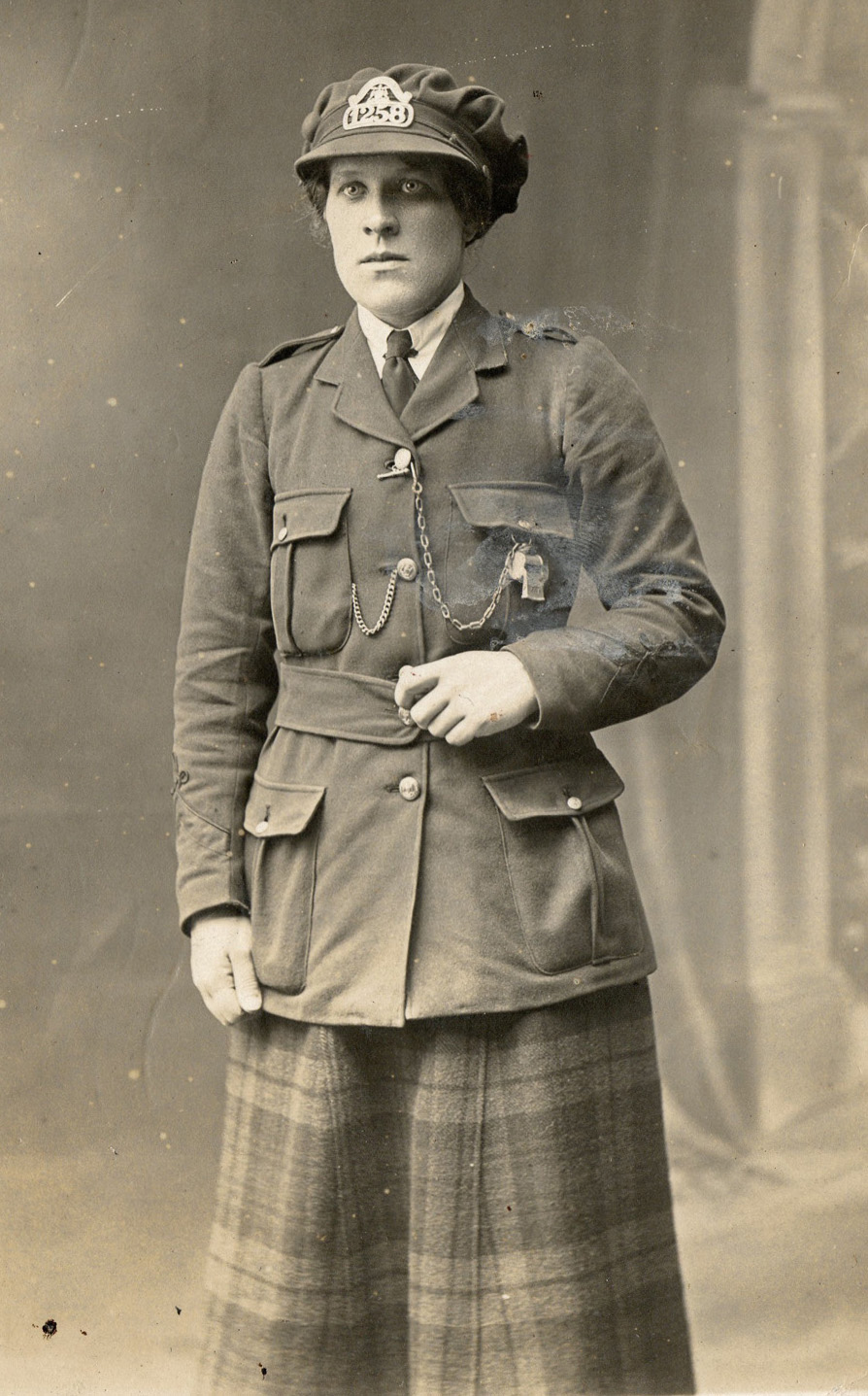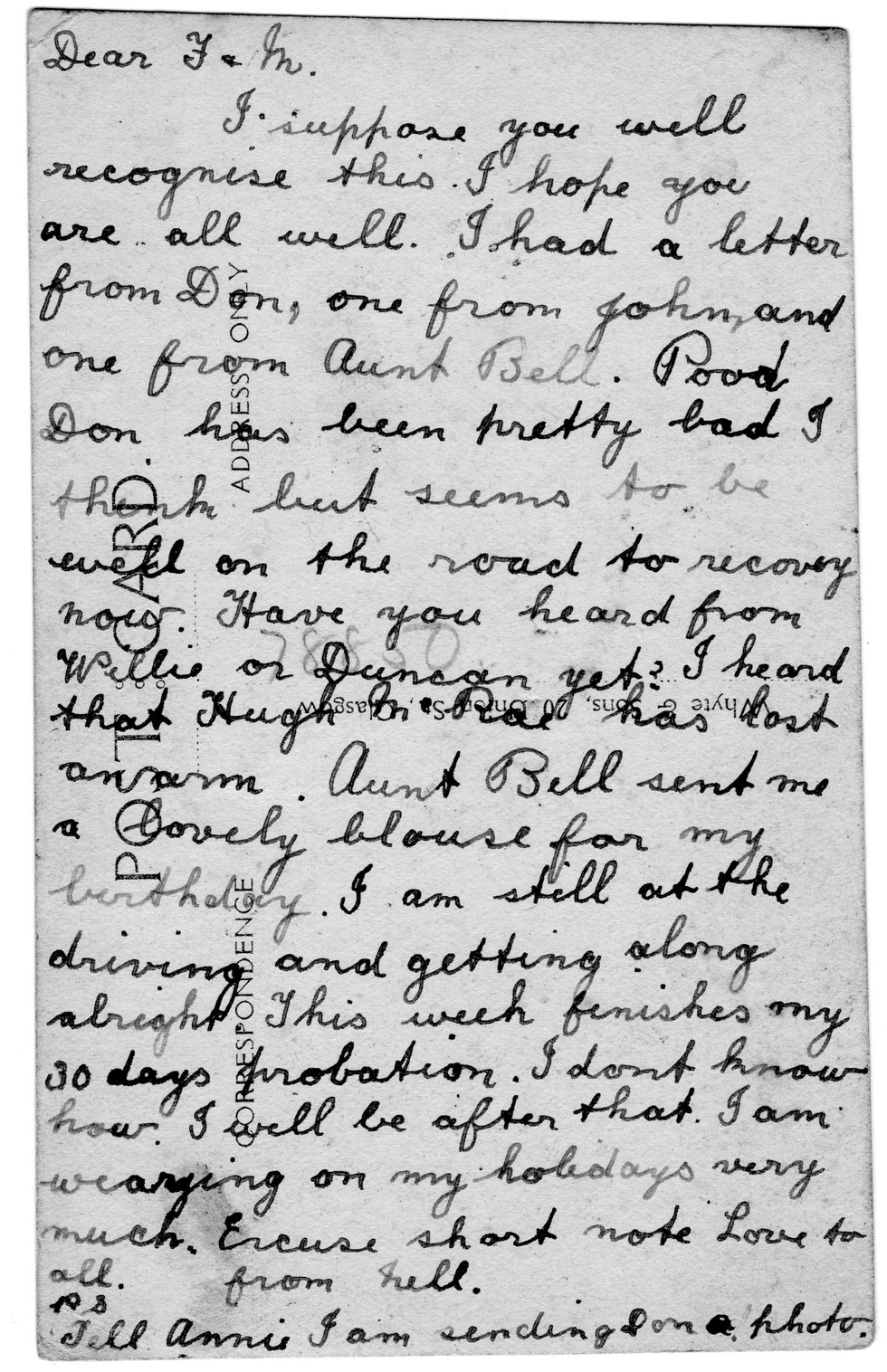 How you can help
Sponsor 'Conversations and Memories' and in return you will be recognised by name on a new wooden sculpture in our Woodland Walk. This sculpture, created by our regular Artist in residence Andrew Frost, will take the more traditional form of the figure of a soldier seated on a bench. He will be gazing in contemplation from a peaceful location on the edge of Derwent View, towards Crich Stand War Memorial. For £150 you can sponsor the project and have your name (or organisation name) displayed on a 4x8cm brass plaque, that will be attached to the wooden sculpture.
The project is so far supported by Arts Council England, The Heritage Lottery Fund, Rolls-Royce and Derbyshire County Council Community Leadership Scheme, but we need your support too.
To sponsor the project either email Laura.smith@tramway.co.uk or donate on our website by following this link https://www.tramway.co.uk/contact/make-a-donation/ and selecting 'WW1 Legacy Sculpture – Conversations & Memories Project' on the drop down menu and donating £150 or more. You will then be contacted to confirm the name to be engraved on the plaque.