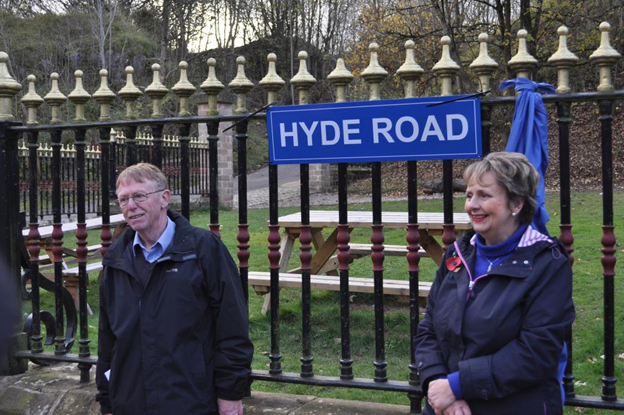 On 5th November 2016 we were delighted to name one of our roads at Victoria Park  'Hyde Road' in memory of Geoff Hyde.
Geoff Hyde was a founder member of the Tramway Museum Society (TMS) being present at the initial meeting, at which he was appointed Assistant Treasurer, held in Manchester in November 1955. He was member No.2.
Geoff remained a member and held office for the TMS until his death. In order he was Asst. Treasurer, Treasurer, Board Member, Chairman, Vice-President and President.
The Journal entry of March 1959 shows Geoff to be one of the members of the sub-committee "set up to consider methods of obtaining increased funds for the project and labour to convert the (quarry) site to a tramway museum". Geoff was also appointed Honorary Treasurer at this time.
His contribution to the Society was practical and included the donation of artefacts from his home town of Ashton-Under-Lyne the most prominent being the ornamental lamp posts outside the Assembly Rooms, which had been made to mark Queen Victoria's Diamond Jubilee in 1897. He was also responsible for the acquisition of our steam tram locomotive, 'John Bull' from the Beyer Peacock works at Gorton.
In his later TMS career he was very much involved with the Grand Transport Extravaganzas held at the August Bank Holiday from the first event through to the 1980's. He also played a major part in the very successful Centenary Year of Blackpool trams in 1985, liaising closely with his brother Derek, who was the General Manager of Blackpool Transport at the time. The Museum sent six electric trams and one steam tram locomotive to operate at that event.
Geoff left a legacy as an author, as he wrote several books on tramways in his local area, and we now have Hyde Road named after him as a lasting tribute to his enormous contribution.