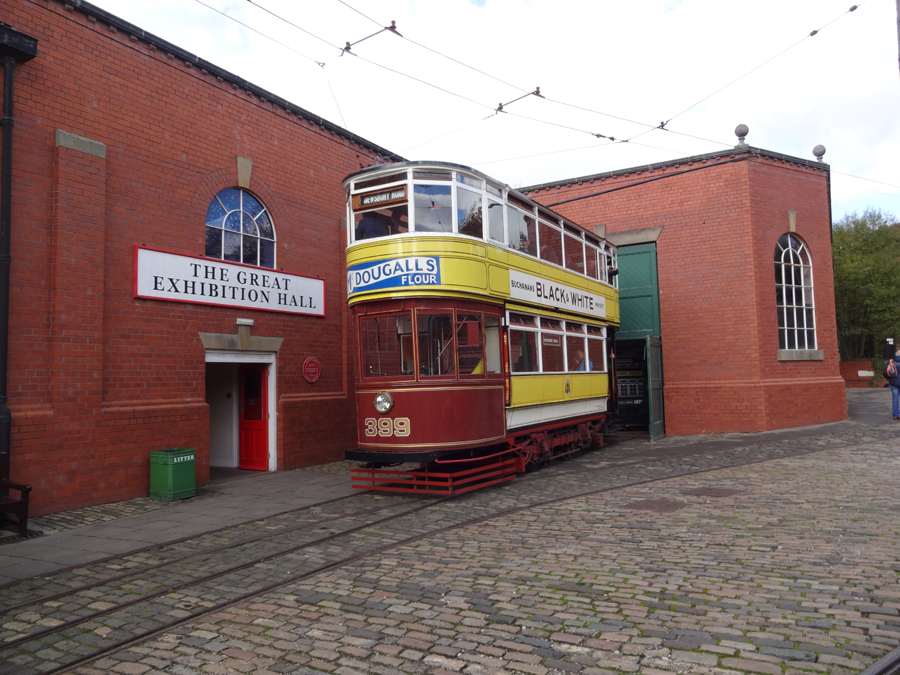 On Sunday, 23rd October, the Branch Line Society hired Leeds 399 to tour Crich Tramway Village.
The Branch Line Society's aim is to ride on train and tram tracks that are not normally used in service and we were pleased to help them in achieving their purpose and creating an enjoyable experience.
Amongst the manoeuvres were a trip, with passengers, into our restoration workshops, trips into the depot and (the highlight of their tour) a ride to the full extent of the traverser.
The members of the Society all thoroughly enjoyed their experience and our crew, of five on this occasion, equally enjoyed the operational intricacies, and the challenge, of taking a tram full of passengers to new places.
Mike Crabtree, Tramway Museum Society (TMS) volunteer and Traffic Department Driver Instructor and Health and Safety Committee Vice Chairman, planned and facilitated the routes. Mike Crabtree and Paul Hobson drove the tram while Gordon Burch was conductor, Nigel Lemons acted as Workshop Guard, and the current TMS President, Alan Barber, acted a Points Man.
Unlike railways, and modern light rail systems, because we are utilising an historic tram it is as important to consider where the trolley pole needs to go as to where the wheels need to go.  There are 'points' to be negotiated in the track and their equivalents in the overhead wiring, known as 'frogs', are just as important.
Next time that you visit Crich Tramway Village, ask our crews to show you; they are all volunteers and will be happy to share their knowledge.
John Cameron from The Branch Line Society said:
"The team at Crich pulled out all the stops to the make our visit very special. Our Tram covered every inch of track that did not have another Tram parked on it, including some that passengers had not travelled on before. The trip on the Tram traverser was a great bonus on the day. It was quite a surprise when we suddenly started travelling sideways!
After the crew had spent 3 hours changing points and making dozens of reversals they still found the time to give us a fascinating tour of their workshops and explain the restoration work they are carrying out there. Thanks to everyone at Crich for a brilliant day out."'
Photographs courtesy of Mike Crabtree.