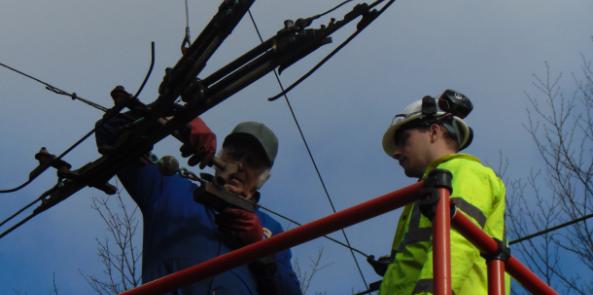 As the winter working continues, the volunteers and staff continue to work together.
Our Facilities Manager, James Brett, (left in the picture below) takes advantage of John Markham's experience of our overhead lines as they work together to straighten the wires and carefully service essential components to ensure they are ready for intensive use during the operating season.
At Crich we continue to practice traditional live-line maintenance techniques as would have been performed on the first generation tramway and trolley bus networks.
Much of our overhead line and trackwork infrastructure are historial items, having been rescued from the tramway closures in the 1950s and 1960s, before being given a new lease of life at the museum.
There are over 2 miles of trolley wire and more than 70 traction poles to take care of.
If you fancy learning new skills and experience, we welcome volunteers to maintain our overhead line, trackwork and facilities on site. Please see our Volunteering page for more information