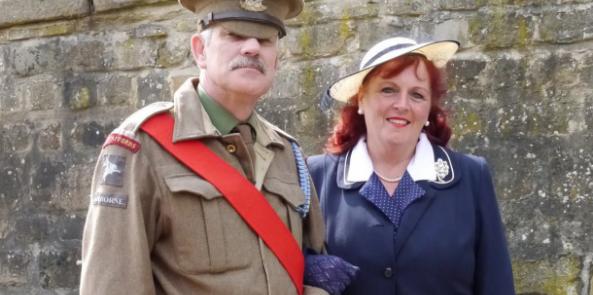 The man responsible for teaching the actors from Dad's Army how to march is to put the children through their paces at the Boot Camp, which takes place during the World War II event at Crich Tramway Village during Easter week-end.
Stuart Adams, from Burton, joined the army in 1976 and worked his way up to Sergeant Major. He now enjoys raising the profile of the military and fundraising, especially for the Mercian Regiment, and providing security services for organisations.
Known by his nickname, Sergeant Major Marmite, because 'you either love him or you hate him', he has been attending the World War II/ 1940s events at Crich Tramway Village since 2006.
His ability to keep everyone in line, led to him being approached by the producers of the newly released Dad's Army film. Stuart was asked if he could teach the actors to march in time, and happily agreed.
His no –nonsense style led to a few quivering lips from the ladies, but also to being included in the film's marching scenes.
The producers commented that it would have been a shambles had Stuart not been there to keep them in line. Stuart commented:
"I enjoyed the day on set in Bridlington. It's all about interacting with the public. I sent Michael Gambon off to clean his boots as they weren't up to my standards. The producers then asked if I would be in the film too".
The First World War II / 1940s event takes place at Crich Tramway Village from Saturday 26th – Monday 28th March and there will be another event in August. The children's 'Boot Camp' is just one of the activities taking place at the event, but it is sure to be even more popular, now that Sergeant Major Marmite is the new local celebrity.