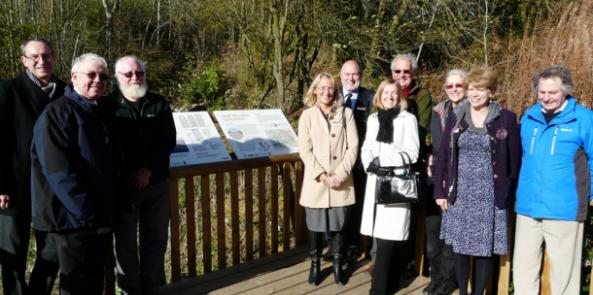 The official opening of the Lead Smelter (also known as the Lead condenser) took place on Thursday 22nd October 2015.
It was thought that nothing remained of the lead mining industry on the Museum site, said to be the most productive in the county, other than one shaft and an adjacent adit that are inaccessible to the Museum's visitors.
The remains of this lead condenser were discovered a few years ago, and with support from DerwentWISE, The Industrial Archeological Association, Peak District Mining Museum and Enthoven Ltd, we are able to show an important part of Derbyshire's history.
This previously unknown relic gives the opportunity to further inform the visitors through an original, remaining relic of the once burgeoning industry. The configuration of the tower and flues make this relic a unique survivor of the lead mining industry.
The Derbyshire lead field was the largest and most productive in Britain.
The photograph shows (left to right):
Left: Glynn Wilton; David Frodsham, President of the TMS; Robin Hall – Manager Peak District Mining Museum;
Right, Back row: Ian Rigg – Traffic Department Driver and Conductor Instructor; Mark Sissons – Association of Industrial Archaeologists; Maxine Hall from the Peak District Mining Museum.
Right front row: Karen Rigg – Board Member and Board Vice Chariman of the TMS; Tanya Pells from DerwentWISE; Jan Barratt – Learning & Participation Manager at Crich Tramway Village; Lyn Willies from the Peak District Mining Museum.