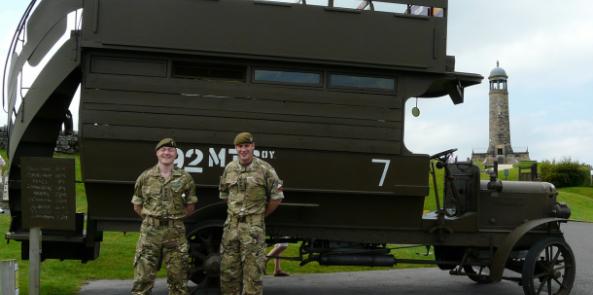 The London Transport Museum Battle Bus, which is currently at Crich as part of the Great War event for this week and the coming weekend, is a true veteran, having been one of the London buses which went to war in 1914. As was appropriate, it was driven up the hill to Crich Stand to pay its respects at the memorial to the soldiers of the Sherwood Foresters Regiment who gave their lives in the First World War.
The Sherwood Foresters served with distinction in the Great War (and in subsequent wars) earning several VCs in the process. In 1915 the Regiment had five regular battalions and four territorial on the Western Front plus one battalion in Gallipoli. On a lighter note, the 12th Battalion achieved fame by producing the, often subversive, news sheet 'The Wipers Times' which did much to raise troop morale in the horrors of trench warfare.
Taking the Battle Bus up the hill to the stand, with a full passenger load, demonstrated the difference in terrain between the plains of Belgium and France and the hills of Derbyshire. It also demonstrated the limitations of century-old machinery. Close to the top of the hill it was found necessary to debus all passengers to enable the veteran to complete the climb.
The effort was worth it, when the bus met up with two currently serving officers of the successor regiment to the Sherwood Foresters, The Mercian Regiment, who were also paying their respects to their predecessors.