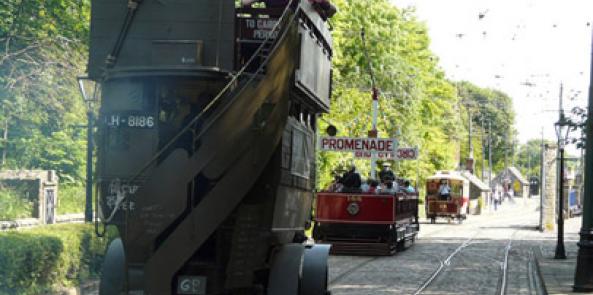 Battle Bus Arrives!
From the Somme to the Derwent Valley! The Battle Bus has arrived at Crich. B2723 was built in January 1914 and entered service on London General Omnibus Company route 9, between Barnes and Liverpool Street, but was soon commandeered by the War Office and sent to war as a troop carrier. It has been restored to wartime condition, by the London Transport Museum, to commemorate the 1000 plus vehicles of the type that gave sterling service in the First World War.
Arriving at about 3.00pm (on a low-loader), the bus was immediately taken on to the street, to be parked outside the Red Lion. In the main photograph the Battle Bus can be seen driving down towards the Red Lion, behind Blackpool 166 and Sheffield horse tram 15.
To see the horse tram in action again you will have to wait until August, but the Battle Bus will be here for the remainder of the week before heading back to London on Monday.