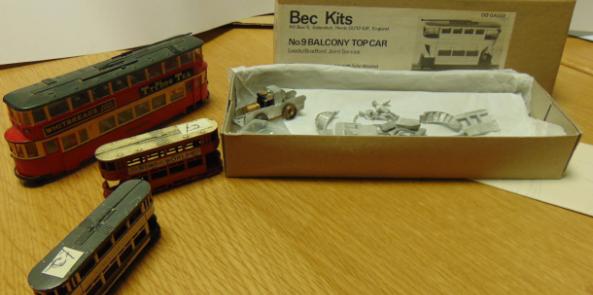 A model tram sale will take place at the Model Tram and Railway Exhibition on Saturday 22nd and Sunday 23rd August 2015 from 10am to 5pm at Crich Tramway Village, home of the National Tramway Museum.
Surplus and duplicate pre-loved stock will be on sale, with prices ranging from £2.00 for plastic models to £75.00 for brass Suydam items.
Popular makes such as Bec Kits, Bowser, Corgi, Hadfield, Hamo, Keil Kraft, Original Omnibus, and Tower are included in the sale.
Laura Waters, Curator at Crich Tramway Village, said: "We get duplicate stock donated to us and with the help of our volunteers we have been able to assess what can be sold to provide much needed funds. The money raised goes back to the Library for the continued care of collections".
The Exhibition itself will include displays of Karolina Falls is an On30 layout with passenger and logging trains passing the falls. The layout features a real waterfall cascading into the ravine below, plus Leyburn Avenue – Norbreck a small section of the 'Tramroad' portraying a heritage tram service.
In addition the Cronenberg Trolleybus Layout featuring Eheim and Brawa Trolleybuses, and the Faller Road System in HO scale will be on display.
"John Huddlestone, organiser of the exhibition, said: "As well as proving popular with enthusiasts, people love to see model railways and trams and the model tram sale means that anyone can start or add to a collection".