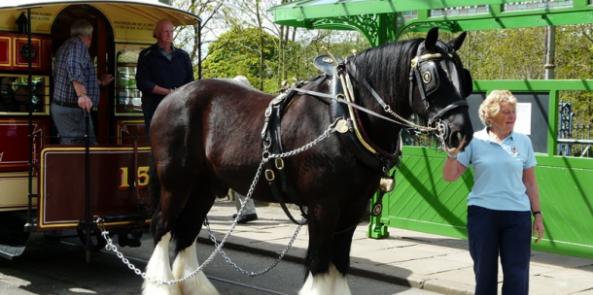 School Holidays!
The school holidays are almost with us and Crich Tramway Village has planned a full programme of additional activities for all the family.
Our favourite horse, Joseph, will be with us for three days to give rides on horse tram Sheffield 15 on Wednesday 15th July, Tuesday 18th August and Thursday 20th August. The tram is 140 years old, but Joseph is only 12 and incredibly strong!
Two activity weeks are planned: 'Wonderful Woods' from Monday 10th to Friday 14th August and 'Discovery Week' from Monday 17th to Sunday 23rd August.
'Wonderful Woods' is based on our Woodland Walk and includes learning new skills, becoming more aware of the environment and just plain having fun.
Science can also be fun and 'Discovery Week' sets out to prove this, so come and find out how!
The Great War (Home Front) explores the Edwardian era, leading up to the First World War and the effects of that war on the tramways of that time. If you have not seen our 'Recruiting Tram' this will be your chance, and you can even have a ride on it.
Our ever popular World War II event will be from Monday 3rd August to Sunday 9th August (please note the Saturday and Sunday are not eligible for free return admission).
So get your Identity Card and Ration Book at admissions and lose yourselves in a recreation of 1940s, war time Britain. Includes a 1940's dance on the Saturday night (admission £5)
Finally, if vintage vehicles are your thing, there is a 'Commercial and Work' vehicle rally on Saturday 5th and Sunday 6th September.
Other, daily, activities will be available throughout the holiday period so please check out our website: www.tramway.co.uk for details as well as information on the above events.