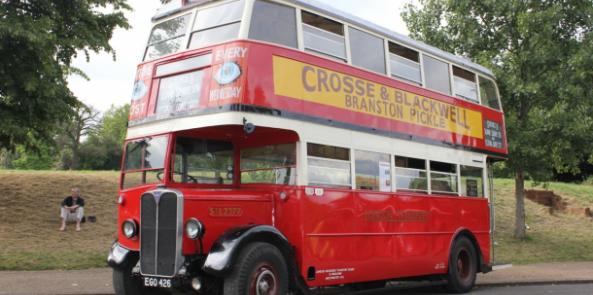 The final preparations are taking place this week, ready for LCC 106 to return to service and take the starring role in our 'Classic London' event on Saturday 13th and Sunday 14th June.
We are delighted to be able to announce that the handover of 106 to the Traffic Department at Crich is to be performed by Leon Daniels, Director (Surface Transport), Transport for London. As well as his professional status at TfL Leon is well known in London bus preservation circles, is very active at the London Bus Museum and was involved, some years ago, in organising a very successful series of events at Crich.
We have been collaborating closely with the London Bus Museum, at Brooklands, and they are sending two of their buses to our Classic London event – a Dennis 4 Ton and a Regent 1 STL2377. The Regent 1 will give rides to the public in between tram rides.
As a special feature for our event, the LBM will be offering passenger rides on the Regent 1 STL2377 throughout the weekend.
The star of our event LCC 106 will be in service both days, along with LUT 159, MET 331 and LPTB 1622. We will also have the added addition of Glasgow 1068.
With all four of our operational London tramcars in service throughout the weekend, and a number of visiting vehicles running along the Museum street, there will be the opportunity for some great photographs, as we bring together examples of the different transport that once travelled the streets of London, in years gone by. Don't forget as well, we will also have a range of vehicles on static display.
No London event at the Museum would be complete without a mention for 'Bluebird', London County Council no 1. This very popular tramcar is currently in our conservation workshop at the beginning of an extensive restoration project that will restore the tramcar to its 'as new' condition.
The workshop and curatorial staff will be giving an update on the progress of the restoration, an insight into the discoveries made during the initial disassembly and the techniques being used to record and facilitate the process. The presentations will be at 11.45am and 2.30pm, on both the Saturday and Sunday, on the workshop viewing gallery.