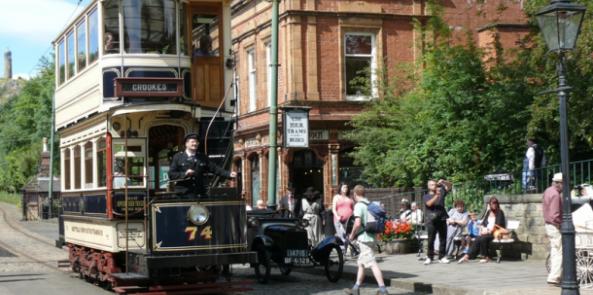 The early May Bank Holiday is just around the corner, and here at Crich Tramway Village we are planning for a relaxed and enjoyable Bank Holiday weekend.
Victoria Park and Crich Brass Band
To make it just that little bit extra special for all our visitors, there will be live music around the Museum. Our beautiful bandstand and Red Lion pub, are two of the locations in use for our visiting bands. We have the New Mills Brass Band, Box O'Frogs, Crich Brass, A Litte Jazz and Belper Wind Band all attending throughout the three days of the bank holiday weekend.
For those of you who just like to watch the world go by, or rather our trams, our Red Lion pub have got a fantastic special early May bank holiday range of beers on offer, and even better we've got extended opening, with the pub open until 11pm on Saturday 2nd and Sunday 3rd May.
Have a look at our special range on offer for May, and don't forget the ones marked with an (S) mean they are seasonal specials and well worth a try.
Great Newsome Ambhas (S)
A tawny coloured brown ale with a robust malt background and nuttiness. A sensibly bittered, well balanced ale
3.6%
Great Newsome Frothingham Best Bitter
Robust dark amber best bitter. Moderately bittered and peach tones through to a sweet finish
4.3%
Great Newsome Hops in the Spring (S)
Brewed with 100% British hops, giving citrus fruit and marmalade on the palate and log satisfying finish
4.5%
Lincoln Green Spring Green (S)
Lager, real ale style. Brewed with lager malt and hops for a clean, refreshing flavour but fermented with ale yeast for real ale style
4.3%
Muirhouse Tractor Spotter's Bitter
Gold sweet beer with bitter finish
4.5%
Muirhouse Pirate's Gold
Dark red malty bitter, roasted flavours
4.5%
Nutbrook Black Beauty
An old English traditional milk stout, full bodied with hints of chocolate, honey and nuts
5.0%
Nutbrook Cherry Brook (S)
Ruby cherry ale with a fruity finish
3.8%
Pentrich 1817 Amber
Full bodied American style amber ale with a refreshing taste and aroma of blackcurrants
4.5%
Pentrich Pale ale
5.2%
Thornbridge Ashford
New world brown ale with floral hoppiness, a smooth malty kick and a delicate coffee finish
4.2%
Thornbridge Brother Rabbit
Lemon zest colour with a clean hoppy aroma. Dry palette, resinous finish and some bitterness.
4.0%
Thornbidge Hopton
English pale ale with Pioneer and Bramling Cross hops. Medium bodied with biscuit character and citrus taste
4.3%
Thornbridge Lord Marples
Classic British Bitter with tastes of honey and caramel. Smooth with a long bitter finish
4.0%
Thornbridge Made North
Mancunian Amber Ale
3.8%
Thornbridge Wild Swan
White gold colour with aromas of light bitter lemon, a hint of herbs and a subtle spiciness
3.5%
Thornbridge Wye
A cucumber pale ale
4.7%
Wentwell D5
Light bitter with a dry finish
5.0%
Wentwell Tramway Mild
A session dark mild, brewed specially for us and not available anywhere else. Also available in bottles.
3.7%
Whaley Bridge Rapa Nui
Amber Ale. Subtle spice with a hint of orange
4.9%
Whaley Bridge Stoneheads Pale
Pale ale. Honey with a hint of citrus
4.8%