Starlight Spectacular
Mon 24th October 2016

-

Sat 29th October 2016
Event Navigation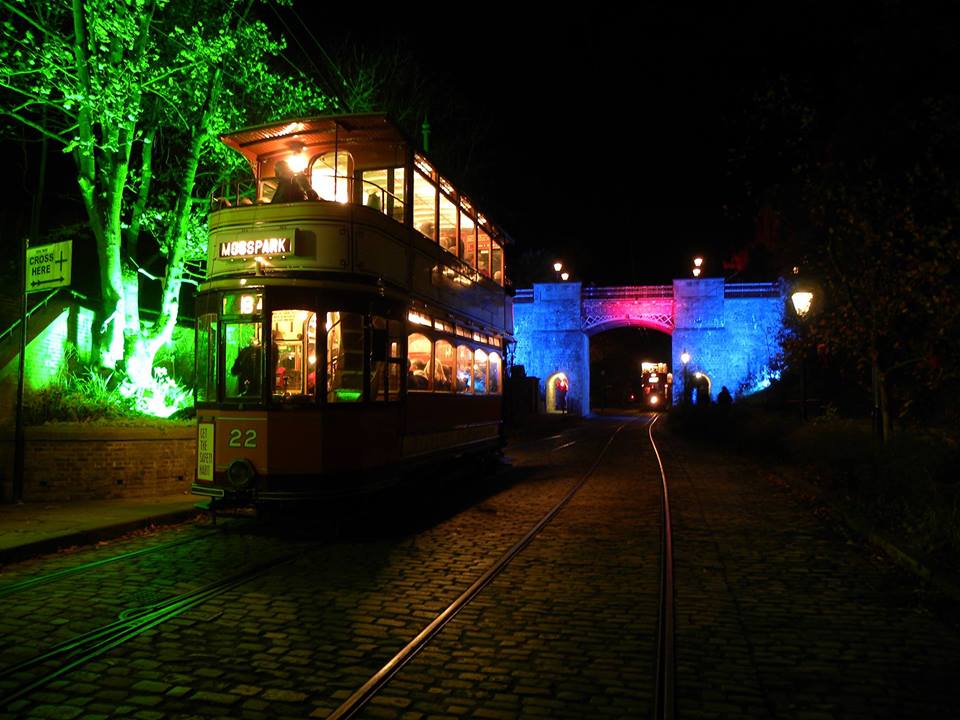 We are illuminating the site with special lighting effects and trams in the dark for our Starlight Spectacular from Monday 24th to Saturday 29th October. It's a fantastic week of activity, fantasy and illumination that the children will love – and that makes the adults happy too!
Trams will run until 7.00pm from Monday 24th – Wed. 26th October and until 8.00pm  from Thurs. 27th – Sat. 29th Oct. Normal service will operate until 5.00pm on Sun. 30th October.
This year we will have a Harry Potter look-a-like and Woodies Wings owls and parrots from Monday 24th – Wednesday 26th October.  There will be a talk, walk and tram ride 4.45 pm – 7.00 pm.  There will also be a Hogwarts themed buffet from Monday – Wednesday from 4.30pm – 7.00pm at £9.95 for adults and £5.00 for children under 16. Please book in advance for the buffet by calling 01773 854349 or email: Alison.Isaacs@tramway.co.uk  (Please book by 23rd October to avoid disappointment).
On Monday we will have the official 'Switch On' of the lights by Starlight Spiderman* and Starlight Darth Vader* from 4.00pm.
From 3pm – 6pm on Wednesday we will have Game of Thrones actress, Elizabeth Webster, attending and there will be an illuminated Halloween theme on the Woodland Walk, craft making in the Learning Centre from 11 am – 3 pm and a 'dance along' at various times outside Bluebell's Ice-cream Parlour.
Thursday 27th October is Super Heroes Day – so come along dressed as your favourite character and you might spot some others you recognise. From 4.00 pm there will be a replica Bat Pod, which you can sit in for photographs (additional charge).
We have received nominations for local super heroes, and they have been invited to attend on Thursday and meet the Worshipful the Mayor and Mayoress of the Borough of Amber Valle, Councillors Richard and Susan Iliffe.
Children who dress in super heroes costumes will get free admission on Thursday 27th October only.
Friday 28th and Saturday 29th will feature Star Wars look-a-like characters* and a replica jet fighter. Light sabres will be on sale in the shop (subject to availability). There will be face painting for children (additional charge 50p).
Also on Saturday from 4.00pm we have a special guest appearance from Emmerdale actor, Bhasker Patel, who will be judging the Superhero Scarecrow completion (made by local suppliers to Crich Tramway Village).
On Saturday from 4.15 pm Folk Frenzy will perform a dance display.
Entertainment in Major's Bar (Red Lion Pub) by The Force from 7.00 pm – 9.30 pm on Friday and Saturday.
With a Christmas Market on 29th and 30th October, you will be able to do a spot of festive shopping for those special gifts.
Throughout the week there will be craft activities between 11am and 2.30pm – download the details here starlight-spectacular-craft-activities-2016
Please note that the 6.30pm bus from Town End now leaves Crich at 5.30 pm, so you may need to make alternative arrangements if travelling by public transport.
* The look-a-likes and actors at this event are in no way involved with, or part of Lucas films or the official Star Wars film, or Marvel Comics.  All characters are look-a-likes and all props are non original privately built fan based items.
Download the Starlight Spectacular Leaflet.
We are sorry, but there are no guided tours time- tabled for event days.