Crime at Crich
Sun 21st July @ 10:00 am

-

4:00 pm
Event Navigation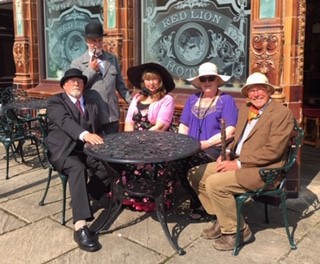 Post Event News
Solution to who committed the crime:
Abel Deed the solicitor stole Lord Antony's Will.He is a career criminal who has made money embezzling from elderly clients. He has used several alias's including the name Hillary Bell, as in the article in the newspaper clue. Lord Antony left everything to Lily as promised.
Abel Deed knew if Lily got the money she would find him out pretty quickly, so he took the will to make sure that Lord Arthur inherited. Lord Arthur has no head for money at all, hence his big loss on the stock market 10 years ago and he would never ask Mr Deed any awkward questions about the money and would just let him carry on as usual.
Lily was already suspicious of Mr Deed and had hired Private Detective, Vincent Black, to investigate him. Vincent Black, posing as Vincent White, Lord Arthur's secretary, kept a close eye on Mr Deed and it was Vincent's footprint that was one of the clues, left in some mud while he was shadowing Mr Deed.  Mr Deed wore the gardening gloves while he opened the safe and took the will. He wrote the combination of the safe down on one of Lady Agatha's 'Holidays For All' leaflets. It was his bag of Jelly Babies that was found and lastly, he planted evidence against Lily by leaving the book out that she had given to Lord Antony. He planned to leave for New York and let Lily take the blame and return later when the heat was off.