Underground, Overground; one deck or two?
In common with many other Victorian cities, the centre of Birmingham posed challenges for tramway constructors on account of its narrow streets and severe gradients, which made it virtually impossible to achieve cross-city routes linking the various peripheral termini. One solution might have been to widen the streets but the prohibitive costs of land acquisition ruled this out.
In 1912, Birmingham Corporation Tramways' General Manager – Alfred Baker – proposed an alternative solution based on the construction of an underground tramway station and subway under the city centre, which was also the highest part of the city, and the introduction of single-deck tramcars pulling trailers in order to service it. Similar schemes, involving the construction of relatively shallow rapid transit subways in the city centre, had found favour in a number of North American cities such as Boston and New York. These had evidently impressed Alfred Baker on a visit he had made in 1901 while he was employed as Chief Officer for London County Council tramways before his move to Birmingham.
Although he failed to persuade the Tramways Committee to back his underground tram station and subway idea, the Committee did gain authorisation for trailer operations and in 1917 a full-scale trial was commissioned that would have resulted in the Alum Rock and Washwood Heath routes being operated exclusively by continental-style single-deck tramcars towing trailers. Unfortunately, the scheme collapsed once it became clear that, as a result of wartime deprivations, it would not be possible to convert enough double-deck tramcars into single deckers in order to operate the service; and although trailers did continue to operate on the Nechells route until 1918, after that trailer operation in the city ceased for good.
Apart from the small number of tramcars that were converted to single-deckers as part of the short-lived trailer-car experiment, Birmingham Corporation Tramways' passenger fleet consisted entirely of double-deck tramcars, the earliest of which were open-top four wheel vehicles, though bogie cars were favoured from 1913 onwards and all new cars ordered from 1923 onwards were fully enclosed.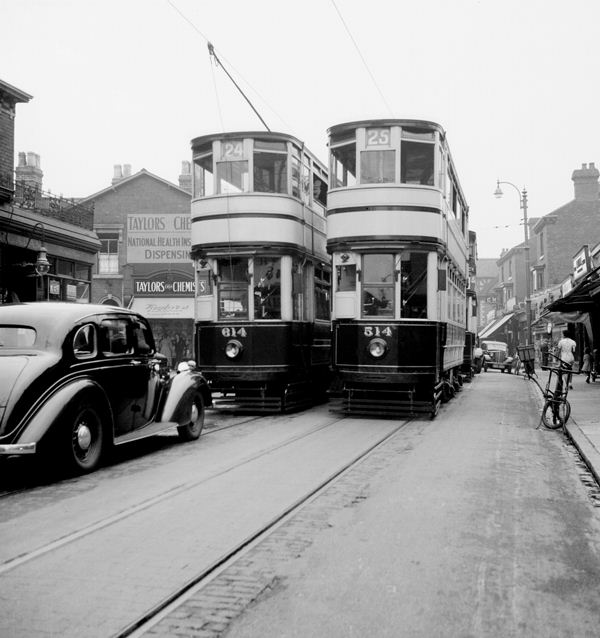 Unlike other large tramway operators, Birmingham Corporation never built its own trams but continued to buy them in from specialist tramcar manufactures, several of which were located in the West Midlands. Possibly, because of this, Birmingham's tramcars tended to appear more old-fashioned than those in comparable cities did, though they still looked very smart with their cobalt blue and primrose livery and many considered that the narrow gauge tramcars had a sleeker, more elegant, profile than their standard gauge counterparts.