The first tramway in Birmingham, which ran from Colmore Row (in the city centre) to what was then the city boundary at Hockley Brook, opened on 11 September 1873 and used horse-drawn double-deck vehicles. This route, together with an extension serving the residential southern side of the city (the Bristol Road service from Suffolk Street to Bournbrook), which opened in June 1876, were the only standard-gauge tramways to operate in Birmingham, though both were subsequently converted to the narrower gauge that was soon to prevail in this part of the world.
In 1882 another line was built, between Aston Brook Street and Witton, but this particular route was operated by Kitson steam locomotives pulling open-top double deck trailers. The Board of Trade specified the narrower gauge of 3' 6" for this service, which then became the regular gauge for all Birmingham's tramways.
However, in March 1888 a third mode of propulsion was introduced when the original Hockley Brook line to Handsworth was converted into a cable tramway, which operated by means of a constantly-moving cable that was powered by a stationary steam-powered winding engine. The cable itself was alternately 'gripped' by a tram while in motion and released when the vehicle was about to halt.
Shortly after this, in 1890, the second of the original horse-drawn tram routes (the Bristol Road line) was converted, initially, to battery-operated electric tramcars (known as 'accumulator' cars), but in 1901 the same line became the first in Birmingham to power trams by means of conventional overhead wires. This was also the mode of traction favoured by Birmingham Corporation Tramways when it began operating its own services and gradually the rival forms of propulsion were phased out.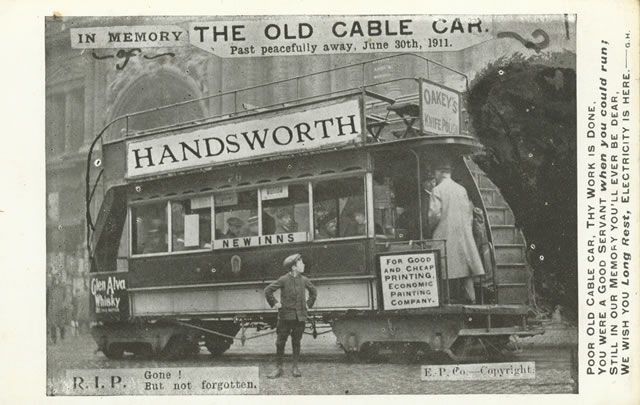 The last horse-drawn route (to Nechells) was closed on 30 September 1906 and the last remaining steam trams were withdrawn and scrapped just three months later. However, it was not until 30th June 1911 that the cable cars running between Colmore Row and Handsworth, were replaced by electric cars, which then reigned supreme until the closure of the tramway itself.