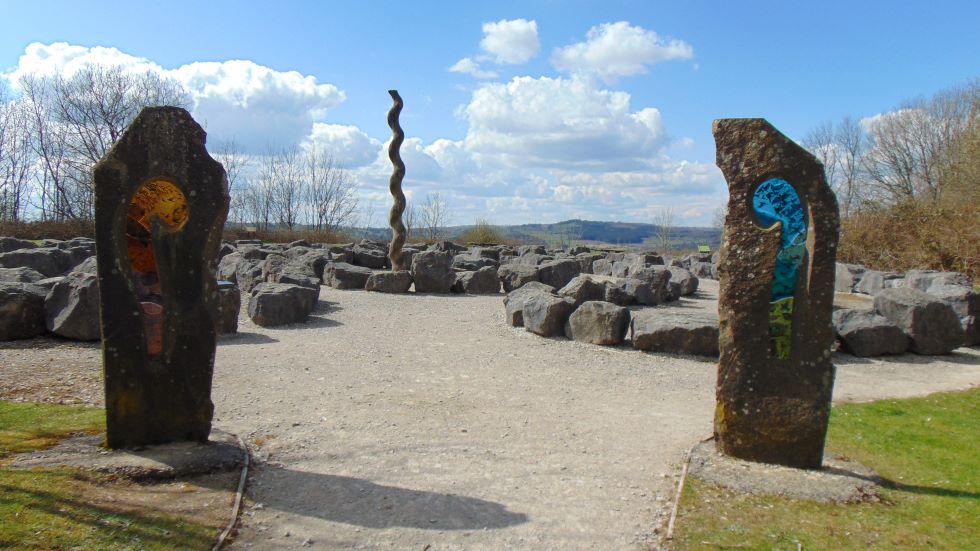 Local Stained Glass Artist, Sandy Constable, was commissioned to produce some new stained glass for the entrance to the Labyrinth.
Sandy describes how she developed the theme and final production:
"Back in October 2020, I was commissioned by Crich Tramway Village to design two fused glass panels to be set into existing standing stones in the Labyrinth area of the woodland walk, a beautiful natural setting over looking the Derwent Valley.
"The work was made during the Covid pandemic, through restrictions and lockdown, where appreciation and celebration of nature became so important for myself and many people. The title of the pieces is 'The Starling Murmuration'.
The right side depicts nesting starlings in spring, as they fledge and rise into the sky. Later in the year the birds flock together moving as one, in mesmeric displays.
The left side depicts early evening starlings flying in to roost. A starling skull in the decay of leaf litter completes the cycle of life.
I hand painted each piece, using traditional stained glass paints. With multiple fusing's in my glass kiln, I layered the different coloured pieces of glass together. I added frit powders for variation of colour and texture. On the right side bottom piece, I incorporated real fern leaves fired into the back of the glass".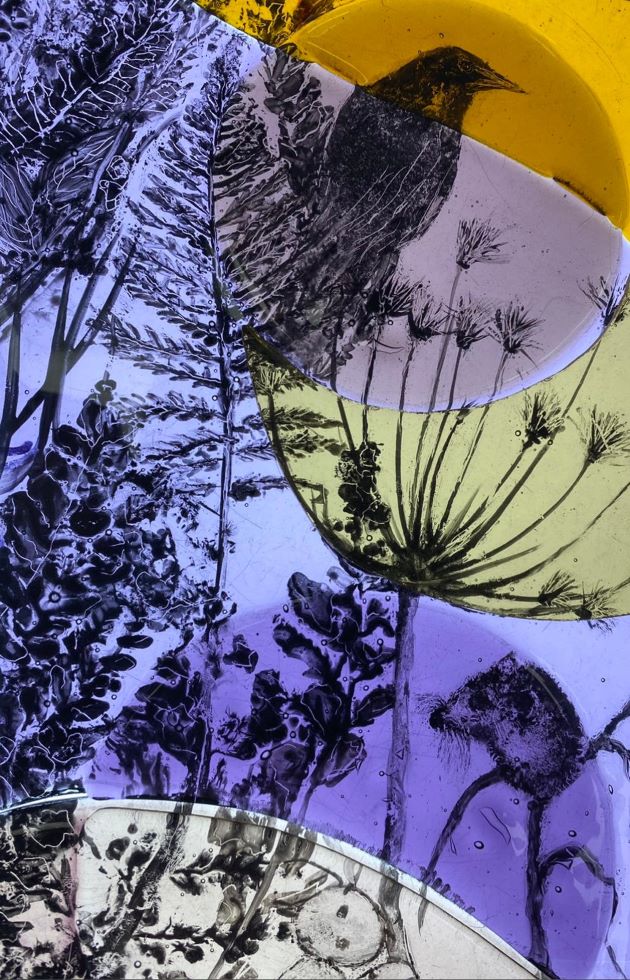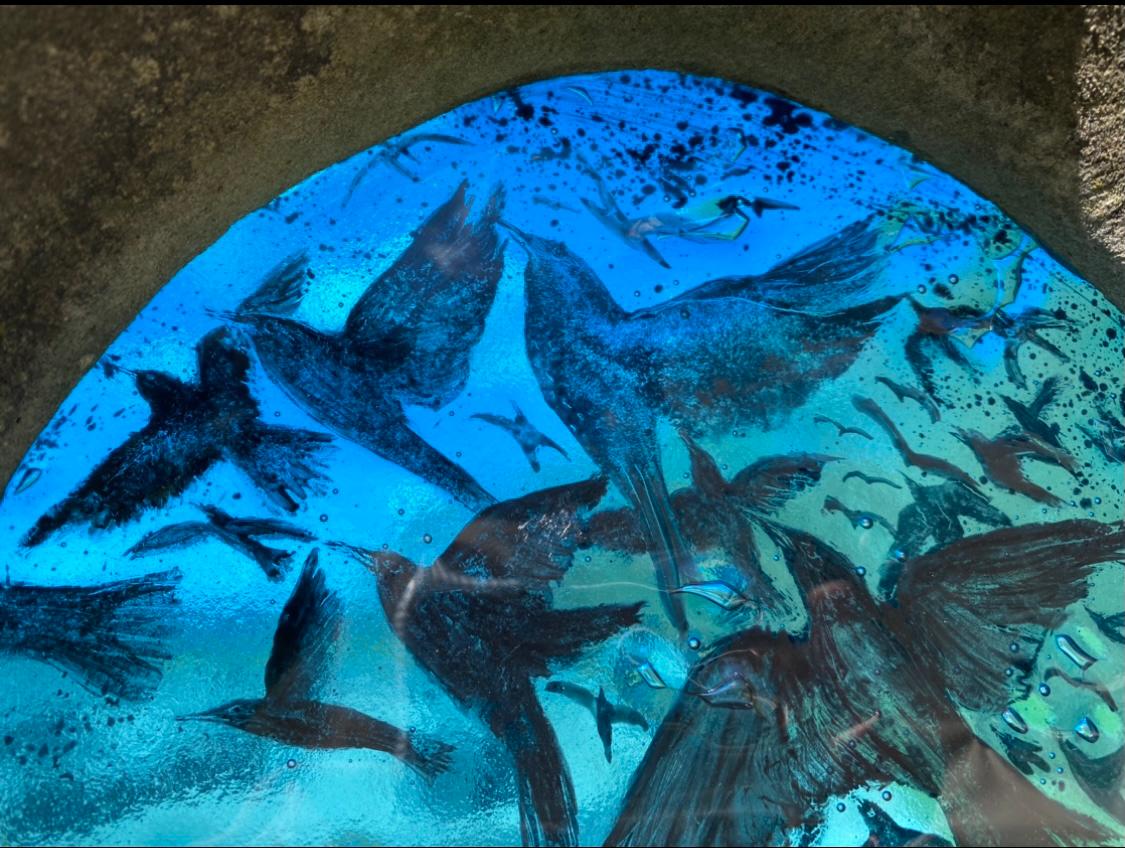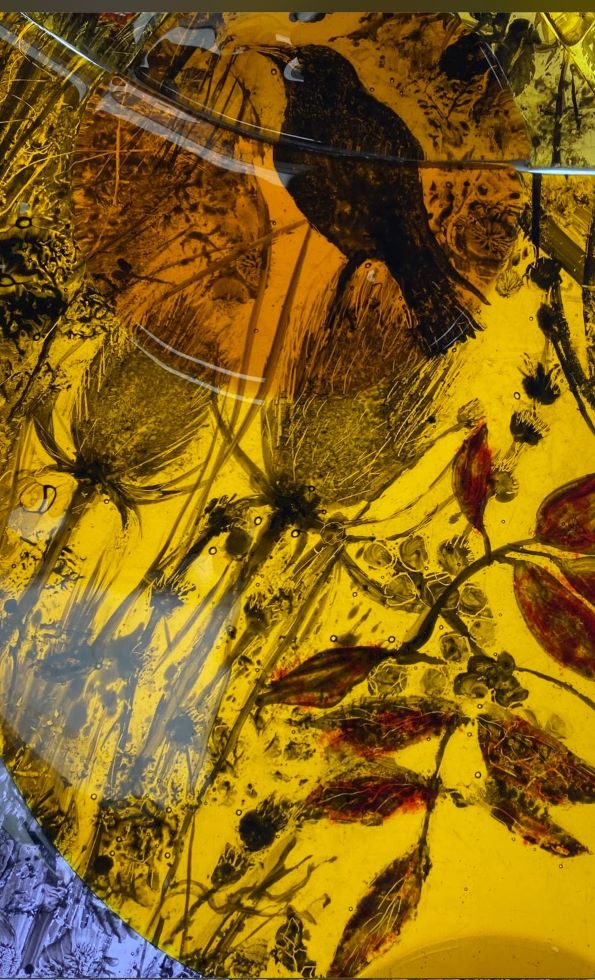 Jan Barratt, Learning and Participation Manager at Crich Tramway Village, said:
"We are delighted with the result produced by Sandy Constable and have had a lot of positive feedback from visitors.  It makes a fantastic entrance to the labyrinth and Derwent View.  You can see a close up in the video above, but we hope you will come along and see it for yourself on your next visit."