Over the past few months we have been working through our backlog of photographic donations. This involves looking through what has been given to us and checking it against our existing collection to see if we have the images or not.
Here is a look at some of the wonderful photos that have been donated to us.
Leicester Corporation Tramways No. 116
A sepia mounted photographic print of Leicester Corporation Tramways No. 116. What makes the photo interesting is the lady stood beside the tramcar; Miss Ethel Adcock, the first female conductor the Corporation employed.
Leicester began employing women as conductresses around September 1915, after it was suggested by the Leicester Tramways Sub-Committee they could help fill the gaps in the staff, made by the male employees leaving to join the military services.
A year later, in November 1916, they had 186 conductresses working for them, and by November 1917, 221. It is not often we can put a name to a face, or a face to name, but it is great we can do so for this image.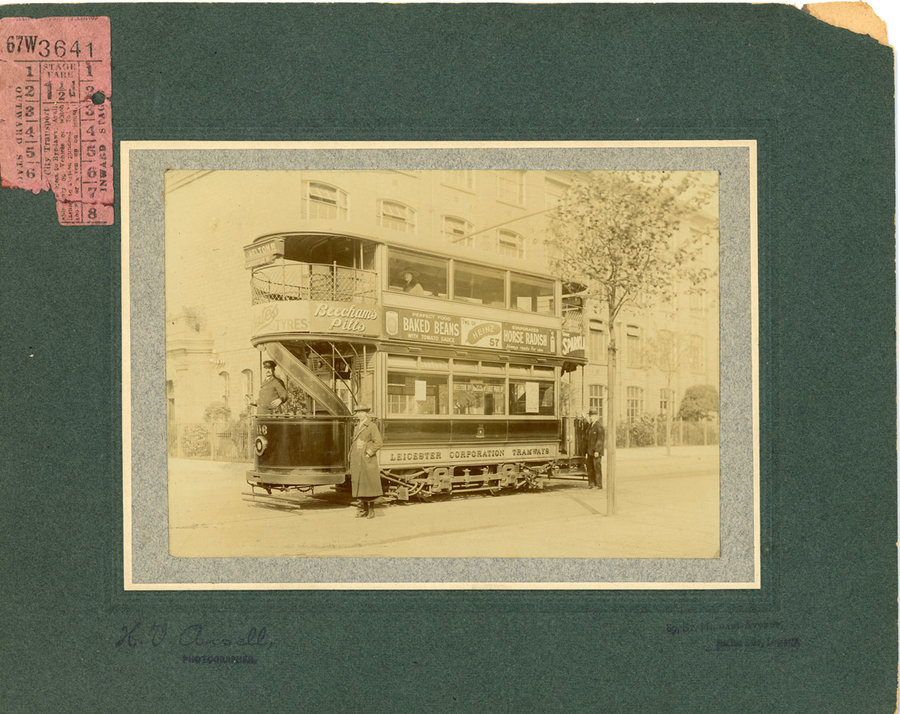 Photo Reference – MATTM: 2017.222
Kirkcaldy Tram Depot
Our second photograph is another sepia mounted one, showing Kirkcaldy Tram Depot under construction.
This is the Gallatown Depot on Oswald Road, opened in 1903. It is not clear if this is a new building, or an existing building which is being adapted for use by the tramway company.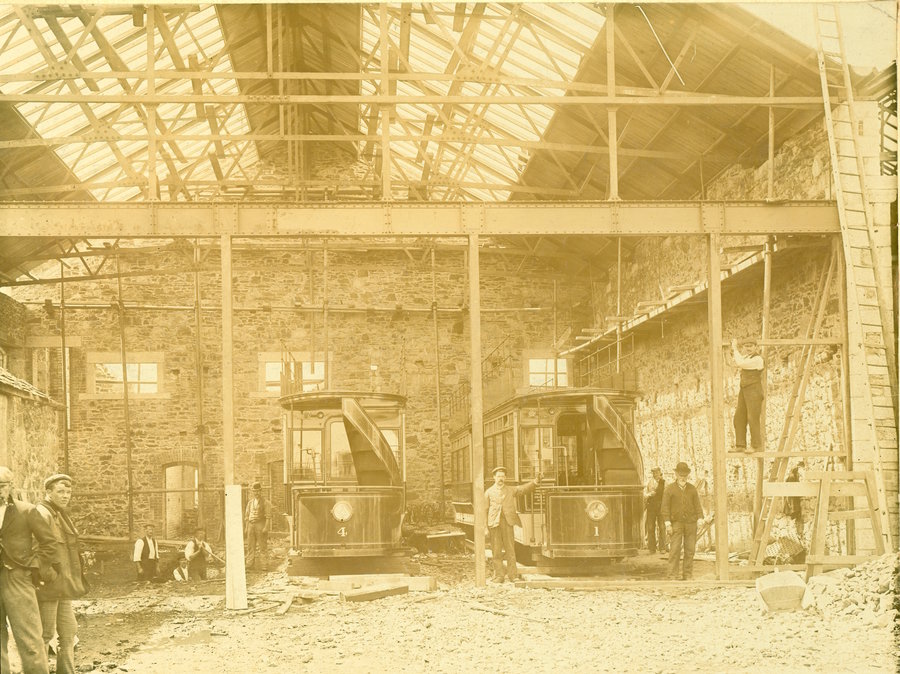 Photo Reference MATTM: 2014.224.02
To the left of the image three men are digging an inspection pit and to the right can be seen the steel re-enforcements for the building's façade. What is also interesting is that while this major building work was going on, the trams themselves were also under construction, the open tops of both trams' have yet to be finished. There are also no rails to drive the trams out on!
Kirkcaldy Tramway was officially opened in early 1903, while work began in 1902. This fairly accurately dates this photo to sometime in 1902. The Depot was designed by London based architect Mr. Peach. It had five tracks, each with an inspection pit and there were facilities and equipment to repair the trams.
It is quite rare to have a photo of a depot photographed whilst being constructed and shows the depth of work that could go on in the run up to opening a new tramway in the early years of the 20th century.
Bournemouth Corporation Tramways Staff

Photo Reference MATTM: 2017.201.17
The next photo was especially interesting when it was unfolded. It shows the staff of Bournemouth Corporation Tramways in 1919/20.
It's not unusual for us to have group staff photos in the collection, but what is quite special about this one is that some of the men can clearly be seen wearing medals or ribbons won during the First World War. One gentleman has the 1914 or 1914-1915 Star of Mons, another has four medals, perhaps the first is a Military Medal for Bravery in the Field.
Before the War, Bournemouth Corporation employed 400 men, working in all areas of the business. By 1917, 240 had joined military service and another 20 had left for munitions work. While the men were away, the Corporation continued to provide for their dependents. The dependents of married men received the difference between Army pay for a Private and civilian pay and dependents of single men were granted half pay.
By 31st July 1917, £12,313 had been paid out to the men's families (in 2015 this equates to £726,370.96!) *. The staff working on the trams were also given the War Bonus of 9s (£26.55) * per week or 3s (£8.85) * for those under 18 years old.
The Corporation seems to be one of the few who chose not to employ women as conductresses or drivers and so there was a staff of 28 auxiliary drivers to help fill the gaps left by the men who had gone away.
We have thousands of images in our Photographic Archive. Some pop up fairly frequently and have often been duplicated, but now and then we find something special which can tell a story or enhance our knowledge of the history of Britain's tramways, of which the three  above are just a selection.
*http://www.nationalarchives.gov.uk/currency-converter/#currency-result