Whilst undertaking research for our current First World War Exhibition, Arms to Armistice, we came across an interesting note recorded in  The Electric Railway and Tramway Journal, September 28th 1917, which stated: "Private Tom Whitham, Coldstream Guards, a Burnley tramwayman, has been awarded the Victoria Cross, and has been warmly congratulated by Mr. H. Mozley, the tramways manager".
Thomas Whitham, as far as we know, is the only tramwayman to have won the Victoria Cross for Bravery, and this is his story:
Thomas was born on the 11th May 1888, the seventh child of John and Catherine Whitham. John and Catherine were both born in Scotland, John in Laurencekirk, Aberdeenshire (1854), and Catherine in Kilbirnie, Ayrshire (1850).
John and Catherine married on 6th November 1874, at High Church, Glasgow. Their first three children, Jessie (1876), William (1877) and John (1879) were born in Scotland. The family then moved to Embsay, Yorkshire, where Harry (1881) and Sarah A. (1883) were born. By 1887, they had moved again, to Worsthorne, Burnley, Lancashire, where Margaret (1887), Thomas and Jane (1892) were born. Sadly John died in 1891; Catherine is listed as a widow in the 1891 Census, so he never knew his youngest daughter.
After leaving school Thomas went into the mills as a Cotton Weaver and by 1901 had left the family home. In 1909, aged 21 Thomas married Fedora Bennett, from Burnley, Staffordshire. Nothing conclusive could be found about Fedora before she married Thomas, despite her unusual name.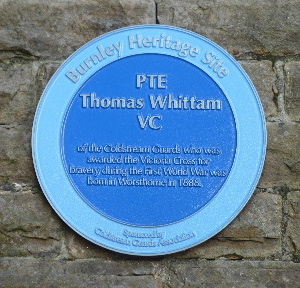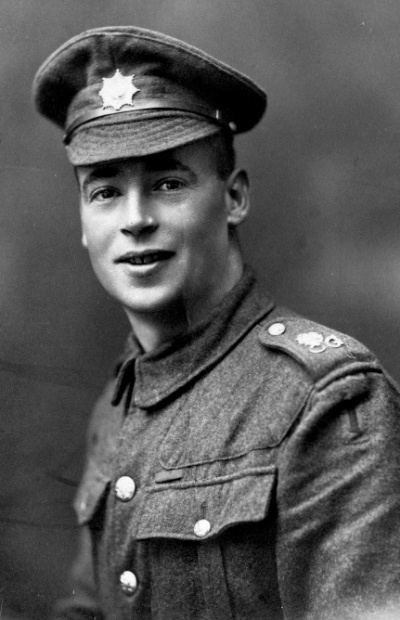 Between 1901 and 1911, Thomas had retrained and was working as a Bricklayer. He and Fedora were now living in Robinson Street, Burnley, Lancashire, with their one year old son Walter.
The next few years are a blank for Thomas. Perhaps due to a lack of new building work from the out brake of the War, and conductors and drivers leaving the tramways for military service, Thomas saw an opportunity to try something new, with good wages, and joined the Burnley Corporation Tramways before enlisting himself. He enlisted on 25th January 1915, aged 29, becoming Private 15067 in the 1st Battalion Coldstream Guards.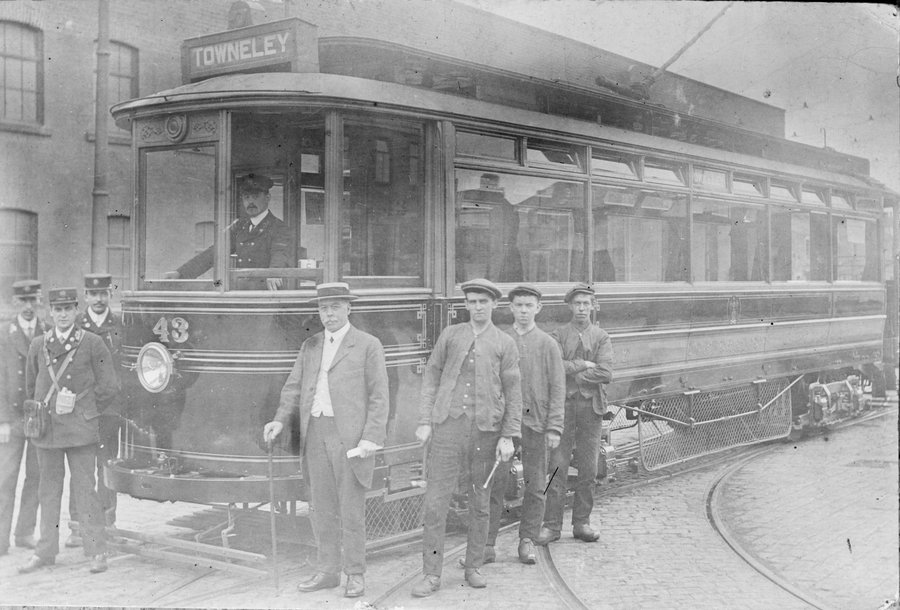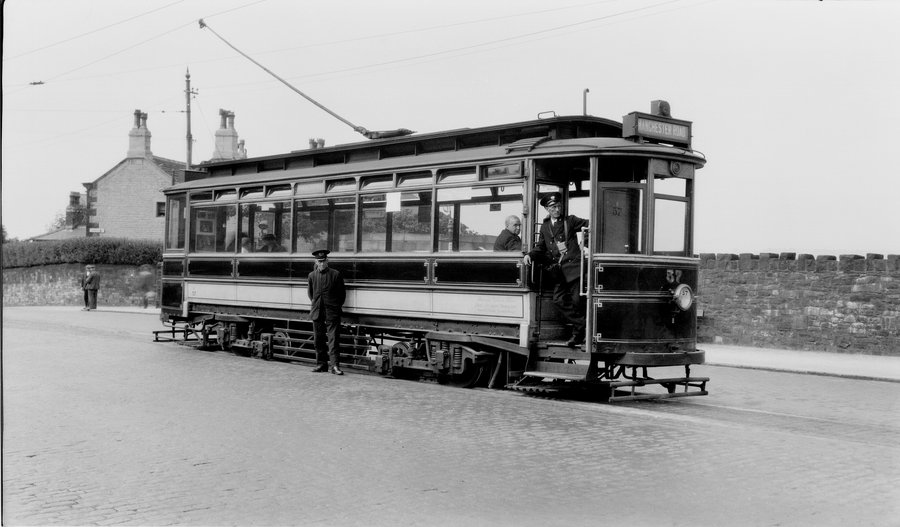 On 31st July 1917, at Pilkem, Ypres, Belgium, during an attack, an enemy machine gun was spotted enfilading – a volley of gun fire directed along a line from end to end – the battalion on the right of Thomas's. Under his own initiative, Thomas immediately began to work his way from shell-hole to shell-hole, under the barrage from his own unit. They managed to reach the machine gun and capture it, an officer and two other soldiers. His action stopped the barrage and saved dozens of lives.
The Tramway and Railway World 18th October 1917, also reported Thomas' brave action. Mr. Mozley wrote to Fedora to offer his best wishes: "I cannot refrain from offering my congratulations to your husband upon his splendid service in the war, which are being acknowledged by the King in grating him the V.C., an honour which means so much, not only to the winner, but to those who are associated with him. Although he was not very long in our service before he volunteered for the war, we feel that a little of the glory he has won is reflected upon the tramway staff, and all of us are heartily proud of what he has done. Kindly give him my heartiest congratulations."
Thomas received his V.C. from the King at Buckingham Palace on 19th October 1917.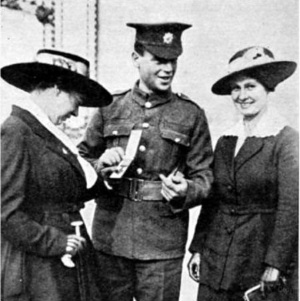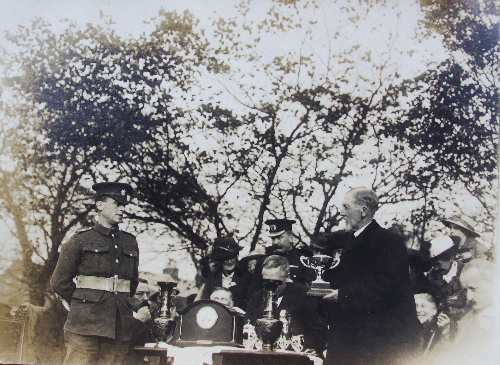 Thomas also fought during the Battle of Passchendaele and retuned to Burnley following the Armistice. On returning to Burnley, the town went out to celebrated his achievement. The streets were lined with people waving the Union Flag and Thomas was presented with a gold pocket watch.
However, Thomas found life after the War difficult. He did not return to the tramways, deciding to go back to his former occupation as a bricklayer instead. Between 1920 and 1924, Thomas moved to Egremont, Cumbria, to find work, employed as a bricklayer in a building scheme for new houses. In 1921, he and Fedora had a daughter, also called Fedora. However, when the money for the scheme ran out, he was again left looking for work. He traveled around the area on a bicycle, and when riding through Windermere collided with a wall, suffering head injuries. The doctor tried to advise Thomas to stop and rest, but the pressure to find employment and provide for his wife and two children was too great.
The accident affected his memory and he disappeared. With her children sick with pneumonia, Thomas missing and no funds, Fedora returned to Burnley to live with the children's grandfather. She launched a search for Thomas through the press and eventually received a letter from him in Liverpool, where he was living in lodgings. He was able to find work in Gately, Manchester, but on 10th October 1924 he was admitted to Oldham Royal Infirmary, suffering from the complications caused by extreme poverty. Tragically he died of peritonitis on 22nd October 1924, aged only 36. Because of his desperate state he had been forced to sell his Victoria Cross and pocket watch.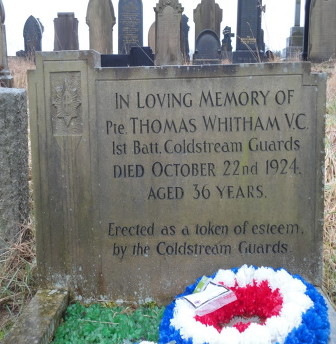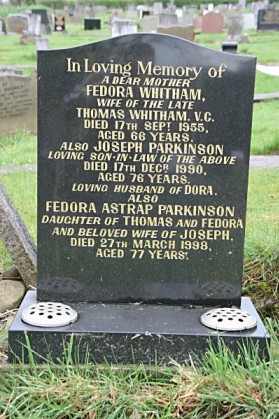 Thomas was buried with full military honours in the Whieatley Lane Inghamite Church, Nelson, with, it is said, thousands in attendance.
In 1952, the Coldstream Guards Association erected a memorial for him, in gratitude for the heroic deed he carried out. Fortunately, Burnley Council were able to retrieve his V.C. and pocket watch and they are now on display, with his other War medals, at the Towneley Hall Art Gallery and Museum. Burnley is also the home to the Thomas Whitham Sixth Form, for students aged 16 to 19.
Although Thomas was with Burnley Corporation Tramways only a short time, he played a significant part not only in the Corporation's history, but that of the tramways of Britain and the First World War. Although he returned from the War, he later became one its victims, suffering the terrible poverty so many men faced in the subsequent years caused by the hostilities. We can only imagine how he felt on the front line, and the years after. We know nothing of his personality, but from his photos, and carrying out an act, at the possible expense of his own life, to save others around him, we can assume he was a kind, dedicated and brave man. In the centenary year of his great achievement we are proud to remember him.
Sources:
www.burnleyinthegreatwar.info
www.dailymail.co.uk
www.familysearch.org
www.findmypast.co.uk
www.garswood.com
www.twsf.lancs.sch.uk
www.warhistoryonline.com
www.victoriacrossonline.co.uk
Hannah Bale, Curatorial Assistant