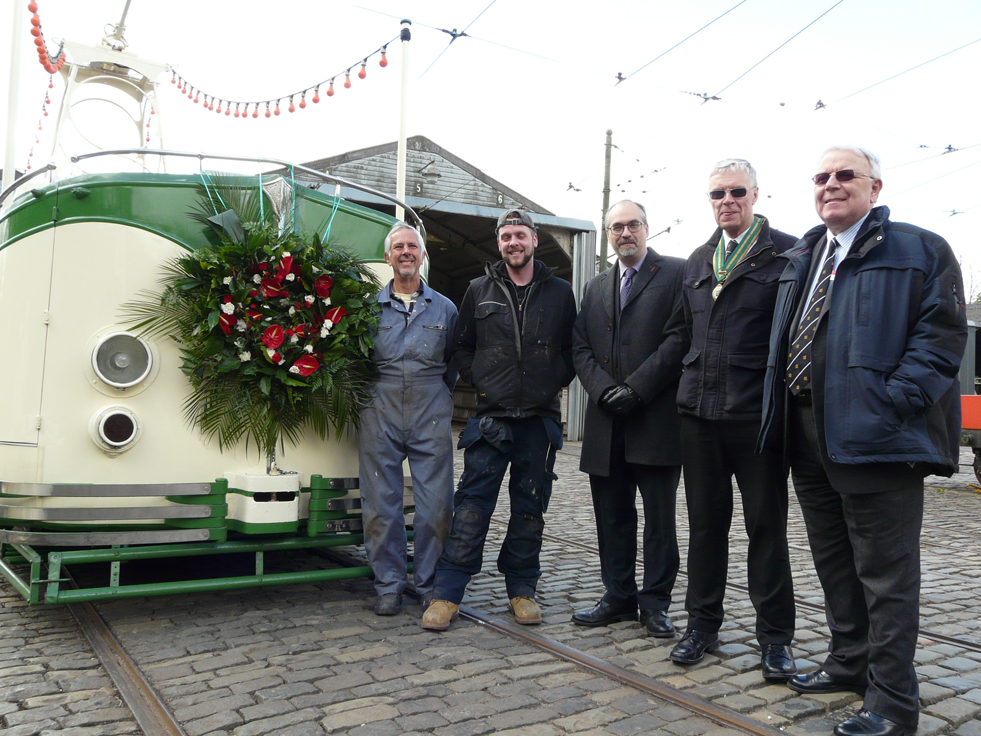 Blackpool 236 was launched back into official public service on Tuesday 25th April 2017 at 11.00 am in the beautiful Crich sunshine, which was appropriate for an open top tram.
The photograph above shows from left to right: Sandy Williamson – Workshop Volunteer; Matthew Linaker – Coach Painter; Dr Mike Galer – General Manager; Alan Barber – TMS President and David Frodsham – Board Member.
Tramway Museum Society President, Alan Barber, officially launched the tramcar by thanking all those involved in the restoration work, cutting the ribbon and a special cake; and inviting members of the public, staff and volunteers to take a ride on its first trip to Glory Mine.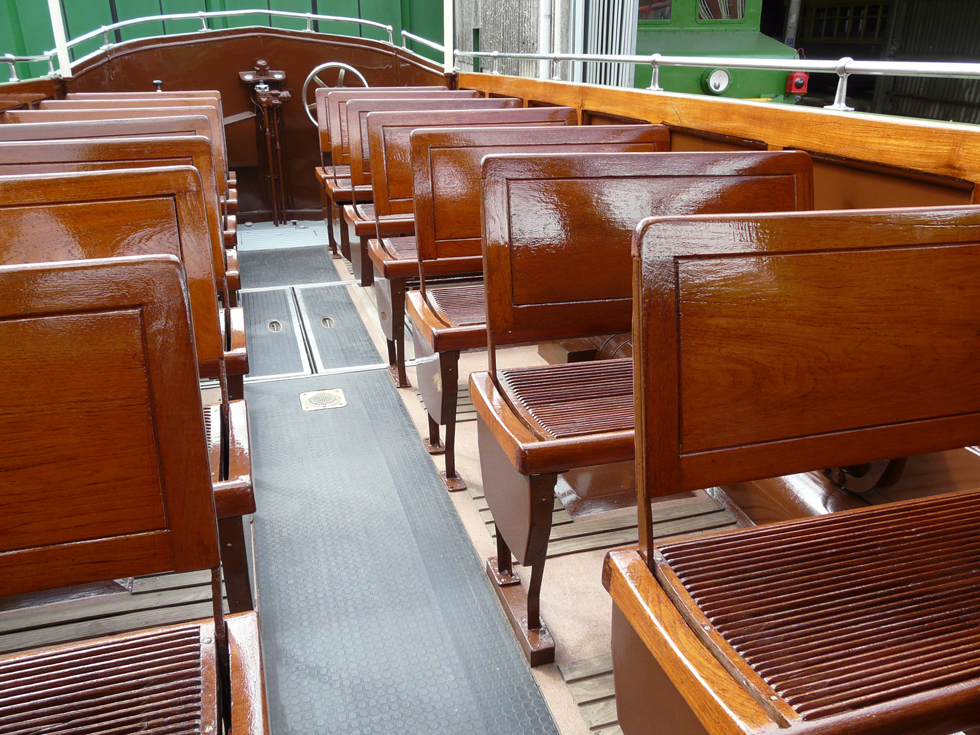 The restored seats on Blackpool 236.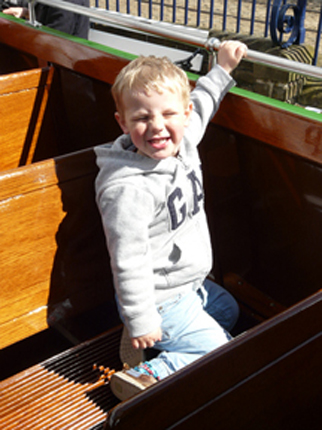 James Finch enjoys the first ride on the restored Blackpool 236.
The restoration work was undertaken during the closed winter period here at the Museum; with the main focus on the seats and interior paint work.
The old toffee paint was painstakingly stripped to reveal the original teak wood, which has now been varnished by the Workshop Team, including Lawrence Dutton, Matthew Linaker and Sandy Williamson.
Matthew said: "The most difficult part of the work has been stripping the seats back to the original teak, which was painstaking".
Sandy said "The best part was how the original wood looked when we had finished it – it justified the hard graft we had put in".
As well as the seats, the interior paintwork on the sides of the tram was changed from a toffee colour, back to its original chocolate colour. The combination of the darker chocolate paint and the varnished seats, makes for a stunning appearance to the interior of this popular tramcar.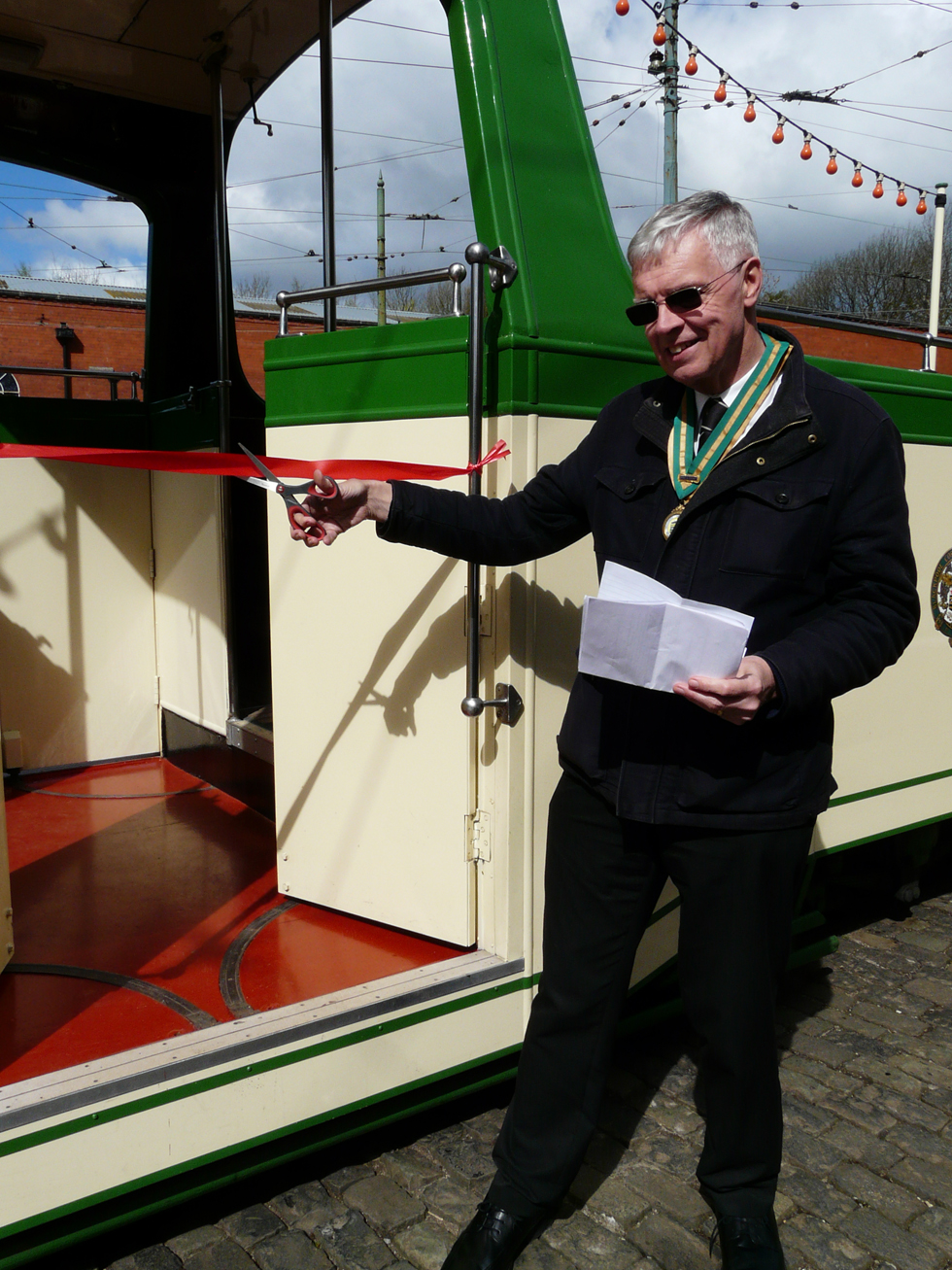 Tramway Museum Society President, Alan Barbour, officially launches Blackpool 236.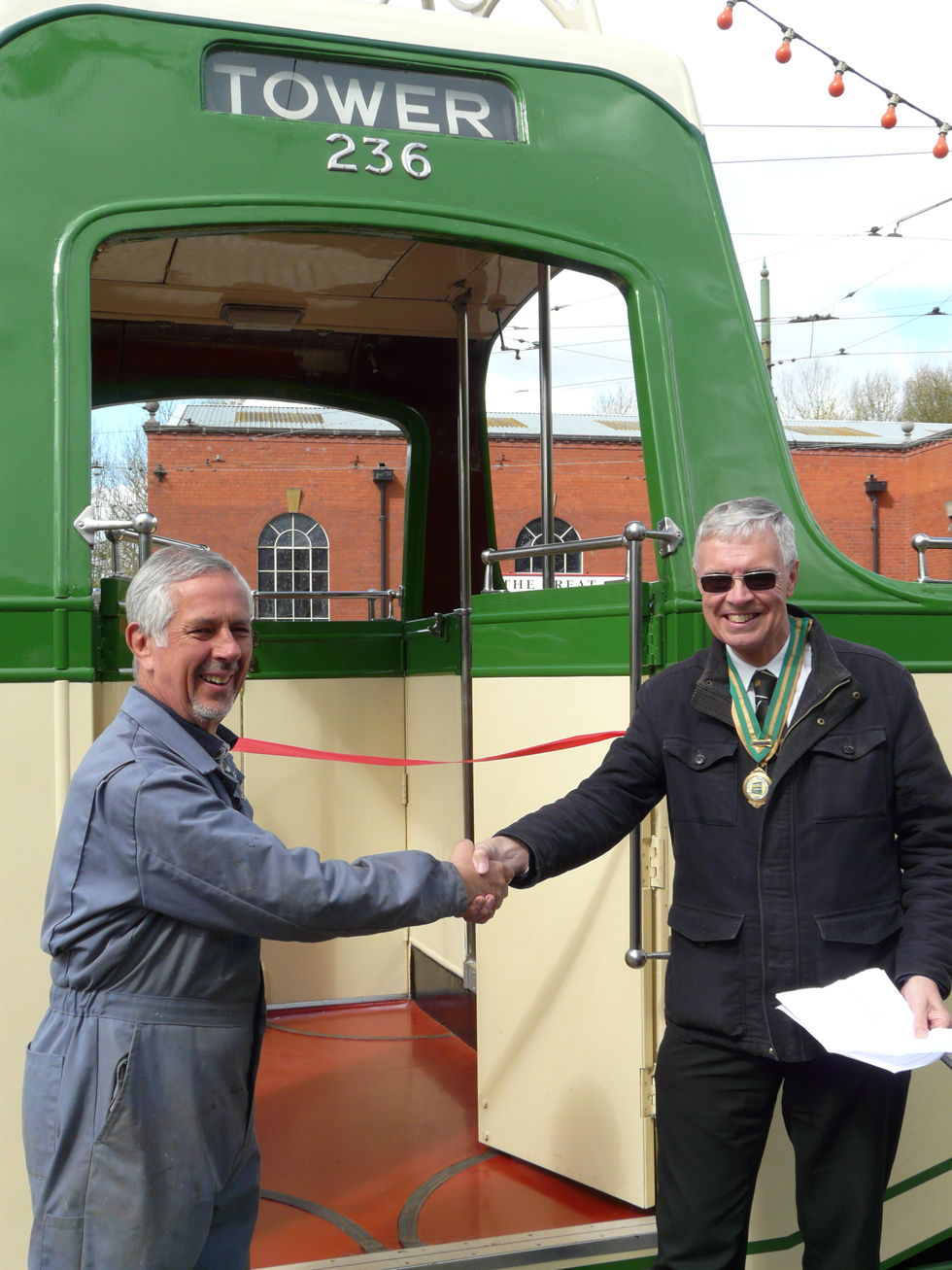 Sandy Williamson (left), a volunteer from the Workshop Team, being congratulated by Alan Barber.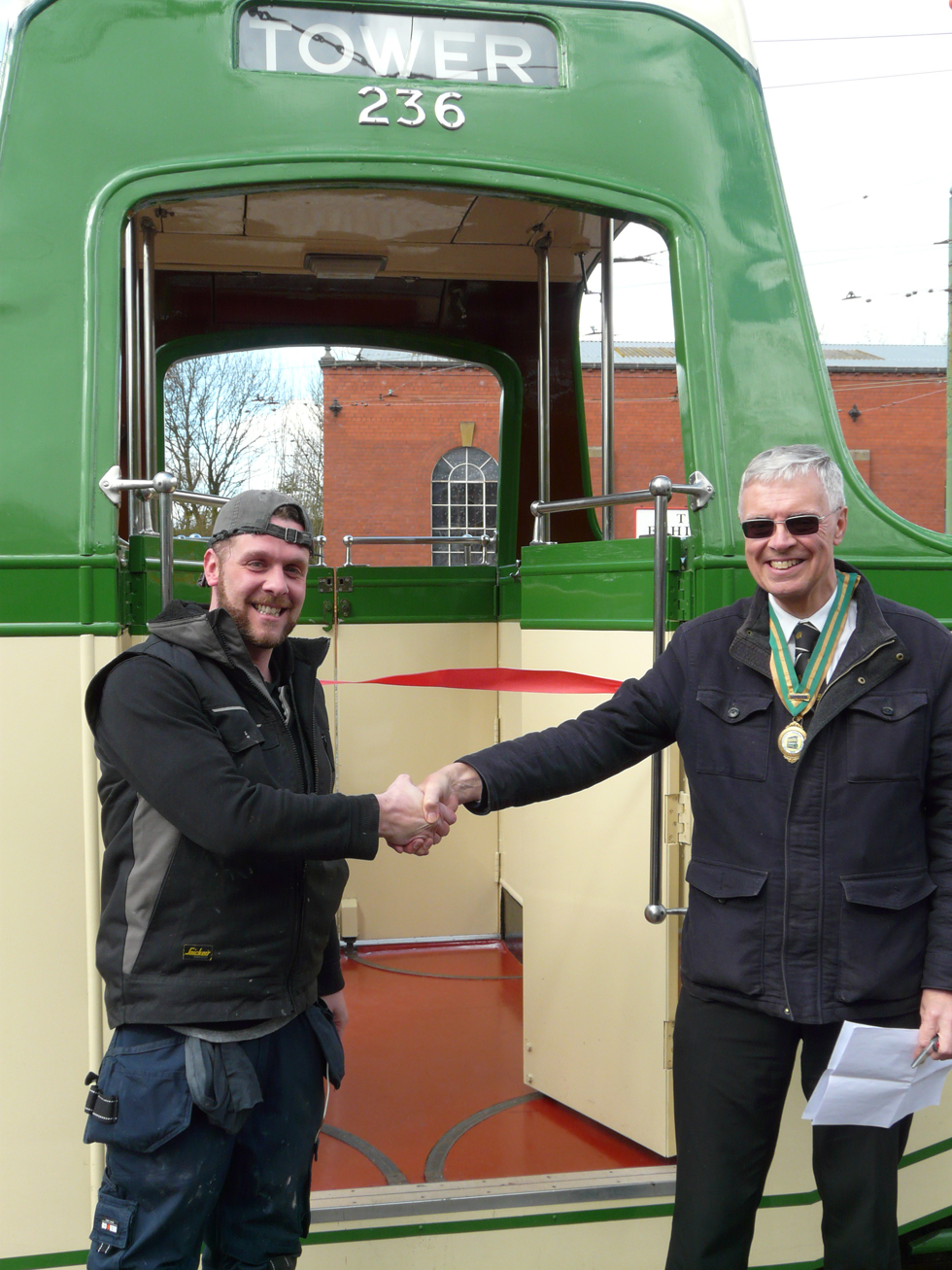 Matthew Linaker, (Left) Coach Painter, being congratulated by Alan Barber.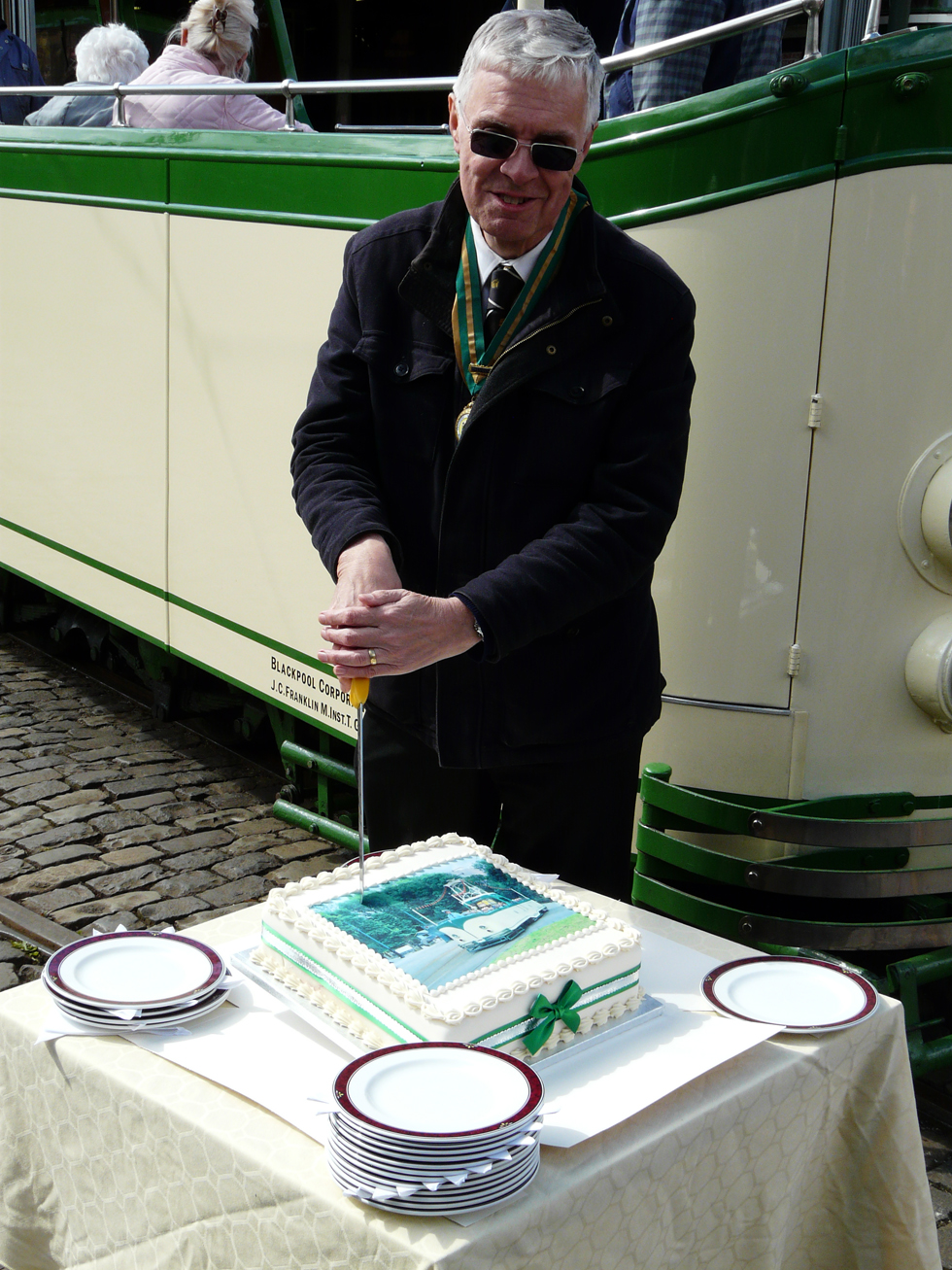 Alan Barber cuts the specially made cake, featuring a photograph of Blackpool 236.