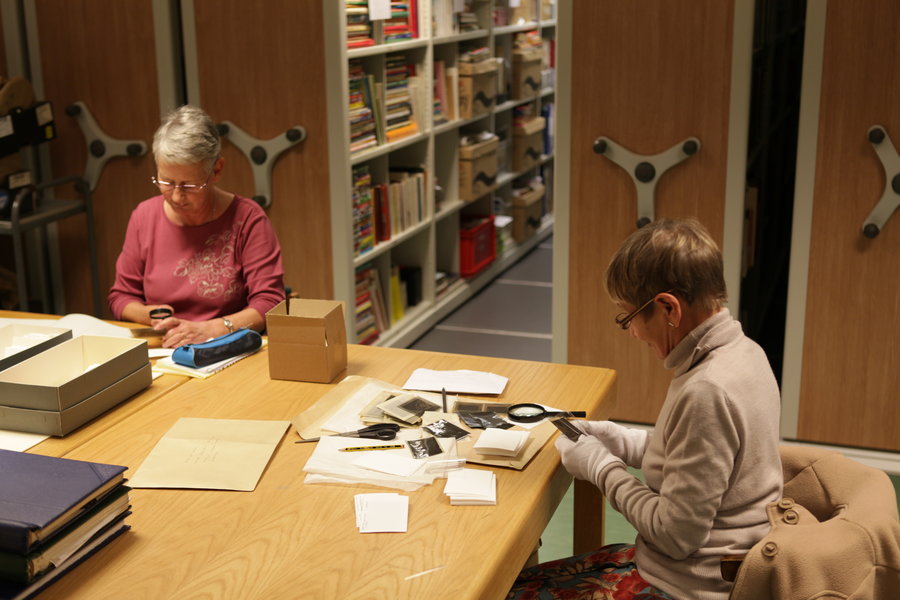 Over the last couple of months we have all been wrapped up warm wearing our winter coats, scarves and gloves, but here at the Museum we actually wear gloves all year round whilst looking after the collections.
We have all seen programmes on telly with Tony Robinson and Lucy Worsley, among others, visiting Archives and Museums and donning their white gloves…. but sometimes confusingly they don't.
Wearing gloves in Archives and Museums depends on what is being handled and what a particular museum's policy is. There are times you must wear gloves and times you shouldn't; times you can but its not essential, and times when you are faced with the exception to the rule.
It's a little confusing to say the least. So we thought we would provide an insight into what we do here at the National Tramway Museum.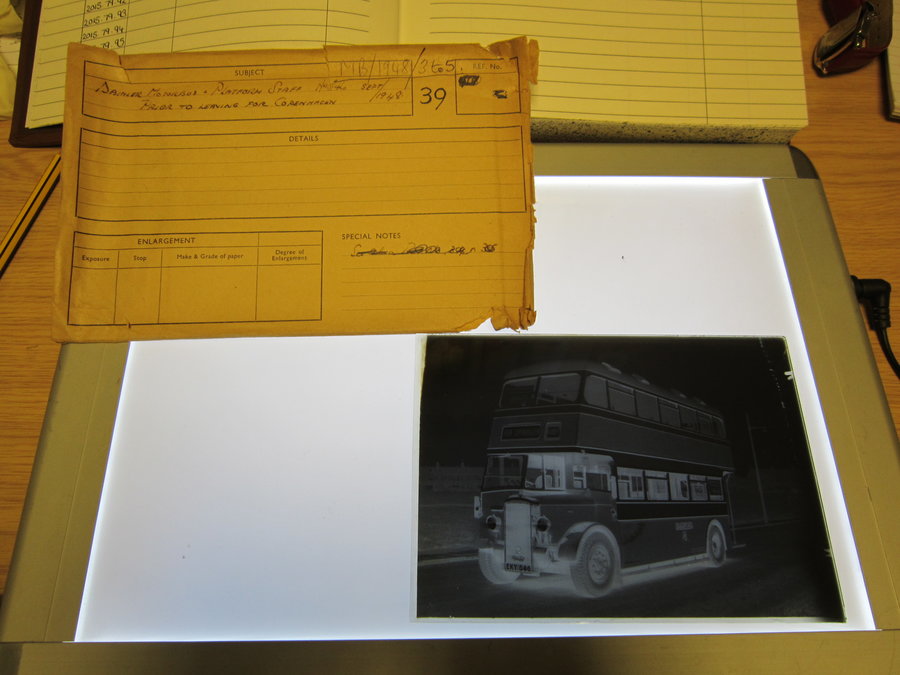 Glass plates if unbroken are handled with cotton gloves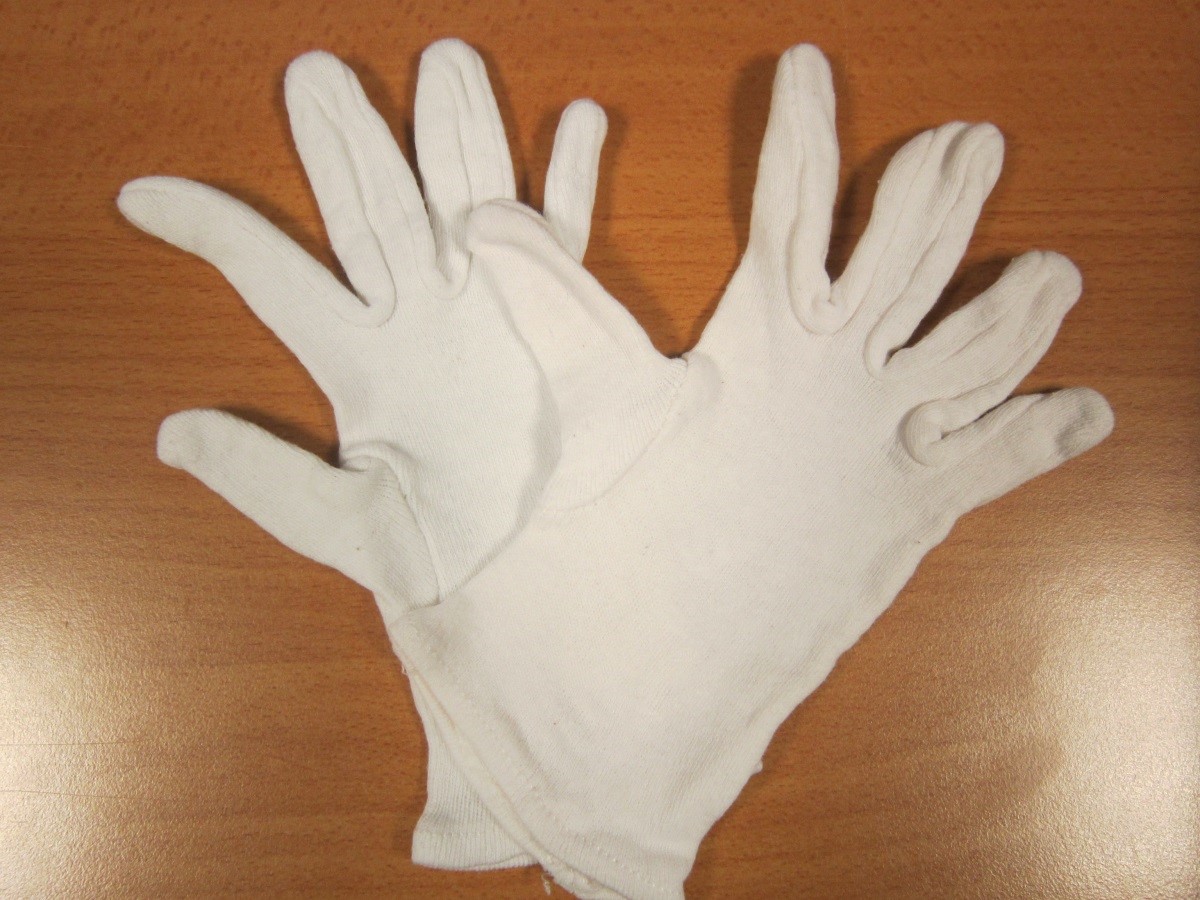 Photographic Collections – we have a very large photographic collection, which contains everything from glass plates to prints and postcards of all shapes and sizes.
All these items have to be handled while wearing gloves, as they are very susceptible to damage. Wearing gloves prevents the surface image being scratched or finger prints being left behind, which can be very difficult to remove once transferred to the surface of photographic item.
Black and white negatives, prints, slides, and colour negatives and prints are all handled wearing cotton gloves. Glass plates are a little more awkward. They can be handled wearing cotton gloves, unless the glass is broken. The glass is actually a support for the image, the image isn't part of the glass itself. When the glass breaks, the image, which is on a thin film, can begin to lift away. When this happens it is best to wear latex / nitrile gloves as cotton can catch on the lifting film and cause more damage.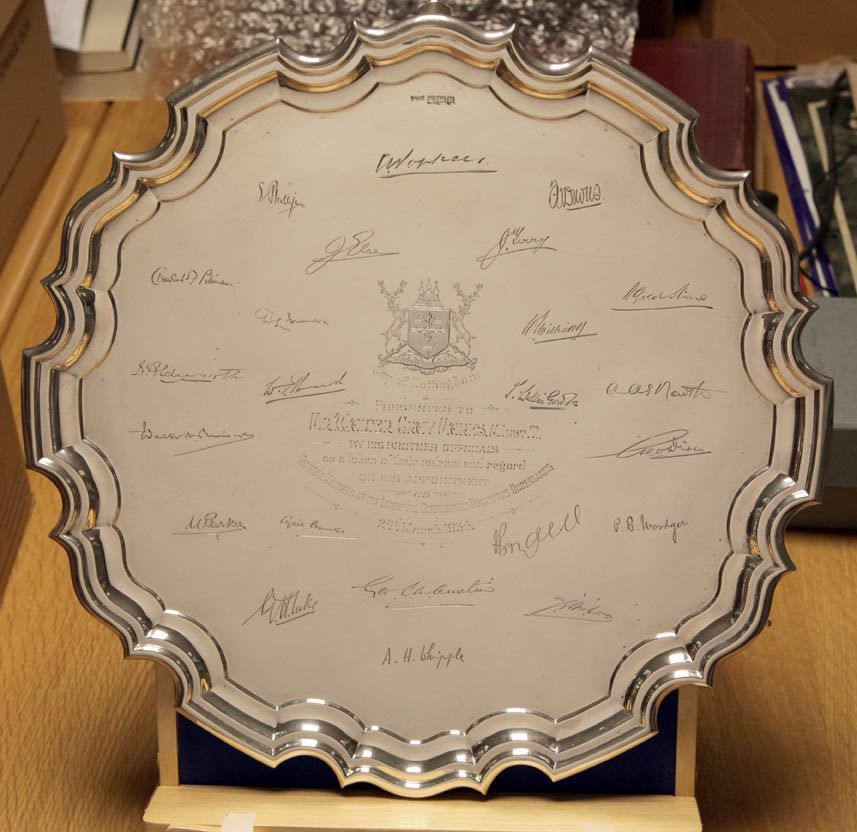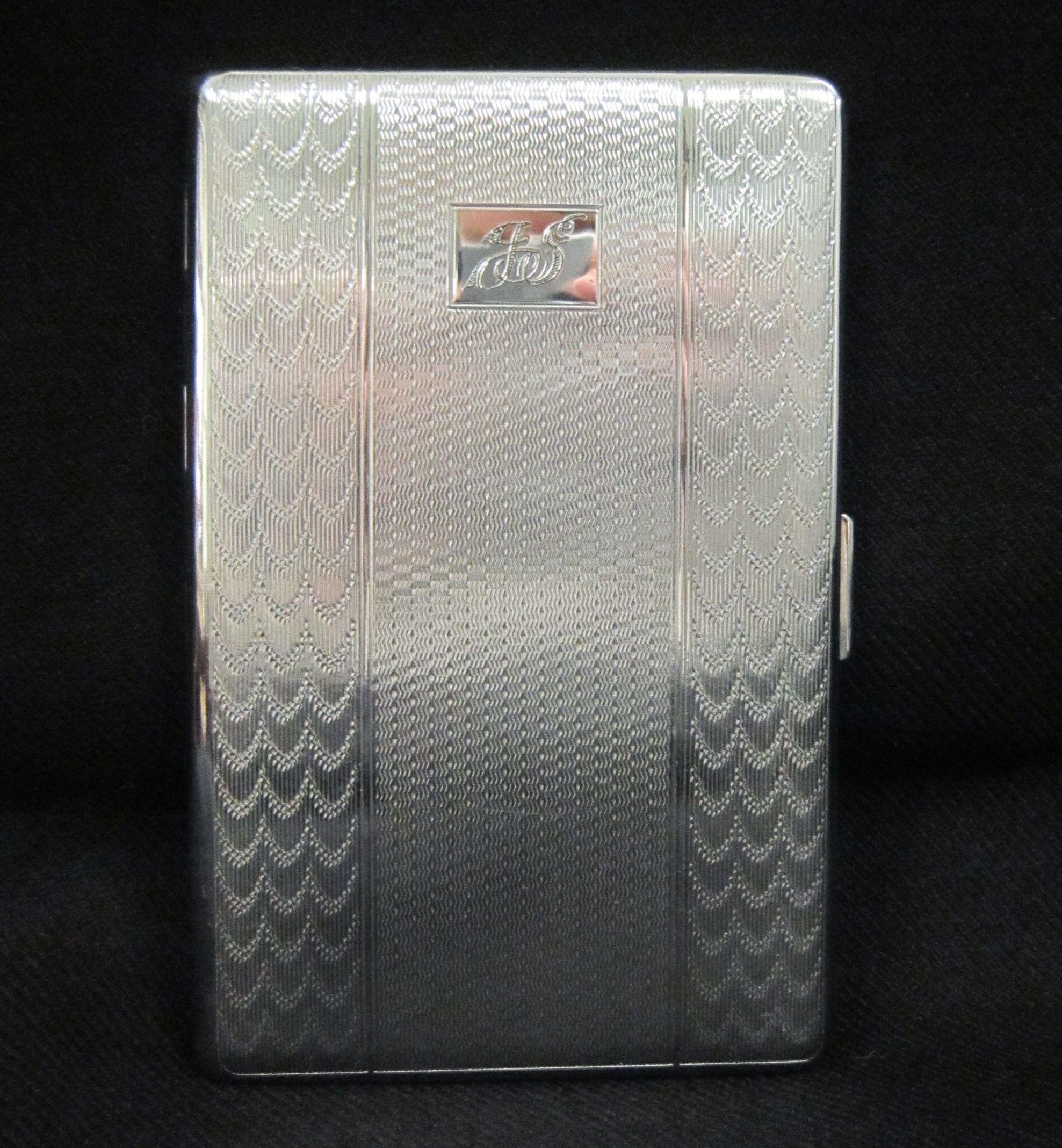 Metal Objects – all metals must always be handled with gloves. A lot of metal objects are made of composite material, which are constantly trying to pull away from each other and reacting with their environment. The natural oils and salts in our skin can aggravate the corrosion process with metals and leave unsightly marks which are difficult to remove. Cotton gloves are best, as nitrile / latex can react with the metal.
Silver objects, such as those shown in the two photos above, should be handled by wearing a pair of nitrile / latex underneath cotton gloves. This prevents the plastic glove reacting with the silver and oils from the skin seeping through the cotton glove.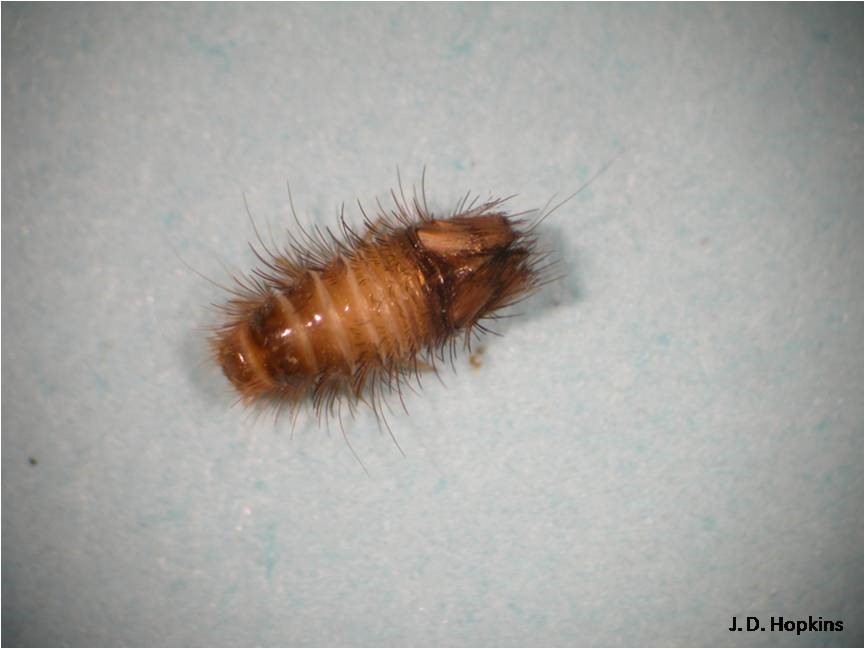 Varied Carpet Beetle Larvae 'Wooley Bear'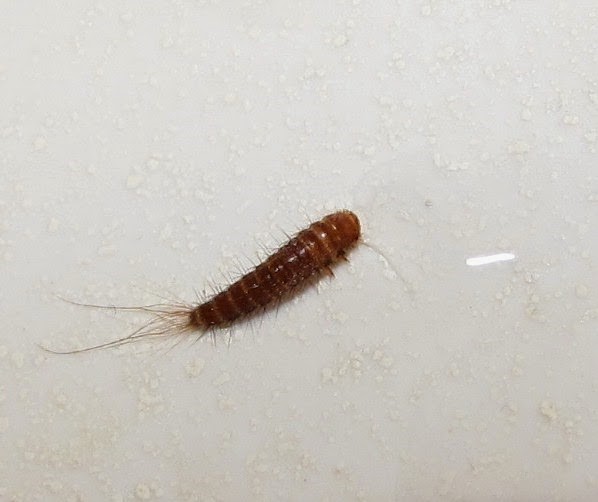 Two Spot Carpet Beetle Larvae
Textiles – we have a small collection of uniforms in our collection, and they are perhaps one of the most confusing parts of the collection to decide whether to wear gloves or not.
Some practice states that as long as hands are clean and no hand cream has been used, textiles can be handled with bare hands. However, no matter how often you wash your hands, your skin constantly produces moisture. This transfers onto the textiles, along with skin cells, which then attracts pests, such as carpet beetles. These are attracted to animal fibres such as wool, which is what our uniforms are made from. Depending on the age, handling textiles for short time with bare hands is ok, but glove are better for longer periods of handling.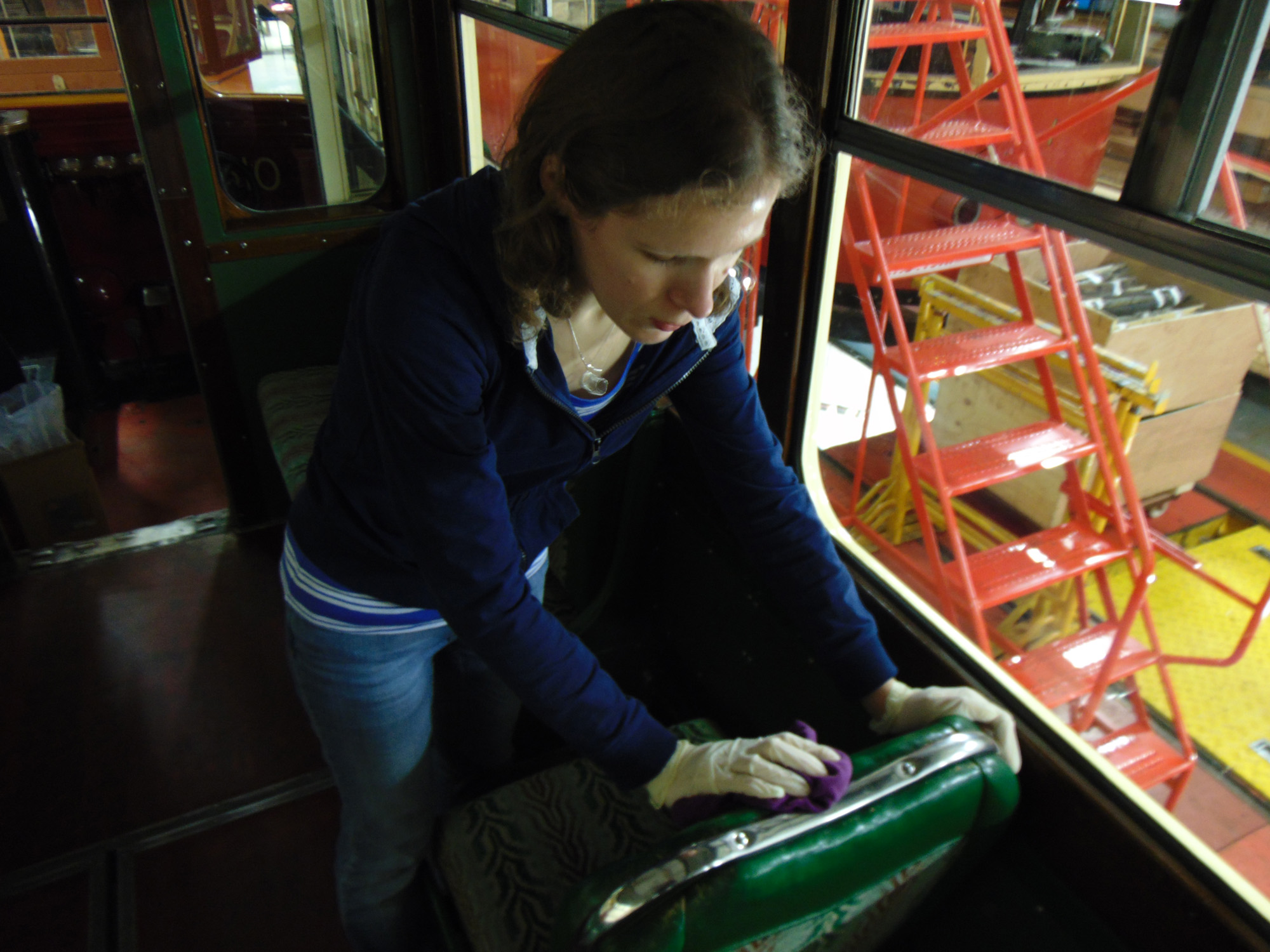 We also wear gloves to protect our hands, such as when using solvents to clean. The leather seats on some of our tramcars, such as Sheffield 510 are cleaned using a solution of Surcare (washing up liquid) water and white spirit, which can burn and dry out the skin if its not protected.
Last but not least, we have a library full of books, journals, papers and drawings. Nitrile and latex gloves are best for handling these. The fibres on cotton gloves can catch on any tears or on the corners of pages and cause more damage. However, as long as hands are clean, books and papers can be handled without gloves. It is rare we wear gloves ourselves, as we use the books, journals etc. so frequently, dipping in and out of them on an almost daily basis, putting on and taking off gloves would be a hindrance rather than a help!
If you would like more information on handling and the care of collections, let us know and we will be happy to help.
We are always looking for new volunteers to help us look after the collections so if you would like to get involved then contact us at volunteering@tramway.co.uk
Hannah Bale – Curatorial Assistant
** information taken from publications by the National Trust, the Canadian Conservation Institute and 'Conservation Concerns' by Konstanze Bachmann.