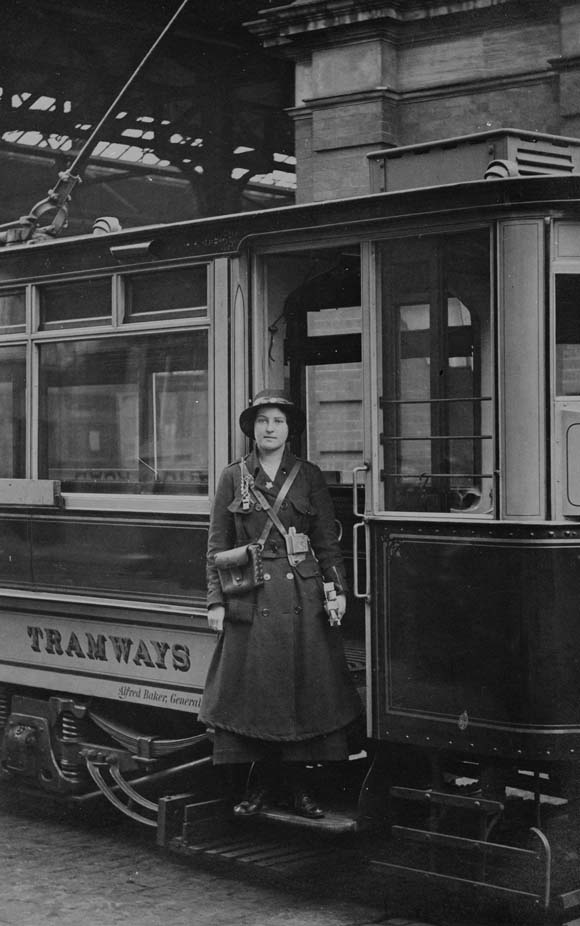 Over the last couple of years here at the National Tramway Museum, Crich we have been exploring the history of Britain's tramways during the First World War. Our current exhibition Tramway Tommies and Clippie Girls, which runs until October 2016, explores how the tramways were affected by the War, the loss of staff, Zeppelin raids, lighting restrictions, as well as restrictions on trading with the enemy.
This era of tramway history is really ground breaking, as the number of men going off to War, meant a shortage of crews to operate the trams. Many tram way systems were instrumental in being a form of transport that transported workers to the munitions factories and many other manufacturing areas that were all manufacturing products for the War effort.
In order to keep the tramways operating, women were employed all over the country, firstly as conductresses, (or clippies as they became known), and then later in some areas as drivers. Never before had a woman crewed a tramcar in Britain, this was a real break from tradition in order to keep the tramways operating, and whilst contentious in many areas, it was successful as the trams kept running and more and more women were employed.
The shortage in crews was due, as it was across all areas of the country, because tramway employees had enlisted with the army or were conscripted. Whole groups of men joined the War effort, and in Glasgow the 15th Highland Light Infantry, became known as the Glasgow Tramways Battalion, which consisted entirely of Glasgow Corporation tramway staff.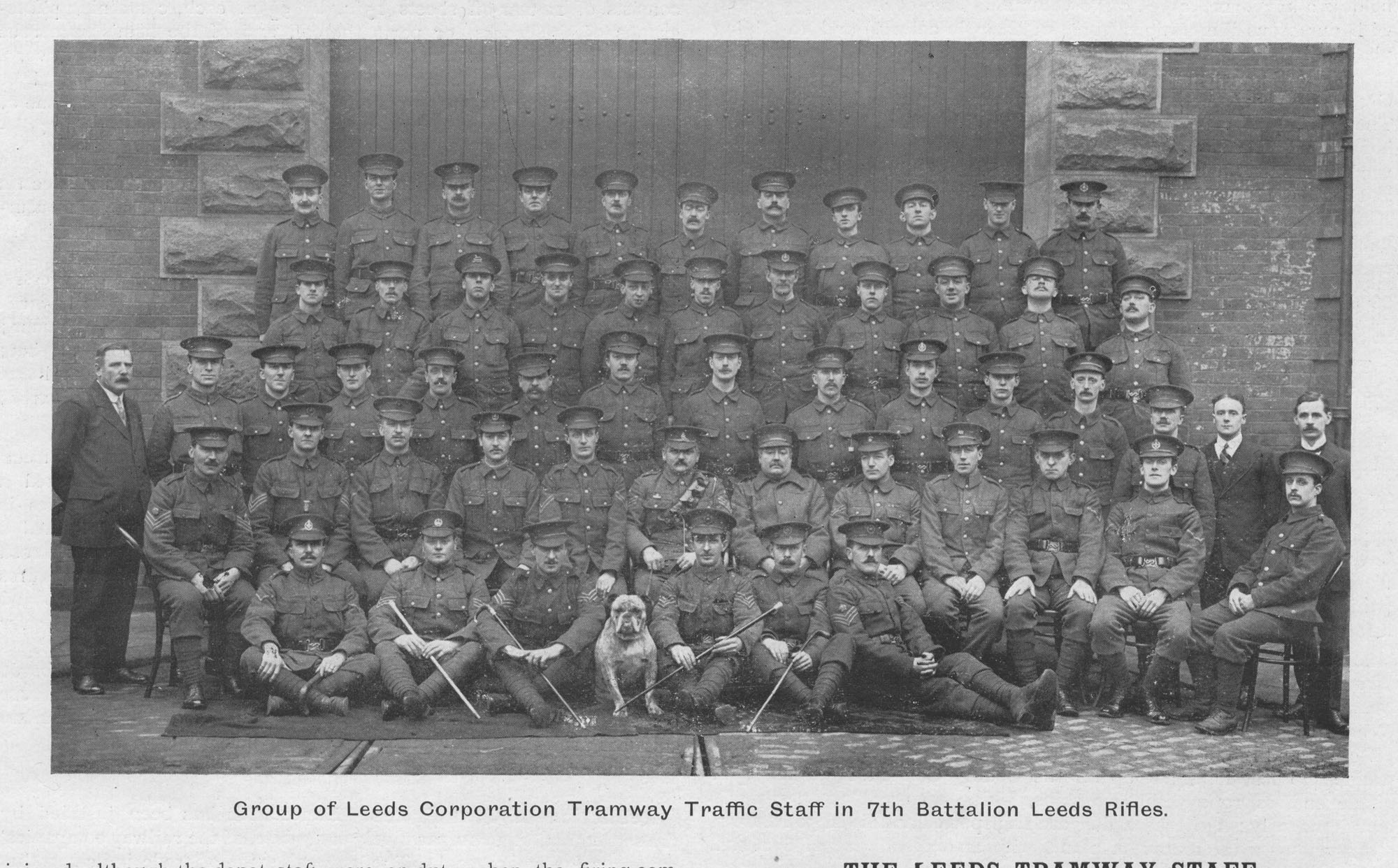 How You Can Help
For our next exhibition, we want to focus on the personal stories of the men and women who were involved with the tramways, the men fighting abroad and the women who kept the trams running. Whilst we have quite a few photos and journal articles in our archive, we have very few personal items or accounts from people.
We know that it is rare to find items from this period, but we would be absolutely delighted to hear from anyone who had a relative who was a tramway employee and went to fight at the front, and might have any personal items belonging to their relatives from this period. Perhaps there is a release from employment note, a photo of your relative in uniform, or even military medals for service that you might be able to share with us.
Or was your Grandmother/ Great Grandmother a conductress or driver on the trams, and perhaps you have a photo of her, or stories about her time as a conductress, or maybe even a wage slip.
We would also be fascinated to hear what happened to your relatives once they came back from the War, – did they take up employment again with the tramways, or did they go on to do different jobs.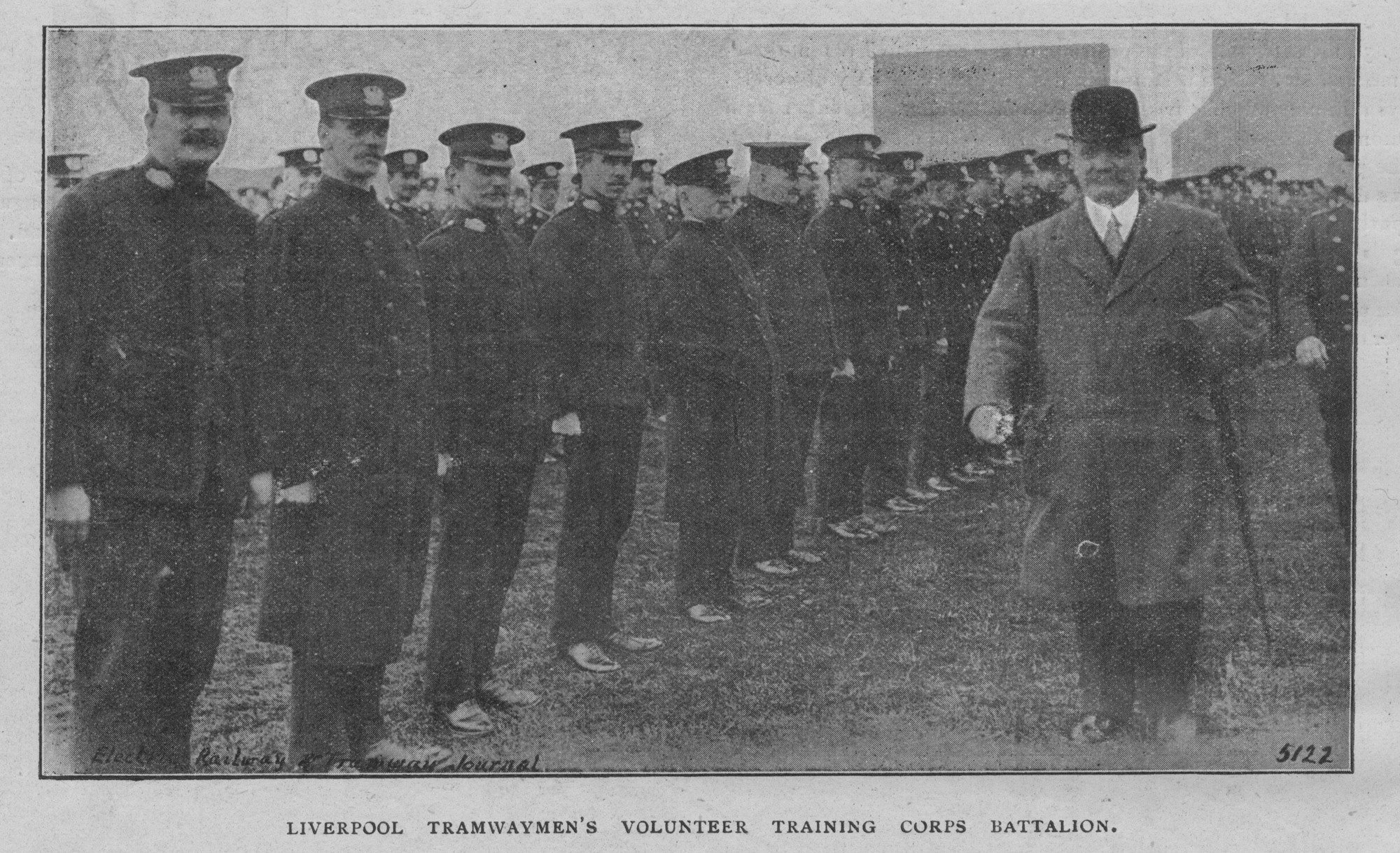 We really want to shine a light on people's personal stories, and as part of the exhibition we will be incorporating as many names and photographs as we can of tramway staff from all over the country, who were associated with the tramway during the First World War.
We will also be remembering those who lost their lives, by making the Tramway Roll of Honours available to see, which appeared in the regularly published journals of the time.
We really hope that people will be able to help us by sharing their family's tramway stories with us, and the objects that they still have to remember their relatives.
If you can help, please contact Laura Waters, Curator at Crich Tramway Village,
Tel: 01773 854337 or email: collections@tramway.co.uk