C.B.T. open top double-deck tramcar No 206 model
When I started working at the Tramway Museum earlier this year one of my first tasks was to deal with the continuing loan of six 1/8th size tramcar models made by the late Robert Whetstone. Five of these superb models first came to Crich in 1984 and were transported from Mr Whetstone's home in Bromsgrove by a member of the Society with a large estate car. The original models on loan are:
Birmingham Corporation double-deck tramcar No 700 [Brush Co., 1925], Birmingham Corporation double-deck tramcar No 2, open top [Dick, Kerr Co., 1904], Darlington Corporation Light Railway single-deck tramcar No 16 [G.F.Milnes Co], Kinver Light Railway single-deck tramcar No 50 [Brush Co., 1902] and Tatra T3 type single-deck tramcar No 40.
Once safely on site, the Crich workshop built special display showcases for the trams so that they could be shown to visitors to the museum and they proved to be a very popular attraction.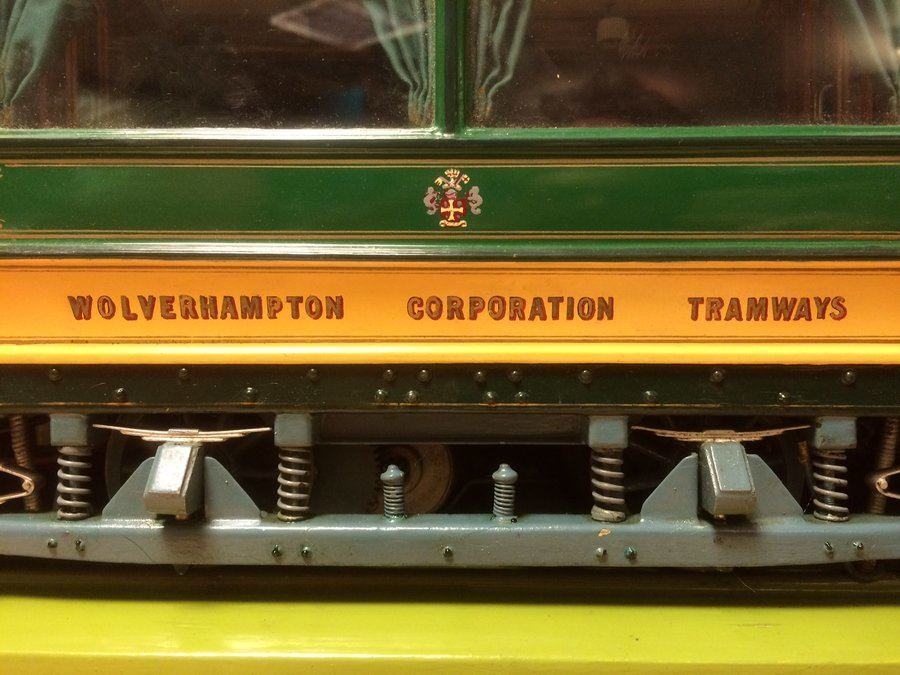 Wolverhampton single-deck enclosed tramcar No 4 model
In 1992 a further model, Llandudno and Colwyn Bay semi-convertible, single-deck No 17 [Brush Co.], arrived at Crich. Mr Whetstone was by this time in failing health but he was able to make the journey north to see his models on display. Correspondence in our archives indicates that he was very impressed with the museum and delighted with the way that his models were shown. In 1993 two of the models were displayed on the TMS stand at the Light Rail 93 Exhibition in Birmingham.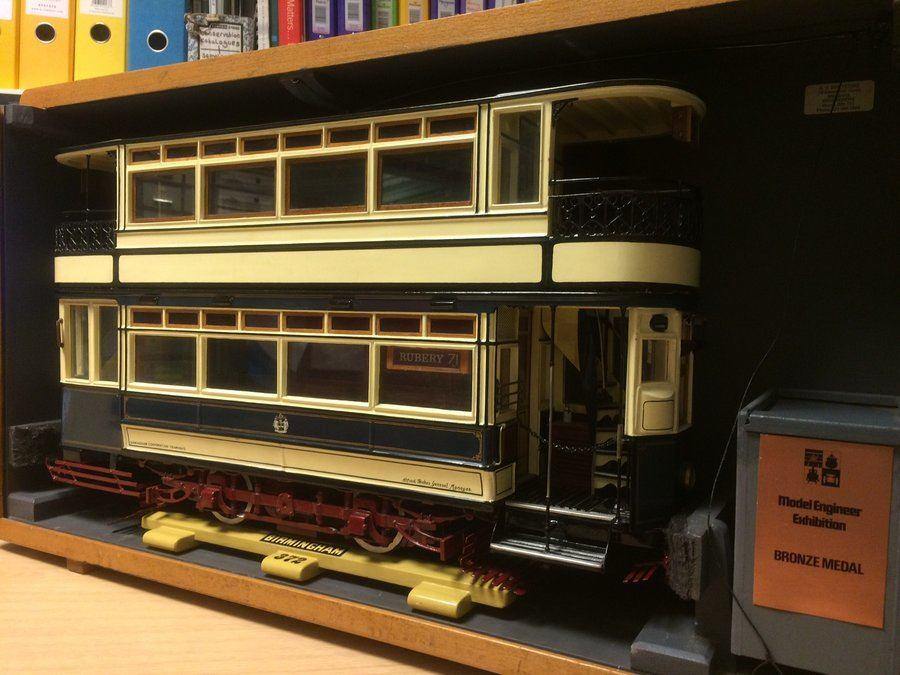 Birmingham Corporation double-deck balcony tramcar No 372 model
A couple of months ago I was very pleased to be given the job of securing a new loan for another four models made by Mr Whetstone on the smaller 1/16th size scale. Laura Waters [Curator] and I hired a van and travelled to London to meet Mr Whetstone's grand-daughter and collect the models. They were all packed in specially constructed cases made for transporting them for display by Mr Whetstone at model engineering exhibitions. Birmingham 372 even has a small section in its case that holds a medal awarded at the Model Engineer Exhibition. We were also able to collect several lengths of track and wiring and some model street lamps made to be shown with the trams.
It was a great pleasure to open the display cases to see the model trams for the first time and be able to appreciate the craftsmanship involved in their creation. As the photographs show, Mr Whetstone paid great attention to detail and the models must have taken a great deal of time to construct to such a high standard.
Now that the models are at Crich we have put three on display in the Exhibition Hall and are investigating the possibility of running the 1/16th scale models on special days. This will take some time as we need to ascertain the type of layouts required and find a suitable space where the models can operate safely due to their fragile nature.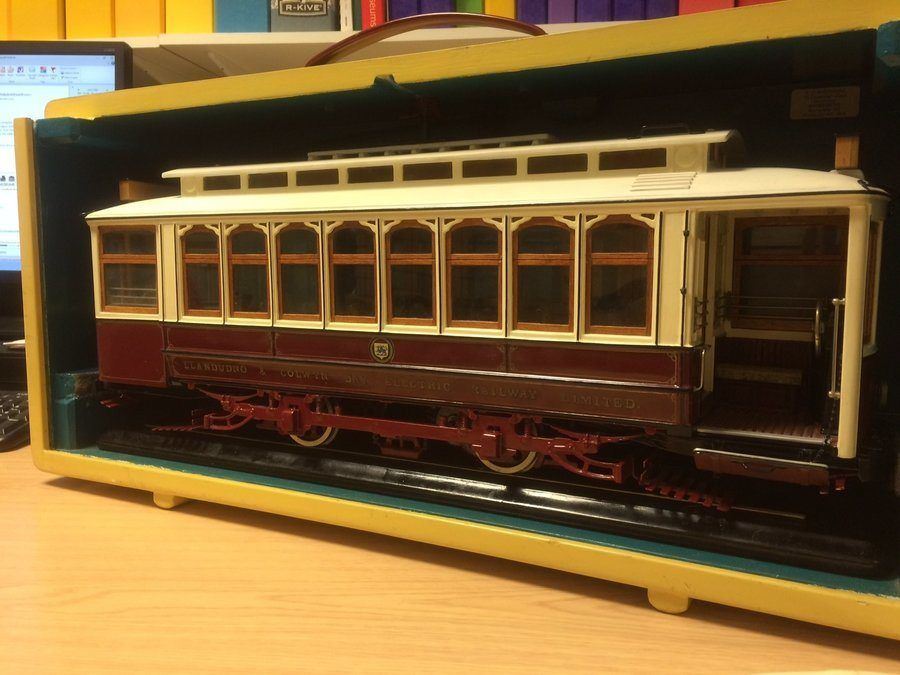 Llandudno single-deck enclosed tramcar No 17 model
It is very satisfying to have brought together the models and ensure that they are all now housed in the same place for the enjoyment of future visitors. In the next few months we will be gathering more information about their history in order to highlight this important part of our collection.
Robert Morris, Librarian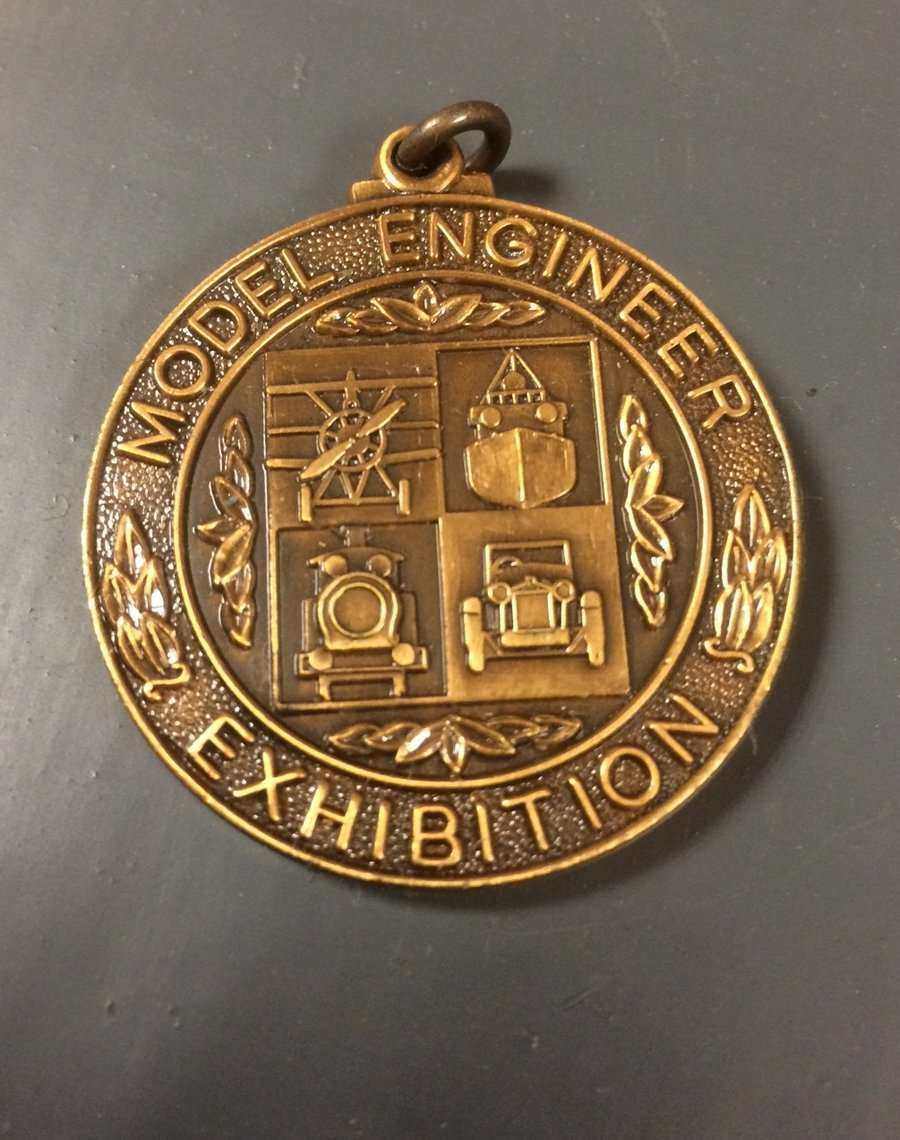 The four additional models now at Crich are:
Birmingham Corporation double-deck balcony tramcar No 372
CBT open top double-deck tramcar No 206
Wolverhampton single-deck enclosed tramcar No 4
Llandudno single-deck enclosed tramcar No 17