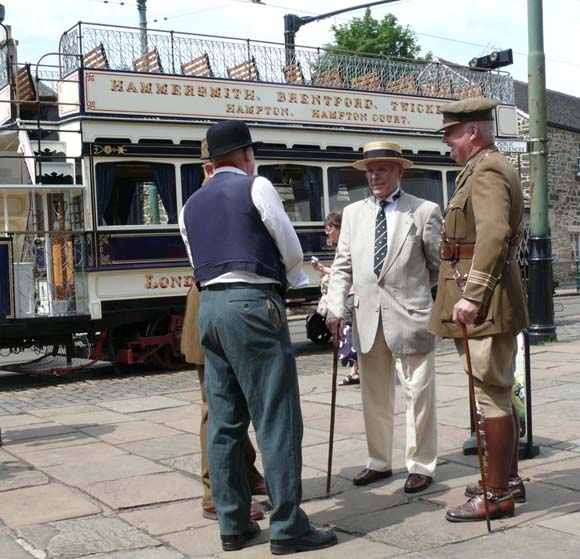 Step back in time and experience the nostalgia of the Edwardian period, including some First World War elements from Friday 15th – Sunday 17th July 2016.
As well as vintage trams from the era running daily, there will be a programme of events including re-enactor scenarios from Echoes of a Gilded Age with street scenes and vignettes.
Theatre Company, Don't Go Into The Cellar! will perform: Old Haunts: Ghostly Tales of Edwardian Menace by M.R. James on Friday and The Singular Exploits of Sherlock Holmes on Sunday, which features the great detective recounting highlights of his crime-busting career.
On the Friday, our 1874 Horse Tram will be in operation, offering rides for a modest additional fee from 11am to 1pm and from 2pm – 4pm.
Old Time Music Hall performances can be enjoyed each day and for those wishing to learn more about the First World War in Derbyshire, Dr Mike Galer invites you to two talks on Saturday from 11am – 12pm and from 2pm – 3pm.
On Sunday there will be the chance for families to play with and make Edwardian toys, and Crich Brass Band will provide the music from 2pm -3pm.
Edwardian Afternoon Tea will be available on Saturday and Sunday from 2pm – 4.30pm priced at £10.00 per person, to include a cup of tea or coffee and £15.00 per person to include a glass of sparkling wine, but pre-bookings are required by no later than Friday 8th July. Tel. 01773 854349 to book.
Anyone dressing in First World War or Edwardian costume will be entitled to group rate admission charges.