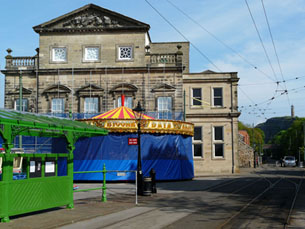 Preparations for 'Beside the Seaside' are going to plan.
Crich Tramway Village's 9-day event sets out to bring many of the pleasures of a seaside holiday, from a few decades ago, to the hills of Derbyshire. Hopefully without the rain!
Much of the restoration to the façade of the Derby Meeting Rooms has been completed, enabling the bulk of the scaffolding to be removed and be replaced by the vintage carousel. Our neighbouring Crich Stand has also had its scaffolding dismantled, which means that the tower can once again be accessed and that it can also double as a lighthouse.
Whilst the Derby Meeting Rooms scaffolding was being taken down, over two days, trams were being terminated at the Red Lion so the opportunity was taken to repair a dropped rail joint just south of the temporary terminus. The work was completed early this morning, the barriers around the area have been removed and the trams are back to operating from Town End in time for the event.
As a prelude to 'Beside the Seaside' two Blackpool trams, 'Toastrack' 166 and 'Boat' 236 are shown together.
There are some great family activities planned in the Learning Centre from Saturday 28th May – Friday 3rd June 2016.  Download the daily 
Seaside Family Activities 2016
.