This past Saturday was really all about horse trams for us here at the Museum. Not only did we have Joseph at the Museum pulling our 1874-built tramcar Sheffield 15, but a team of intrepid Workshop personnel ventured forth to a field in Wales, to rescue a London horse tram.
The tramcar, which is almost certainly a North Metropolitan tramcar, was located in a field near Newtown, Powys, and is thought to have been there since 1906. The tramcar was under threat, due to a new bypass construction, which will see a road go straight through where it was located.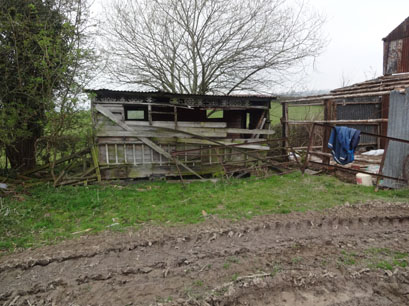 In order to lift the tram out of the field, there needed to be a considerable amount of pre-planning by the Workshop team and Scott's Heavy Haulage. This resulted in the decision to use a 'telehandler'. The 'telehandler' lifting forks were put inside the body and the tram was lifted by slings passing through the wheel spokes. This eliminated putting any unnecessary strain on the body, which is in a rather delicate state.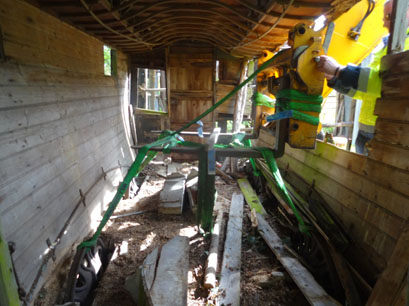 The following images show how the lift progressed, as the tramcar was gently extracted from the undergrowth and moved onto Scotts' low loader.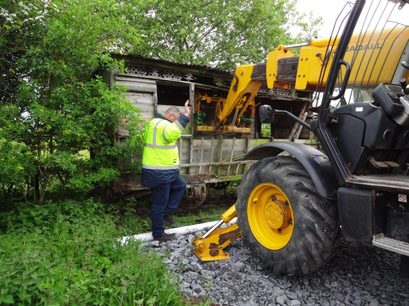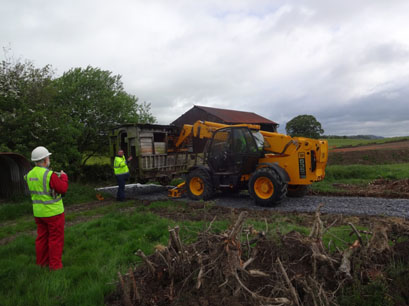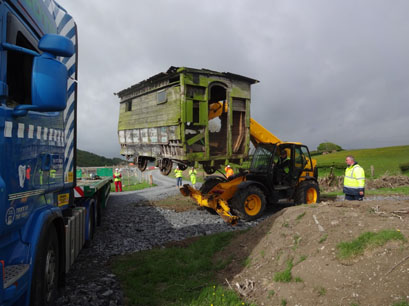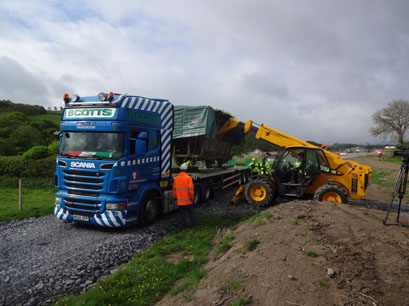 The image below shows the horse tram body and its original running gear, all loaded up and ready to start the long journey to Crich.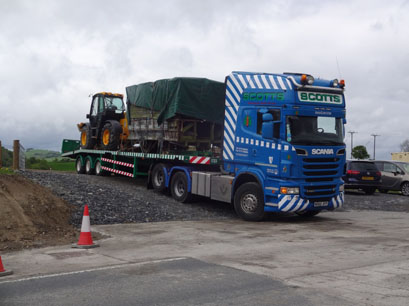 Joseph, our regular 'tram horse' came to inspect the new arrival. When told it was a two horse tram Joseph said he had a mate who would come and help him!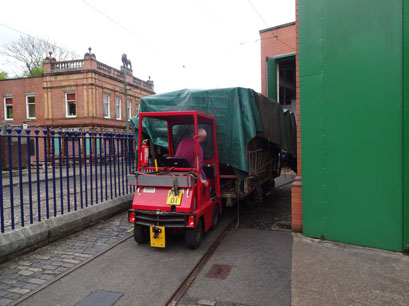 In 1978 the Museum obtained another North Metropolitan horse car, which we identified as No.184. We carefully dismantled this vehicle 2 years ago; as it had deteriorated to such an extent, it was in danger of collapsing. We kept a number of parts from the vehicle, that could be used in a future possible restoration project, but realised there were several major parts we would be missing.
The tram from Newton, does have most of these missing parts, and we have started to carefully dismantle the vehicle in order to safeguard them for the future.
One of our sponsor groups the London County Council Tramways Trust, has set up a fund to raise money towards a restoration project. If you would like to contribute to this fund, please contact the Trust's Treasurer Alan Bertram via the LCCTT's email address lcctt@sky.com
All images courtesy of Mike Crabtree, and with kind permission of Griffiths Construction Ltd.