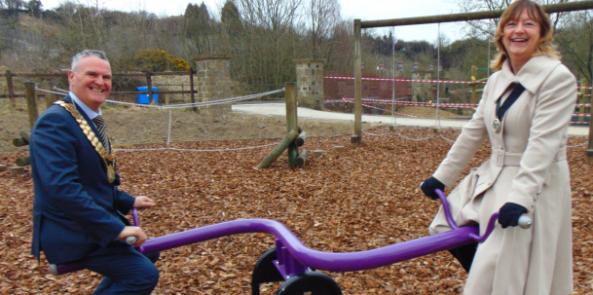 The Mayor and Mayoress of the Borough of Amber Valley, Councillor Trevor Ainsworth and Mrs Jennifer Ainsworth, officially opened the new adventure playground at Crich Tramway Village on Monday 21st March 2016.
Situated near to the Woodland Walk and Sculpture Trail the playground provides more facilities for children aged 2 – 14 years visiting the family oriented venue.
Jan Barratt, Learning and Participation Manager said:
"We have planned the new play area carefully to help encourage active play and team participation, which will complement our learning and trail activities for children".
President of the Tramway Museum Society, David Frodsham, welcomed the Mayor and Mayoress and also thanked Esther Trevethick and Hannah Gibbons from Holdsworth Foods and Steve Horton from Phase Print whose companies sponsored two picnic tables, which are situated in the play area.
David Frodsham also thanked General Manager of Crich Tramway Village, Dr Mike Galer and Outside Works and Workshop teams for their work on the facility, along with Wicksteed Playgrounds who supplied and installed the new play equipment.
The Mayor and Mayoress tried out the see-saw and then took a tram ride on London 106.