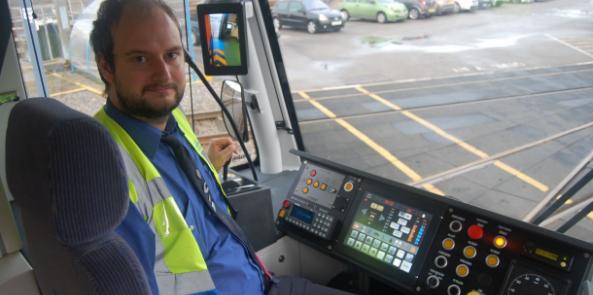 Welcome to one of our new volunteers, Aidan Croft, twenty-six, from North Staffordshire, and now working in Sheffield after finishing a degree there in biology.
Aidan has worked at Supertram for five years since finishing his degree, as a conductor but also as the on-call receptionist and stores person!
Aidan's main interest is the North Staffordshire Railway and indeed, before moving to Sheffield, he was a regular volunteer at the Churnet Valley Railway from 2003-2010, where he undertook roles such as running Cheddleton station (working in the booking office and on the platform), working at events and working on dining trains! Aidan still produces the staff newsletter for the CVR.
Other hobbies/interests include the history of Staffordshire, biology, physics, visiting National Trust properties, enjoying the countryside/ historical cities, railway electrification, Doctor Who, railways in general and of course tramways.
Aidan said:
"I have joined Crich to indulge a number of my interests, but I intend to focus on helping with and learning about the overhead line equipment and also the electrical side of Crich's fleet. Being flexible, I also look forward to both conducting and driving and helping out in any other department from time to time".
The photograph shows Aidan sitting in 399 201's cab at Nunnery Depot.