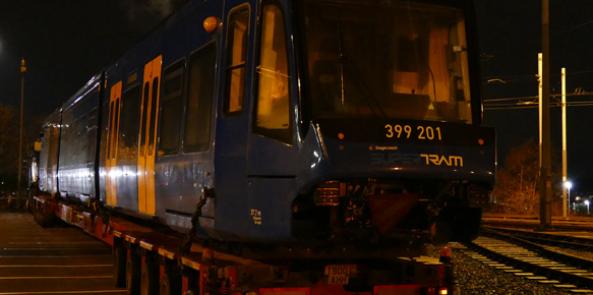 Congratulations to Stagecoach Supertram, Sheffield, on taking delivery of their first Tram Train, Vossloh Citylink 399 201. The new tram left Valencia, in Spain, on 18th November and travelled via Santander and Southampton to arrive at the Sheffield Depot a little before 10.00pm last night. Photo above by one of our new volunteers, Aidan Croft.
By 2017, when the 'Tinsley Chord' link (near Meadowhall) between the existing tramway and the main railway line is completed, the rail network between Sheffield and Rotherham is electrified and tram platforms are built at Rotherham Central and Parkgate it will once again be possible to travel from Sheffield to Rotherham by tram!
Sheffield's 'Last Tram', 510, which is a star performer in the current operational fleet at Crich Tramway Village, would have known well the journey from Sheffield to Rotherham, having carried passengers over the route many times. That first generation tram route also went via Tinsley, where the old tram depot still exists, so history is due to be repeated.
A link between the 'last' and the 'first', with more than half a century between!
See also the British Tramway (on Facebook) article with more photographs.