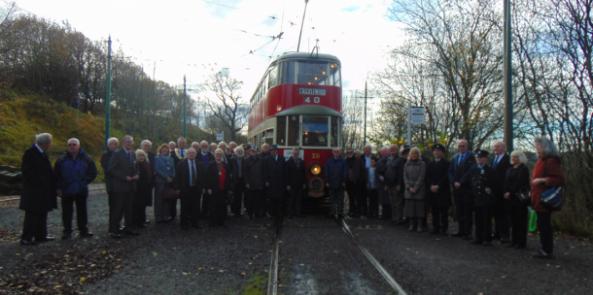 A fantastic day at our Tramway Museum Society 60th Anniversary private event today. We welcomed the Mayor and Mayoress of Amber Valley, Councillor and Mrs Ainsworth, and the Chair of Crich Parish Council, Mrs Margaret Lane and Mr David Lane along with specially invited guests, including members of the Council of the Light Rail Transit Association.
As well as tram rides, the guests enjoyed film shows, archive displays, LCC1 talks and the naming of the KLV by Bryan Scott, of Scott's Heavy Haulage.
President of the Tramway Museum Society, David Frodsham, introduced the naming of KLV by providing a background to the late John Gardner, a former member, who had a passion for rail mounted cranes and whom the KLV was named after.
All the trams selected to run on the day were associated with systems that were still in public operation when the Tramway Museum Society was established, including Leeds 180, Liverpool 869, Blackpool 40 and 762, Sheffield 510, MET331 and Glasgow 812. Cardiff 131 was on display outside the depot.