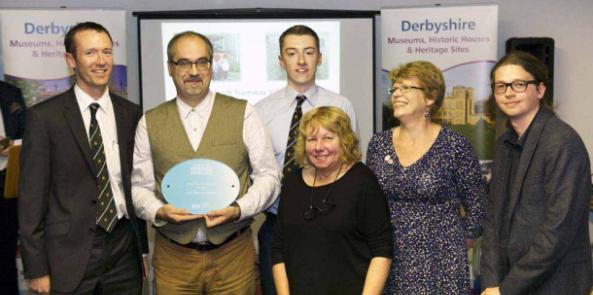 Sir Richard Arkwright's Cromford Mills was the venue for the Derbyshire Heritage Awards on Friday 9th October, when 90 guests attended the 9th Derbyshire Heritage Awards.
The Awards are run by the Derbyshire Museums and Heritage Forum and celebrate all the wonderful work taking place in museums, historic houses and heritage sites across the county. The Forum also welcomed entries from organisations that are not forum members but that have undertaken heritage related projects including arts activities and work with natural heritage. The Awards were funded by the Derbyshire Museums and Heritage Forum and a grant from Museum Development East Midlands.
The Awards were judged and presented by Joy Hales (Editor, Derbyshire Life Magazine), Franne Wills (Head of Service: Development, Communities and Wellbeing Service, Leicestershire County Council) and Sir Richard FitzHerbert (Chief Executive of Tissington Hall). Award winners received a plaque and highly commended projects were awarded a framed certificate. There were 25 entries from 14 different organisations this year, so the judges were forced to make some very difficult decisions when choosing the winners.
Master of Ceremonies for the night was Andy Potter, Afternoon Show Presenter for BBC Radio Derby and he ensured that the evening ran smoothly whilst keeping the guests entertained.
Crich Tramway Village won the award for Excellence and for the 'Young Persons Development Programme' under the category 'Young People in Heritage'.
Two of the young volunteers cited in the submission were Cameron Sharp and Sam Burton Smith.
Cameron's experiences at Crich led him to pursue a role at Rolls Royce Derby as an apprentice engineer and his role at Crich was instrumental in securing that apprenticeship. Cameron is the youngest tram driver at Crich and is a great role model for younger members and is now passing on skills and knowledge to them as they in turn start to volunteer at Crich. He has achieved many goals at Crich, including acquiring a Tram Guard's licence, being a First Aider and being authorised to repair and service tram cars used by the public. His greatest achievement in the last year has been his appointment as a 'Duty Engineer'. In this role he is a controller of safety critical work, with the delegated responsibility of the Rolling Stock Engineer, a position of responsibility and trust of which he is rightly proud.
Sam Burton Smith is one of our youngest volunteers at 16 and has helped in the Workshop, but also had an interest in working on the trams.
Sam undertook conductor training on the vintage trams over a period of a year, in his spare time, working around school commitments.
Sam passed his conductor training and continues to work on the trams in his spare time, providing excellent customer service and inspiration to other young people considering volunteering at the Museum.
Crich Tramway Village was also Highly Commended for the 'Best Volunteer Project' for which the staff submitted their 'Electric 50' project, based on 50 years of electric trams at Crich.
Dr Mike Galer, General Manager at Crich Tramway Village, said:
"We are delighted to have achieved recognition through the Derbyshire Heritage Awards for Excellence, Young People in Heritage and for being Highly Commended for the Best Volunteer Project.
Our submissions were the result of staff and volunteers working together successfully to provide a fantastic, customer friendly venue, which is home to the National Tramway Museum.
We are very proud of all our volunteers and positively encourage and welcome young people to add to their skills, which can help prepare them for future work roles."
The photograph shows Crich Tramway Village volunteers and staff left to right: James Blythe, (Tramway Service Manager); Dr Mike Galer (General Manager): Cameron Sharp (Volunteer); Val Mansley (Volunteer); Jan Barratt (Learning and Participation Manager); Sam Burton-Smith (Volunteer).