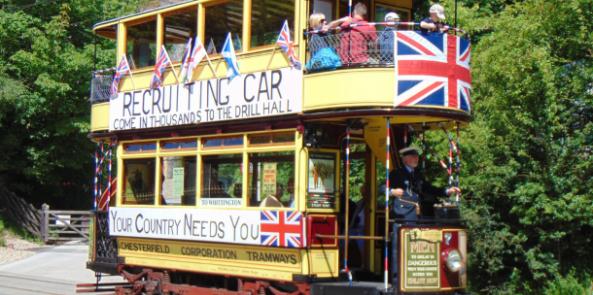 World War I commemorations have been a focus this year, with global remembrance and tributes to the Great War.
Crich Tramway Village is no exception, and with their Great War Home Front event from 13th – 19th July this year, their Curator and Workshop teams set about transforming their Chesterfield 7 tramcar into a replica operational Recruitment Tramcar, showing how trams were used to help with the Great War recruiting process.
The new Tramway Tommies and Clippie Girls Exhibition, which the Museum has installed this year, describes the recruiting process in detail, along with how women took active roles on the trams when the army had left the tramways short of staff.
The Recruitment Tram will run for the final two days on Thursday 1st and Saturday 3rd October, so don't miss the last opportunity to see and ride Chesterfield 7 in its current livery and find out about its history.
Laura Waters, Curator said: "We always knew we wanted to do something special to mark how the country's Tramways were involved in the First World War, and whilst we were delving through our Archive here at the Museum, we found some great illustrations and photographs of the stunning First World War recruitment tramcars.
Tramcars were an ideal moving platform from which to recruit men to join the Army, and we thought what better way to interpret this idea and share this unique aspect of tramway history, than to create a replica Recruitment Tramcar for our visitors to enjoy riding on, and learning about.
We've had a fantastic response to using Chesterfield 7 as our Recruitment Tramcar throughout the year, and it's great to see our visitors engaging with all the posters, banners and decorations that the tramcar carries, including be wowed by more than 270 metres worth of ribbon that decorates the tramcar. We even recreated an historic spelling mistake on one of the banners, which has created an interesting talking point".