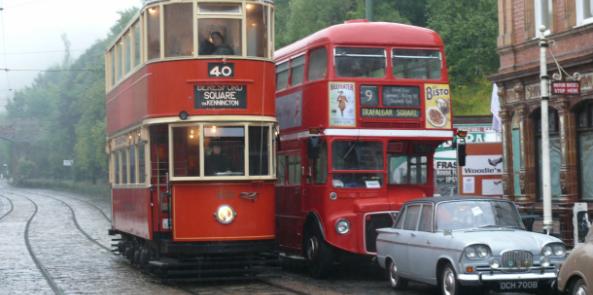 Not a Tram!
On 13th and 14th June London trolleybus No 1348, from the Trolleybus Museum at Sandtoft in Lincolnshire, will be visiting for the 'Classic London' event. It will make an interesting comparison with our London trams and the London buses which will also be visiting from the London Bus Museum at Brooklands.
Travel to Crich on a Routemaster!
Travelling to Crich Tramway Village by public transport on a Sunday can be time-consuming but on Sunday 14th June, for the 'Classic London' event, there is the opportunity to travel from Nottingham to and from the Museum on a beautifully restored 1959 London Routemaster.
The bus is attending the event on that date as an exhibit but the owners, Exclusive Cars of Nottingham, have seats available for a few people to join them as passengers. If you would like to travel to Crich on that day in Routemaster style, contact Mr Graham Branch by telephone on 0115 987 7277 to request details and prices.
This offer is not being made by, or on behalf of, Crich Tramway Village but passengers, under our terms and conditions, do qualify for entry to the Museum at group prices.