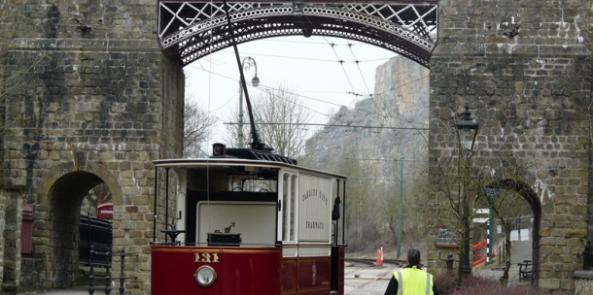 In little over a week, on Saturday 28th March, we will re-open for the 2015 season and finishing touches are being made to complete the maintenance and improvement work which has been keeping staff, contractors and volunteers busy over the winter.
The final stage of replacing track-work, through the interlace under the Bowes-Lyon Bridge, is well underway. The worn track has been lifted, replaced by new rail, the setts have been relaid and now sealing the joints between those setts, with tar, is almost complete.
Today Cardiff water car 131 has been out and about on track-scrubbing duties; a mundane duty, but one which it famously performed at Blackpool in 2011 when their track was relaid in preparation for light rail vehicles.
Our gift shop, formerly called Scothern and Williamson's has been completely refurbished over the winter and has become "The Forge Shop", which creates a link back to the original use of the building.
Cleaning and shelf stocking are already well under way and several new lines of merchandise will be on offer for 2015.
We still have quite a few things still to do before we open on the 28th March, but we're all enjoying getting ready for the new season, and look forward to seeing all our new and returning visitors when we open.