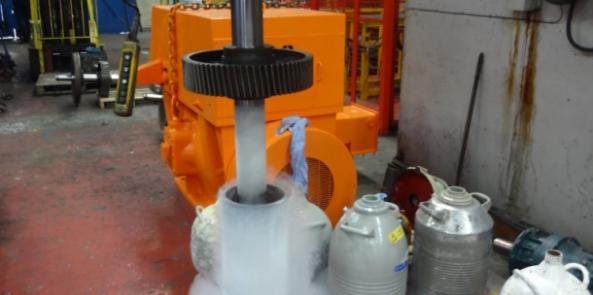 Our latest update on work with Liverpool 869 is a little like a school science experiment, but gives a fascinating insight into the processes that our contractors Dorlec Ltd use.
So what were they up to, well it was a major step forward in 869's overhaul as the new axles were reassembled with their wheels and gears, and what makes it so fascinating was the use of liquid nitrogen as part of the process to reassemble them.
The liquid nitrogen is used to cool the axles down, this has the effect of the metal contracting and therefore the diameter of the axle is reduced. The wheel centres are placed in an oven and gently heated, this allows the metal of the wheel centre to expand, therefore increasing the diameter of the wheel centre bore.
The combined cooling and heating processes enables the axle to slide freely through the wheel centre. The components are left to return to ambinent temperature, and as they do so, the axle will expand again and the wheel centre will contract, therefore creating a firm bond between the two components.
Our Museum Workshop engineers were in attendance whilst the axles and wheels were being reassembled, and got these brilliant photos of the process.
The image below shows one wheelset already part assembled, and in the back ground you can see the next axle being cooled in a vat of liquid nitrogen, before being lowered into the next wheel and gear assembly.
Once the axle had been cooled to the correct temperature, it was carefully lowered into the wheel and gear assembly.
After the wheel and gear has been fitted at one end of the axle, it is then turned and the other end is placed in the vat of liquid nitrogen and cooled, ready to undertake the process again.
Once both wheel and gear assemblies have been fitted to the axles the complete wheelset is left to warm up in order for the temperature to come to an ambient, and the wheel/axle interface to be firmly made.
The complete wheelset assembly is left on the shop floor in order to come up to ambient temperature. What appears to be white paint on the axle is frost caused by the cooling process.
It is now onto the next stage, which is to manufacture and fit the motor suspension bearings, mount the motors on the axles and test them. Oh and one more thing fit the roller bearing axle boxes. So a little more work to go, but our contractors Dorlec are making great progress for us.
Photographs courtesy of Mike Crabtree, with kind permission from Dorlec Ltd.