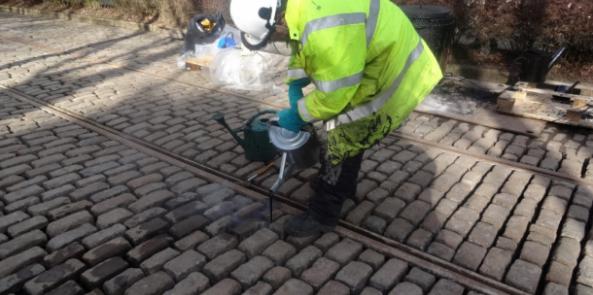 It has been a little while since we updated you on our track work programme that we have been undertaking over the closed winter period.
A lot of hard work has taken place by the Museums staff, volunteers and partner contractors to complete the job, but we are now into the final stages of the project and finishing off those last few tasks to complete everything.
The interlace track which runs under the Bowes-Lyon Bridge has been completed and over the last few weeks we have had a team of Museum staff and volunteers working with Bishops Total Landscaping, to relay the setts.
This is a major achievement as it is no small task to have relaid such a large section of the setts that form the street here at the Museum.
The photograph below shows the huge amount of progress that has been made, and how great the cleaned and newly laid setts look. You can see just through the bridge that we've still got a little bit of work going on, but we're almost there.
One of the things that needs to be done to complete the work, is pour hot tar between all the setts in order to provide a waterproof membrance and seal the road surface
The close up photo shows you how the hot tar spreads around the setts and to the side of the rail, forming a perfect seal.
The start of the 2015 season is slowly getting closer, and we can't wait to see the trams running back under the Bowes-Lyon Bridge.
Don't forget we reopen on Saturday 28th March.
All photos courtesy of Mike Crabtree