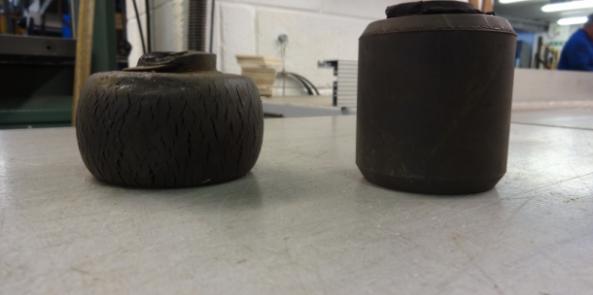 The repairs to the wheelsets of Liverpool 869 are progressing with the delivery of the 4 new axles to the works of our main contractor, these axles have been turned by a specialist machining sub contractor using a CNC lathe.
The castings for the new suspension bearings are also at our contractors works waiting final machining.
All the components to enable our contractor to assemble the wheelsets and suspension bearing interface to the motors are now ready for final machining and assembly at our contractors works.
Many of the motor to truck frame bushes had collapsed are were beginning to collapse.
The image shows a collapsed rubber mounting bush on the left and a bush that is just beginning to deform on the right. Liverpool 869,s trucks require 16 of these bushes.
A source of supply for the motor to truck frame mounting bushes and axlebox radial arm bushes has been located and orders are being placed for their manufacture with a specialist anti vibration rubber bush manufacturer.
Photos courtesy Mike Crabtree with the kind permission of Dorlec Ltd